Government has decided to raise Minimum Support Price (MSP) for seven Rabi crops of this season. The decision was taken as per the central government's promise to fix MSP at 50 percent over input cost. MSP for wheat, primary crop of winter has been increased by 6 percent to Rupees 1840 per quintal while for chana (chickpeas) it was increased by 5 percent to 4,620 per quintal. The hike in MSP will insure 112% returns to wheat growers, and 75% returns to chana farmers. "The higher MSPs (for seven winter crops) will ensure an additional income of 62,635 for farmers," said union minister Ravi Shankar Prasad at a briefing. He also added, "the decision embodies the commitment of the Narendra Modi government to double farm incomes."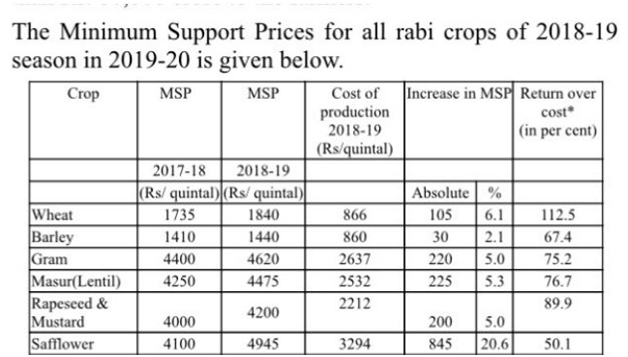 MSP for lentils was also increased by 5.3 percent to 4,475 per quintal and for mustard and gram, it was increased by 5 percent to 4,200 and 4,620 rupees per quintal respectively. The price for Safflower was increased by 20.6 percent to 4,945 rupees per quintal. "The farmer friendly initiative will give additional return to the farmers of Rs 62,635 crore by way of increasing MSP of notified crops to at least 50 percent return over cost of production and will aid in doubling farmers' income," an official statement said. Farmers across the country are protesting because grain price slumped due to successive good season in 2016-17 and 2017-18. The first two years of Modi government were hit by drought. Agricultural growth declined by 0.2 percent in 2014-15 and grew at mere 0.6 percent in 2015-16. Government took many initiatives to solve the farmer distress and PM promised to double farmers' income by 2022.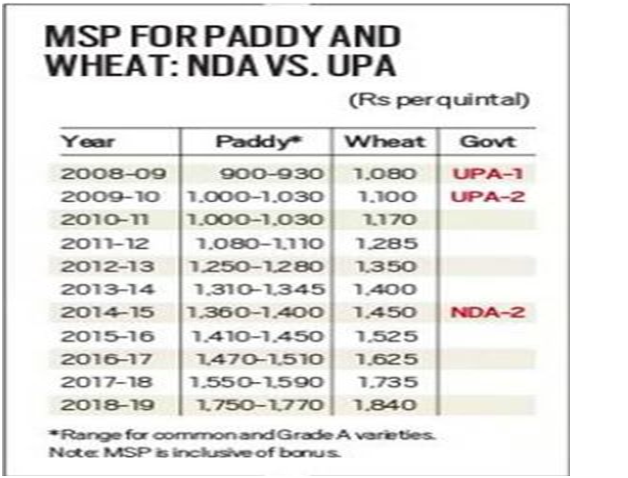 In June 2016, Pradhan Mantri fasal Bima Yojana (PMFBY) was rolled out to insure crops. The insurance scheme made farming as secure as any other profession. If crop suffers due to any reason like drought, excessive rain etc., insurers will pay the output price. To provide irrigation facilities to farmers across the country, PM Modi launched Pradhan Mantri Krishi Sinchai Yojana (PMKSY) and pumped money into the National Bank for Agriculture and Rural Development (NABARD) to increase credit penetration to farmers. The steps taken by the government coupled with good monsoon proved beneficial for agriculture and the sector grew at 6.3 percent in 2016-17. However, growth moderated to 3 percent in 2017-18 due to high base effect. In the first quarter of this financial year, agricultural growth was 5.3 percent compared to 3 percent in same period of last year. Government announced that MSP for Kharif crops will be 50 percent higher than A2 + FL (actual cost plus imputed value of family labor respectively) price. 
The effect of revival in agriculture is already visible in the rural economy. Sales of two wheeler and passenger cars have been higher in rural parts of the country compared to urban India. The RBI annual report released on 29th August revealed that household savings is highest in the last seven years. Highest storage of savings was in cash which is the prevalent mode of keeping savings in rural areas, therefore household savings in rural areas is also very high. This shows that agriculture and rural economy is on the path of steady revival and government will certainly achieve the goal of doubling farmers' income if it continues with reforms.