The first two years of Modi government were hit by drought. Agricultural growth declined by 0.2 percent in 2014-15 and grew at mere 0.6 percent in 2015-16. Thousands of farmer committed suicide in drought hit states despite government's insurance scheme and farmer loan waiver. The Modi government decided to solve the root causes of the problem rather than fooling people through populist announcements. Droughts in India are as regular as monsoon and farmers suffer in regular time-interval due to droughts. Therefore a concrete approach in institutionalized manner is needed to solve the issues of farmers. In a farmer rally in Uttar Pradesh, PM announced that government targets to double farmer's income by 2022. The Centre formed an 8 member inter-ministerial committee under Ashok Dalwai, Additional secretary at the Union Agriculture Ministry to suggest steps to double farmer's income. 

After the formation of committee, the government took various steps on its suggestions to solve farmer distress. In June 2016, Pradhan Mantri fasal Bima Yojna (PMFBY) was rolled out to insure crops. The insurance scheme made farming as secure as any other profession. If crop suffers due to any reason like drought, excessive rain etcetera, insurers will pay the output price. To provide irrigation facilities to farmers across the country, PM Modi launched Pradhan Mantri Krishi Sinchai Yojana (PMKSY) and pumped money into the National Bank for Agriculture and Rural Development (NABARD) to increase credit penetration to farmers. The steps taken by the government coupled with good monsoon proved beneficial for agriculture and the sector grew at 6.3 percent in 2016-17. However, growth moderated to 3 percent in 2017-18 due to high base effect. In the first quarter of this financial year, agricultural growth was 5.3 percent compared to 3 percent in same period of last year.
The government announced that MSP for Kharif crops will be 50 percent higher than A2 + FL (actual cost plus imputed value of family labor respectively) price. This means the government has insured 50 percent profit over input price that too with family labor cost inclusion. Bumper production in this kharif season (141 million tonnes) due to good monsoon coupled with MPS hike will certainly help the farmers.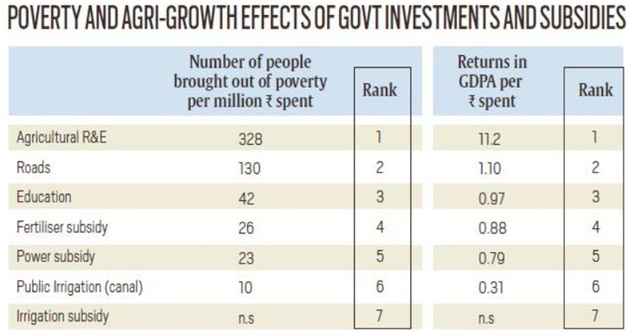 For decades India tried to solve framers problems by subsidizing 'input value.' However, economists suggest that investment in post production is more powerful tool for agricultural support.  "Supporting agriculture through input subsidies is the 'dumb' approach. Priority must now be given to investment in the sector and ensuring farmers have access to the latest technologies," wrote agricultural economist Ashok Gulati in Indian express. "Expenditure incurred on Agri-R&E (Research and Education), roads or education are five to 10 times more powerful in alleviating poverty or increasing agri-GDP than a similar expenditure made on input subsidies," he argued further. Modi government brought agriculture and livestock marketing act in 2017 to better market produces. Farmers produce more than the country consumes, therefore exports are necessary for better remuneration to farmers. The Government plans to introduce country specific special agricultural produce zones to boost agricultural exports. The exports are already rising, in the FY 2018, the country exported agricultural commodities worth $ 38.74 billion, as against imports of $ 24.89 billion which resulted in farm trade surplus of $ 13.85 billion. The surplus for 2016-17 and 2015-16 was $ 8.05 billion and $ 10.23 billion respectively.
The effect of revival in agriculture is already visible in rural economy. Sales of two wheeler and passenger cars have been higher in rural parts of the country compared to urban India. The RBI annual report released on 29th August revealed that household savings is highest in the last seven years. Highest storage of savings was in cash which is the prevalent mode of keeping savings in rural areas therefore household savings in rural areas is also very high. This shows that agriculture and rural economy is on the path of steady revival and government will certainly achieve the goal of doubling farmer's income if it continues with reforms. 
Despite such major improvements in agriculture sector, India has witnessed several protests by farmers, mostly in the BJP ruled states. Such protest can be described as 'Mobocracy' at best. 180 Kilometer long march of farmers from Nasik to Mumbai is a perfect example of such orchestrated protests. The protest March was orgnaised by the CPI-M and its peasant's arm- All India Kisan Sabha (AIKS). Many other opposition parties also extended their support to farmers' protest. The farmers were donned with red caps and red flags. It was really confusing to decide whether it was farmers march or CPM march. Many people raised questiones about the intention of protest and also said that it is a politically motivated protest march.
*These 30000 "farmers" don't represent all the farmers from Maharashtra.
*Their demands are different.
*These are basically tribal people from North Maharashtra.
*They want right on forest land where they do small time farming.
*This area is mostly Naxal affected.
*Join the dots

— Ashutosh Patankar (@Ashutosh1671) March 11, 2018
Their issues are old issues. Genuine issues. But BJP government has already been working on those issues.
Red faced Communists and their sympethiser bunch of journalists are giving total misinformation and trying to project this as statewide farmers' Morcha.

— Ashutosh Patankar (@Ashutosh1671) March 11, 2018
Yes, farmers in certain states are in distress. And yes, #KisanLongMarch is a politically mobilised farmers' stir, clear from Left's red flags. Let us not pretend farmers have no misery, but let us not try to masquerade a politically mobilised rally as a neutral, spontaneous one

— Abhijit Majumder (@abhijitmajumder) March 11, 2018
Political vultures leave no stone unturned to exploit sufferings of farmers in their interest. For them farmers are just cannon fodders. On example of this can be seen in the ongoing farmers protest in Gaziabad at UP-Delhi border. On 2 October farmers also clashed with the police. In order to peddle their nefarious agenda, political vultures like CPI (ML) member Kavita Krishnan attributed a specific picture to yesterday's farmers clash with police.
Look at the farmer with a brick in his hand, facing a cop with a gun.
If you don't think the farmer is a terrorist – and I hope you don't – if you empathise with his anger, I hope you'll think again before you call a Kashmiri kid with a stone in his hand a terrorist. pic.twitter.com/7Omxax3sWj

— Kavita Krishnan (@kavita_krishnan) October 2, 2018
The picture used by Kavita Krishnan is not from yesterday's unfortunate clash, it is an old picture dated back to September 20, 2013 and has no relation with farmers protest whatsoever.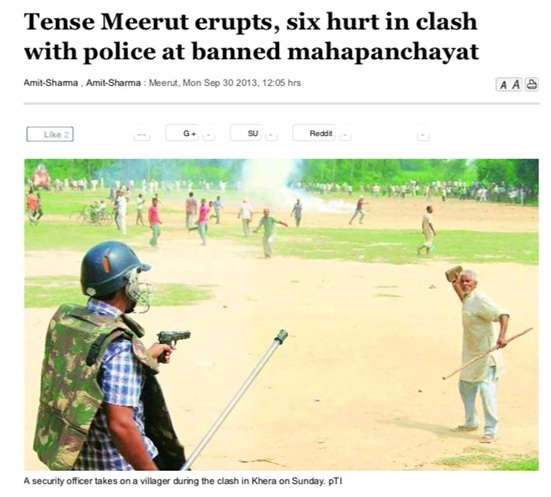 Madhya Pradesh, another BJP ruled state, has also witnessed many farmer protests in recent time despite the fact that the state has made significant progress in agriculture sector. In the name of farmers protest hooliganism and goonism was at its full display where agriculture produce of farmers was being destroyed by the goons of various opposition parties and anti-social elements.
The incumbent government has taken significant steps to improve the condition of farmers of the nation. Initiatives like E-Nam, PM Kisan Sampada and PMGSY(Pradhan Mantri Gram Sadak Yojana) are solution of farmers problem and not the mindless protests sponsored by anti-farmer elements. Protests are good way to bring out your anger and frustration but it does not change anything in the long run. Farmers should work in tandem with the incumbent government if they want to bring prosperity in their lives and embrace science and technology in farming rather than indulging in futile protests.