India stands to benefit by US-China trade war if the government gets its policies right. Indian government has understood the advantage of the ongoing trade war and started making efforts to benefit from it. Commerce ministry has told export councils to identify products in chemicals, pharmaceuticals and electrical parts sectors where India has comparative advantage. "There are a lot of items that we need to identify and push for them. We are talking to our exporters through the export promotion councils and pushing them to increase exports to the US," said a ministry official. India has gained relative advantage on some products in American market after US tariffs on Chinese imports. . "Even if India has not been exporting some items to the US at present because of its cost disadvantage vis-à-vis Chinese products, it can start exporting them after the recent tariff hikes, which give it an edge," added the official.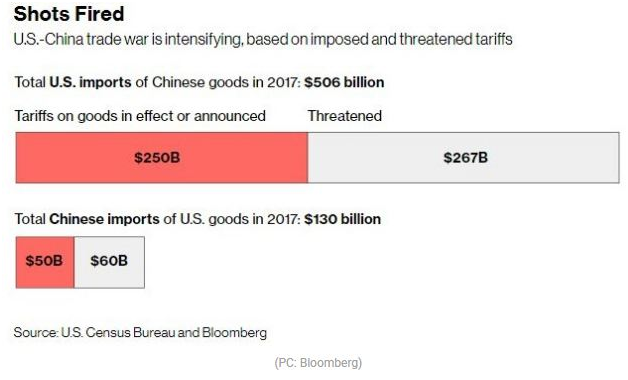 Trump is vehemently opposed to the current trade relations between America and China because they are heavily skewed in favor of China. In 2016, China was the largest goods trading partner with $578.2 billion in total (two way) goods trade during 2016. Goods exports totaled $115.6 billion; Goods imports totaled $462.6 billion. The U.S. goods trade deficit with China was $347.0 billion in 2016. United States imposed 10 percent tariff on 200 billion dollars worth of Chinese imports on 24th of September. The tariff will be increased to 25 percent by the end of this year. US administration threatened to impose further tariff on imports worth 267 billion dollar if China retaliated to these tariffs. As of now China and United States both have imposed tariffs on import of goods worth 50 billion dollars.
India, the second largest Asian economy with a huge pool of cheap labor could benefit from the US-China trade cum currency war because it has the capacity to replace China as the main exporter of goods to the United States. But, this will depend on how PM Modi negotiates the trade relations with Trump on generalized system of preferences (GSP). The GSP program will allow duty-free entry of 1,937 products worth $5.6 billion from India into the US in textile jewellery, and engineering sector. If India successfully negotiates GSP, then India exports will be doubly advantaged after tariff hikes.
The other thing which India needs to work really hard on is labor market reforms, effective exit policy, delays at customs and other red tape have been some of the biggest hurdles that have prevented India from profiting from its low wage and surplus labor advantage. The labor laws in the country are one of the worst in the world matching those of socialist countries like Cuba. If the country could do more on 'ease of doing business' it will be hugely beneficial in replacing China as an export powerhouse. These reforms will add production capacity of the country which is in dire state now. "There are items such as electricity parts and switches which small-scale industries produce in India. We have become cost-competitive in such items, but we don't have the production capacity," said the commerce minister official.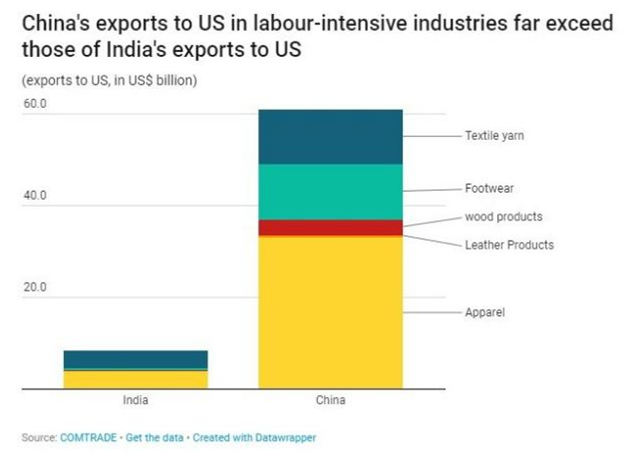 India's record over the past few decades does not inspire much confidence. Since economic liberalization more than a quarter-century ago, India's share in global exports in labor-intensive sectors such as textile and footwear has declined even as smaller economies such as Bangladesh and Vietnam have seen their market-share rise sharply. This was due to the fact that India did not undertake land and labor reforms due while smaller countries acted on the opportunity swiftly. The need of the hour in the country is land and labor reforms.