India could be a prime beneficiary of the trade-cum-currency war going on between the United States and China.  The currency manipulation by China has been an issue between two largest economies in the world for almost a decade. The trade conflict started with the hyper-protectionist president Donald Trump assuming power. The trade and currency war are related to each other as the variation in the value of the currency impacts the exports and imports. Trump is opposed to the fact that China deliberately keeps the value of its currency low, therefore, making its exports more competitive in the international market and hurting imports from other countries. So, putting it in the language of president Trump, China fooled the United States by manipulating its currency as well as by putting high tariffs on American exports and benefitted from the free trade policy of United States.
President Trump is vehemently opposed to the current trade relations between America and China because they are heavily skewed in favor of China. In 2016, China was the largest goods trading partner with $578.2 billion in total (two way) goods trade during 2016. Goods exports totaled $115.6 billion; Goods imports totaled $462.6 billion. The U.S. goods trade deficit with China was $347.0 billion in 2016. The US has a trade deficit of almost 700 billion dollars of which China accounts for almost half. Last month, Beijing had announced a 25 percent tariff on $34 billion worth of US goods in response to Washington slapping a 25 percent tariff on up to $50 billion of Chinese products. Reacting to this, Donald Trump has asked his trade representative Robert Lighthizer to prepare a list of $200 billion worth of goods imported from China on which he will impose another 10 percent tariff. Diving low due to fear of a larger trade war, Shanghai Composite Index slid below 3,000, a level that has been previously breached only during market crashes in 2015 and 2016. The Chinese tariffs could not make the same impact on the American market because its export to China is almost one-fourth of what it imports from China.
According to analysts, India, the second largest Asian economy with a huge pool of cheap labor could benefit from the US-China trade cum currency war because it has the capacity to replace China as the main exporter of goods to the United States. But, this will depend on how PM Modi negotiates the trade relations with Trump and PM Modi has been not very successful on this front. The other thing which India needs to work really hard on labor market reforms, effective exit policy, delays at customs and other red tape have been some of the biggest hurdles that have prevented India from profiting from its low wage and surplus labor advantage. The labor laws in the country are one of the worst in the world matching those of socialist countries like Cuba. If the country could do more on 'ease of doing business' it will be hugely beneficial in replacing China as an export powerhouse.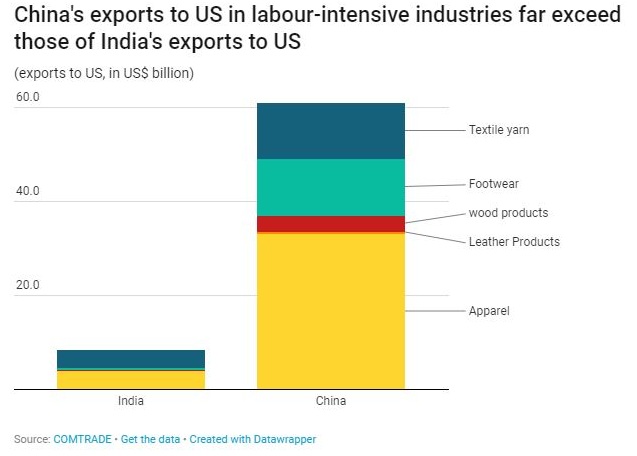 India's record over the past few decades does not inspire much confidence. Since India's liberalization more than a quarter-century ago, India's share in global exports in labor-intensive sectors such as textile and footwear has declined even as smaller economies such as Bangladesh and Vietnam have seen their market-share rise sharply. India's apparel exports accounted for only 4% of the US's overall apparel imports in 2015, while Vietnam, Bangladesh, and China accounted for 12%, 6% and 37% market shares respectively.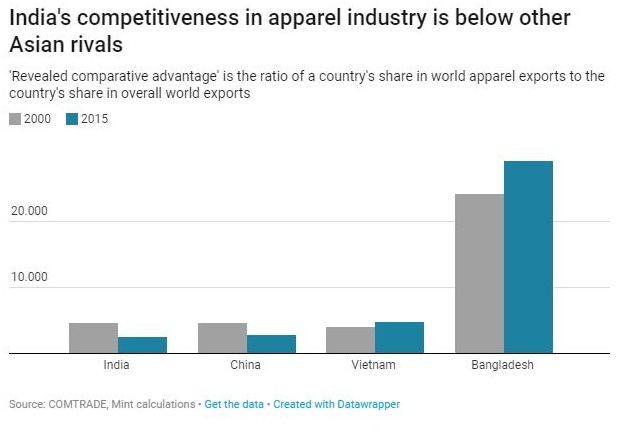 As wages increase in China has limited its expansion in world markets for labor-intensive products in recent years, other Asian peers such as Bangladesh and Vietnam gained relatively more compared with India. When it comes to apparel and leather exports, Bangladesh and Vietnam have been far more competitive, compared with India.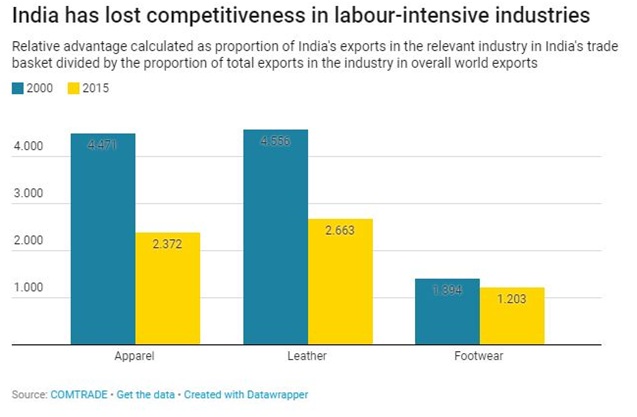 So, the message is very clear, if India will be able to push for labor and market reforms to improve its competitiveness then it will be able to reap benefits from the decline of China as an export powerhouse. But if it will not go for quick reforms then the countries with surplus labor and low wages like Bangladesh, Vietnam, and Pakistan will grab the chance. It is important for India to go for reforms and opposition parties like Congress (It opposed the previous labor-reform law introduced by the government) should support the government on these matters of National Interest.