United States will impose 10 percent tariff on 200 billion dollars worth of Chinese imports on 24th of September. The tariff will be increased to 25 percent by the end of this year. US administration threatened to impose further tariff on imports worth 267 billion dollar if China retaliated to these tariffs. As of now China and United States both have imposed tariffs on import of goods worth 50 billion dollars. If the retaliatory action continues in both countries then this trade conflict will escalate into full scale war. "We have been very clear about the type of changes that need to be made, and we have given China every opportunity to treat us more fairly. But, so far, China has been unwilling to change its practices," said Trump in a statement.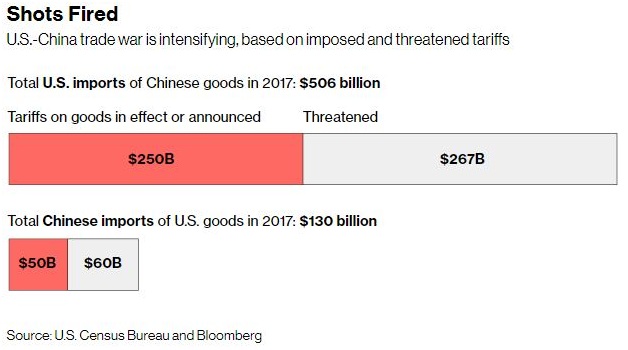 The US has a trade deficit of almost 700 billion dollars of which China accounts for almost half. Imposing import tariffs is rebalancing the trade relations of US with countries like China, Japan, Germany, Mexico etc. Trump is vehemently opposed to the current trade relations between America and China because they are heavily skewed in favor of China. In 2016, China was the largest goods trading partner with $578.2 billion in total (two way) goods trade during 2016. Goods exports totaled $115.6 billion; Goods imports totaled $462.6 billion. The U.S. goods trade deficit with China was $347.0 billion in 2016. Trump was opposed to the fact that the Asian economy deliberately keeps the value of its currency low, therefore, making its exports more competitive in the international market. The American manufacturers were losing to Chinese because the labor was cheap there, and goods produced in America have become uncompetitive.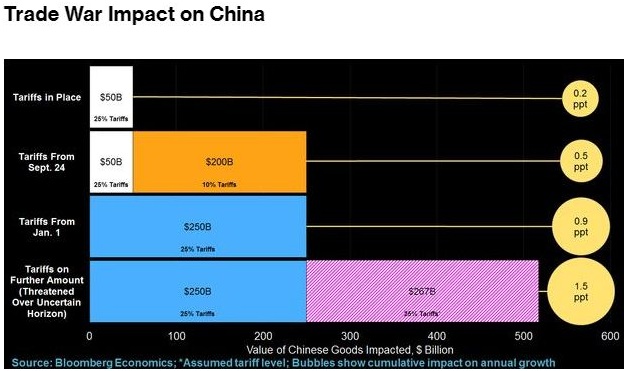 Imposition of tariffs has helped United States to control trade deficit but it has hurt Chinese economy. In the month of April 2018, trade deficit fell 2.1% to USD 46.2 billion after a downward revision for March. The result was better than analysts expected since a consensus forecast called for a 3.4% increase. The deficit with China in goods only, the principal driver of the overall US trade gap, fell 9.8% for the month as US imports from the industrial giant fell USD 4.7 billion to USD 41.9 billion. Americans imported fewer mobile phones and consumer goods as well as passenger cars. However, China is on the losing front due to trade war because its economy is mainly led by exports and investment. According to estimates by UBS Group AG "the initial round of tariffs on $50 billion of imports could lower China's economic growth by 0.1 percentage point in the first year. If Trump imposes tariffs on a further $100 billion of goods, the drag on growth could be 0.3 to 0.5 percentage point."
China put a brave face on American tariffs and threatened to retaliate. "China has always emphasized that the only correct way to resolve the Chinese-US trade issue is via talks and consultations held on an equal, sincere and mutually respectful basis. But at this time, everything the United States does, does not give the impression of sincerity or goodwill," said Foreign Ministry spokesman Geng Shuang.
India stands to benefit from this  trade war in many ways if the country gets its policies right. The trade war will weaken demand outlook which results in fall of commodity prices. If crude oil prices decline, it will be huge benefit for India because it imports more than two third of its oil needs. On the export front, Indian exports will become more competitive due to tariffs on Chinese imports. So, if government makes efforts to take advantage of trade war, India will certainly benefit.