Rahul Gandhi has been a Member of Parliament from Amethi since 2004. A member of the Legislative Assembly or the Parliament is supposed to know about his electoral constituency in minute details. Due to the very nature of the duties of an MP, he is supposed to be conversant about all necessary installments in his constituency. Especially when a Member of Parliament has been serving for a third consecutive term and he has completed fourteen years in office, it is not too much to expect him to be aware about everything in his constituency including the major hospitals, educational institutes and state run schools.
However, Congress president Rahul Gandhi has again shown shocking incompetence for a politician who aspires to participate in the race for prime ministership in the next general elections. His carelessness and negligence seems to have caused serious damage to the careers of 8 students. Every Member of Parliament can refer ten cases for admission to a Kendriya Vidyalaya, popularly known as central schools, in his constituency under the special dispensation admission scheme. For this purpose, a coupon number is allotted to every member for smooth processing of recommendations under the scheme.
Rahul Gandhi, while exercising this discretionary power, recommended ten students under the scheme. Two of the students who were referred to Kendriya Vidyalaya BHEL Jagdishpur were admitted. However, Rahul Gandhi who seems to be oblivious of his own constituency, referred eight other students to a Kendriya Vidyalaya which does not even fall within the territorial limits of his electoral constituency. These eight students were, therefore, rendered inadmissible going by the official website of Kendriya Vidyalaya Sangathan (KVS), the administrative wing responsible for management of the Kendriya Vidyalaya schools across the country.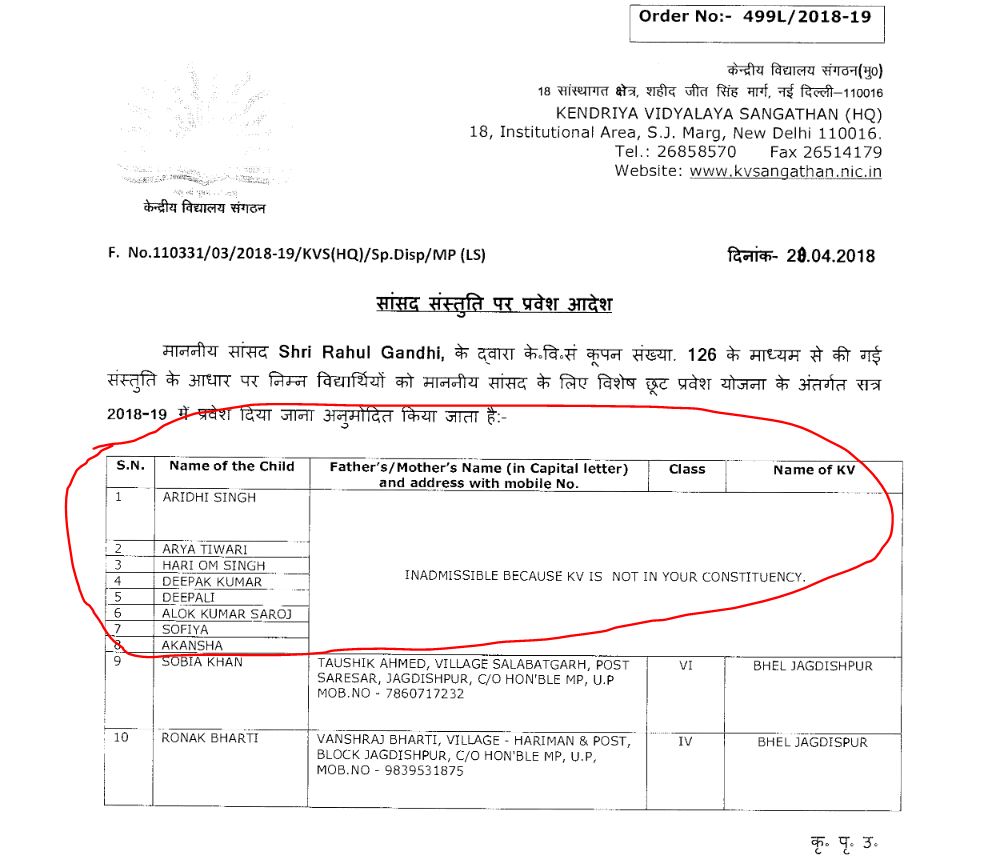 Possibly in order to avoid embarrassment and ridicule, Rahul Gandhi later referred the eight other students to Kendriya Vidyalaya BHEL Jagdishpur. This is how he covered up his mistake, and it has been updated on the KVS website by a notification dated on the 27th of this month.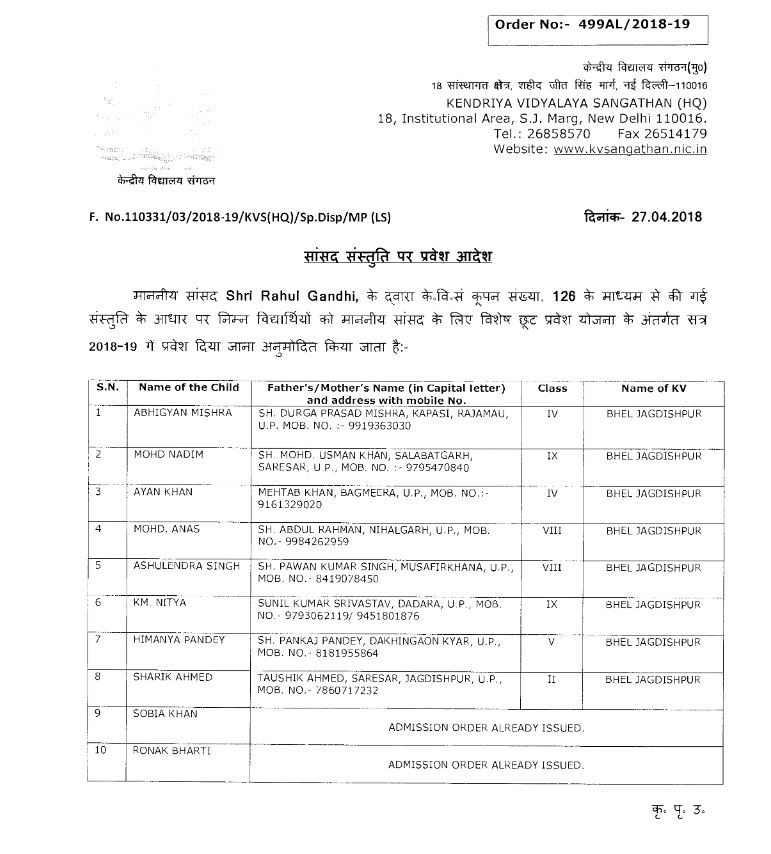 Rahul Gandhi was fortunate enough to avoid public ridicule and get exposed by the mainstream media. Surprisingly, none of the mainstream media outlets have covered this story. No one has paid attention to this issue or the blunder committed by Rahul Gandhi. However, there are no updates as to what happened to the eight students who were held inadmissible due to a blunder on the part of an ignorant and reluctant Member of Parliament, and due to no fault of theirs. The students' careers and educational opportunities have been imperiled due to a stupid error on the part of Rahul Gandhi, unbecoming of a Member of Parliament.
With this act, Rahul Gandhi has once again displayed his incapability to lead the country. He has already proven that he is a major failure as far as organizational skills, political strategy and election campaigning are concerned. This time around, Rahul Gandhi has proven that he is a failure as a Member of the Parliament too. He does not know a thing about Amethi even though he has almost completed his third term as a Member of the Parliament from the constituency. It must be borne in mind that KVS is a prestigious government organization. Kendriya Vidyalaya is hailed as important central educational institutes providing high-quality education across India. It is therefore a legitimate expectation that a member having remained in office for one and half a decade would be aware about a Kendriya Vidyalaya falling under his electoral constituency. Combined with the general expectation to understand the electoral constituency in necessary details, a moral obligation also arises in the current situation where the Member of Parliament is entrusted with a wide discretion of referring cases for admission. Rahul Gandhi has however failed even in this basic duty as a Member of Parliament and must be held accountable for this serious lapse which might have been detrimental of the affected students.