The decision of the Aam Aadmi Party (AAP) to offer nominations for Rajya Sabha seats to 'outsiders' instead of party members has not gone down too well with senior leader Kumar Vishwas who had openly expressed his ambition to be one of the choices for the three Rajya Sabha seats from Delhi. Also, reinstatement of Okhla MLA Amanatullah Khan has further widened the rift between Kumar Vishwas and AAP senior leaders.
It is quite understandable that when political party comes out openly to refute any dispute or resentment among the party leaders, that simply reflects that there is something brewing in and has to be reconciled.  If there is conflict between two popular leaders and happens to be way too big to resolve, then either they split the party or one has to leave or get thrown out. In the case of Aam Aadmi Party, it is conspicuous that it is one man show run by Arvind Kejriwal and there is no space for any contrary views. We have seen it in the case of Prashant Bhushan and Yogendra Yadav, one may argue though in favour of removal but it was very unfortunate the way they were manhandled and kicked out, especially for the party that masquerades as champion of freedom of expression.
Now, who is next, Kumar Vishwas ? It seems that Kumar Vishwas founder member of AAP, and a poet turned politician may meet the same fate of Prasant Bhushan and Yogendra Yadav. Many believe that Kumar Vishwas Will have to quit sooner or later.
There are series of events that strongly suggest that Kumar Vishwas is no more desirable or fits in current set up prevailing in the party. We may categorise it into two aspects. Firstly, Kumar Vishwas has never been in resonance with the politics his party indulges in, hence has to quit or will be shown exit door in near future. Secondly, there is ample evidence that suggests, a faction of the party is hatching conspiracy against him to make him quit or oust him and needless to mention that it cannot be executed without the consent of senior leaders sitting on higher ranks in the party.
Now let's discuss the first aspect depicting that Kumar Vishwas has never been in support of Kejriwal style of politics and is misfit in Aam Aadmi Party.
In August, 2014, Kumar Vishwas had claimed that he was approached by BJP leader. It was in news that the poet-turned AAP leader, had been described by BJP MP as "CM material" and said that if Kumar joined the saffron party, other AAP MLAs would follow suit. Moreover, he also once admitted that he had voted for Rajnath Singh, BJP leader, in the election held prior to Anna Hazare movement against corruption.  At that time, though there was no sign of dispute or any friction within  the party, but it was perceived that Kumar Vishwas had more inclination towards BJP in terms of political ideology.
http://www.dnaindia.com/india/report-congress-reacts-to-kumarvishwas-bjp-controversy-says-aapis-greedy-for-power-2014811
In September, 2014 in an interview with Arnab Goswami, then editor-in-chief  Times Now, Kumar Vishwas praised Narendra Modi on centre's  rescue and relief efforts in flood hit Jammu & Kashmir. He emphasized that he had every right to praise Prime Minister if he did well and declared Modi a comparatively better PM than Manmohan Singh as government was coming out of policy paralysis. Also he admired PM visit to Japan but surprisingly criticized AAP over agitational politics and accused of behaving like a typical political party.
https://timesofindia.indiatimes.com/india/AAPs-KumarVishwas-praises-Narendra-Modi-slams-Kejriwals-agitational-politics/articleshow/42114550.cms
In April, 2017 over AAP's humiliating defeat in Delhi's Rajouri Garden bypoll, Vishwas gave a piece of advice and tweeted that there is still time for the party leadership to think and introspect. Not only this, Kumar Vishwas posted another tweet in the evening which read: "If you only listen to sycophants, then you will definitely lose."  On the contrary, senior party leader and Deputy Chief Minister Manish Sisodia attributed this defeat to its ex MLA Jarnail Singh, who quit as legislator to contest from Punjab against its former Chief Minister Parkash Singh Badal from Lambi and said people were "upset" over this. Thus, dispute started going public.
पानी आँख में भर कर लाया जा सकता है,
अब भी जलता शहर बचाया जा सकता है (अब्बास ताबिश)

— Dr Kumar Vishvas (@DrKumarVishwas) April 13, 2017
सुलभाः पुरुषा राजन् सततं प्रियवादिनः।
अप्रियस्य च पथ्यस्य वक्ता श्रोता च दुर्लभः।।

— Dr Kumar Vishvas (@DrKumarVishwas) April 13, 2017
— Dr Kumar Vishvas (@DrKumarVishwas) March 29, 2017
http://zeenews.india.com/delhi/aaps-rajouri-garden-by-poll-defeat-kumarvishwas-as-has-a-piece-of-advice-for-arvind-kejriwal-1995933.html
Again, Aam Aadmi Party leader Kumar Vishwas held his party leadership responsible for the defeat in the municipal election in Delhi and the assembly polls in Punjab and Goa. In an interview Kumar Vishwas said that instead of blaming the electronic voting machines (EVMs), the party should introspect. On the other hand, AAP was busy in doing theatrics by demonstrating hacking of dummy EVM on the floor of assembly. Thus AAP and Kumar Vishwsas have been contradicting each other on various grounds particularly in this year.
http://www.hindustantimes.com/delhi-news/aapturmoil-kumarvishwas-says-don-t-blame-evms-party-disconnected-from-workers/story-bY6gxktBUIwTinazHC3yVI.html
Kumar Vishwas criticized Kejriwal's stand on asking for proof of surgical strike and said it was wrong. Also, He was not in favour of Kejriwal's incessant attack on PM Narendra Modi. In a video message posted by Kumar Vishwas on youtube, without taking any names, he indirectly criticised the AAP government in Delhi and Chief Minister Arvind Kejriwal on corruption. "If after riding the plank of anti-corruption to form a government in Delhi, your own people indulge in corruption and if you(the leader) try to save them and issue no statements, people will question you," he said in a veiled reference to Delhi Chief Minister. Citing history, Kumar Vishwas went on to add that our preference for our political leaders led to divisions in our country.  "We mostly focus on our leaders instead of our issues. Modi-Modi, Arvind-Arvind, Rahul-Rahul, yeh saare bas kuch saal rahenge, par desh 5,000 saal ka hai."
https://timesofindia.indiatimes.com/india/kejriwal-should-not-have-asked-for-surgical-strikes-proof-aaps-kumarvishvas-on-recent-poll-losses/articleshow/58413907.cms
http://indianexpress.com/article/india/kumarvishwas-launches-a-veiled-attack-on-delhi-government-arvind-kejriwal-4615004/
Now, let's see the second aspect that there is factionalism growing within the party and they are continuously trying to sideline Kumar Vishwas. In recent times there have been deliberate attempts to gag the leader Kumar Vishwas and  personal accusations hurled against him that clearly indicates that Party has divided into two camps one is Kejriwal camp that is calling the shots and other is Kumar Vishwas camp who is at receiving end but still believes he is a star campaigner and has mass appeal.
In may, 2017 After the AAP's debacle in MCD election and Kumar Vishwas's statements that differed from Party's position, Okhla MLA Amanatullah Khan sparked controversy by accusing Kumar Vishwas a RSS agent and trying to split the party. Vishwas took strong exception to that and threatened he would quit the party if action was not taken against Khan, who he described as just a "mask". He alleged that someone in the coterie surrounding Kejriwal been hatching conspiracy against him. For the time being,  Khan was suspended from the party and Vishwas was given charge of the Rajasthan state unit to avert the crisis and placate him.
But later MLA Amanatullah Khan was reinstated into party and also included on crucial panels of the Delhi Legislative Assembly. Moreover, Kejriwal attended an iftar party organised by Khan, which was seen as a clear snub to Vishwas.
The Kejriwal camp had grievances against Kumar Vishwas, whom they disparagingly referred to as a "part-time politician" because of his professional commitments as a poet. Further, in June this year, Kumar Vishwas Quit 'Responsibility' As AAP's Overseas Fundraiser. He denied any rumour of being sacked from the post but after Okhla MLA Amanatullah Khan's diatribe against him, things were not as simple as they were trying to portray.
https://www.ndtv.com/india-news/kumarvishwas-quits-responsibility-as-aaps-overseas-fundraiser-1710485
The Aam Aadmi Party top leadership is reportedly angry at Kumar Vishwas over his insinuation that leaders squandered party funds by staying at 5-star hotels during official visits. National treasurer Deepak Bajpai took on Vishwas for 'alleging' that party leaders squandered funds by staying in five-star hotels and farmhouses during the Punjab and Goa elections. Vishwas drew a strong backlash from a section of the party after the meeting with party volunteers in Rajasthan, where he asked them not to stay in five star hotels and farmhouses.  Kumar Vishwas usually stays in five-star hotels during his tours, his aides defended him saying that he does not use party funds for his stay. It appears that Party does not want to give away a single chance to put Vishwas in dock.
http://indiatoday.intoday.in/story/aapkumarvishwas-rajasthan-vasundhara-raje-congress-dont-stay-in-5-star/1/980857.html
The rift in the Aam Aadmi Party (AAP) is widened to abyss. Another example is in June, 2017 when senior party leader Dilip Pandey questioned Rajasthan in-charge Kumar Vishwas for attacking the Congress in the State, but choosing not to comment on Chief Minister Vasundhara Raje, who is a BJP member.
In a tweet, Mr. Pandey questioned Mr. Vishwas over his comments attacking Congress's Sandeep Dikshit for criticising Army chief General Bipin Rawat, but choosing not to comment on Ms. Raje.
"Brother, you launch fervent attacks on the Congress but (you) say that you will not attack Vasundhara (Raje). Why?" Mr. Pandey's tweet read. It came a day after Mr. Vishwas said that he would attack the BJP government in Rajasthan, but not make any comments on Ms. Raje's personal life. Mr. Pandey, former convener of the AAP's Delhi unit, however, said his comment was being taken out of context. "I think everybody is unnecessarily over-reading my tweet," he said. But till then the damage was done and reality surfaced few months later when posters calling Kumar Vishwas 'traitor' and 'a friend of BJP' had been put up outside AAP's Rouse Avenue office in Delhi.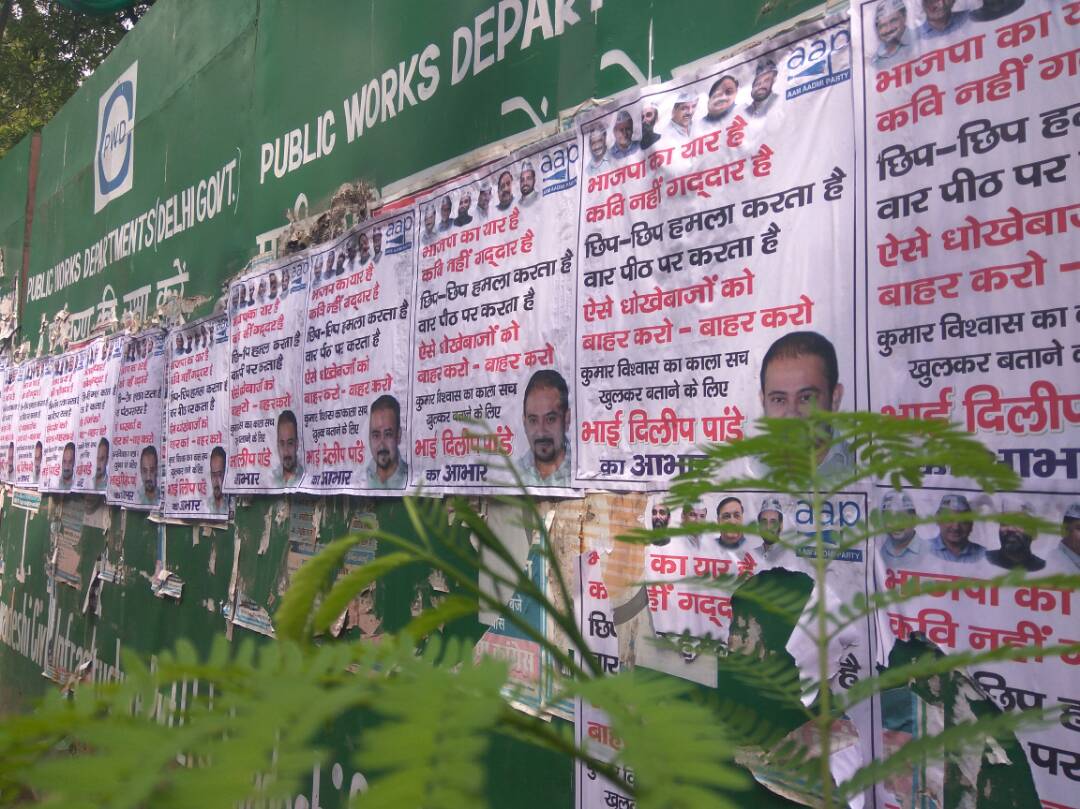 http://www.thehindu.com/todays-paper/tp-national/tp-newdelhi/pandeys-poser-for-kumar-vishwas/article19052006.ece
On 2nd November, 2017, the Aam Aadmi Party's (AAP) Sixth National Council meeting concluded with the party giving several senior leaders speaking slots. But Kumar Vishwas had not been allotted a slot to speak at the council meeting that he had anchored for the last five years. He was not included in the party's official speakers' list. When the turn came for state conveners to speak, a handful of National Council members demanded that Vishwas be invited to speak, not in his capacity as Rajasthan chief but as a national-level AAP leader. Vishwas, however, declined the offer and refused to speak after being asked thrice. He soon left the meeting and said, "I thought only Congress and BJP were scared of me." It is the same meeting that has witnessed acrimony in the past. Remember, Yogendra Yadav and Prashant Bhushan were removed from AAP's national executive during the meeting in 2015.
http://www.hindustantimes.com/delhi-news/aapconvention-row-over-amanatullah-khan-kumarvishwas-likely-to-cloud-meet/story-QxAsQkyj0F8TZV4I0G4JHM.html
Disheartened Kumar Vishwas has alleged that some people in the party are trying to thwart his political career. "The revoking of Amanatullah Khan's suspension is a clear indication that they do not want me to enter Rajya Sabha,". "Had Amanatullah Khan said anything like this against Arvind or Manish, he would have been shown the door in 10 minutes," Vishwas said. Minutes after Vishwas's attack on the party leadership, Sisodia came out in defence of the party and lashed out at Vishwas for airing his grievances in front of the media.
https://timesofindia.indiatimes.com/india/kumarvishwas-hints-at-major-decision-alleges-conspiracy-by-party/articleshow/58477802.cms
Conclusion 
Vishwas has been at odds with the party ever since he questioned the leadership over a string of defeats, especially after its poor performance in Punjab and Goa, the Rajouri Garden by-poll, and the drubbing in the civic body election. But the matter of fact is Kumar Vishwas has been vocal and critic since the party came into existence but what is so different this year that so many  personal attacks and slanderous remarks were made against him. Is it resentment growing aginst Kumar Vishwas in the party or it is well orchestrated and someone from behind is pulling the strings? But in both the cases, what choices he has now ? It cannot hold too long if the same situation persists and then he has to make a decision. The way Kejriwal and its associates have command and stronghold over party, possibility of splitting the party is out of window. Kumar Vishwas may have followers but AAP party has reduced to just one man's affair and it is Arvind Kejriwal.
Hence, only two options are viable at this point of time in a backdrop that he has to leave the party sooner or later. First is to quit AAP and join BJP as he is politically very ambitious and he can be a strategic asset for BJP in terms of capitalising his stardom and putting him against Kejriwal. Therefore, he may go up into ladder very quickly. It is more likely to happen, I reckon and if it happens it will be a great blow to Aam Aadmi Party that has been mired into controversies one after another (Kapil Mishra is still haunting them).
Second, is to leave AAP and turn apolitical. As Kumar Vishwas is a  renowned poet and very famous among youths. His contribution in Hindi literature especially in reviving Hindi poetry and  making it popular among masses is incredible and widely acknowledged.
Someone may argue that he can go and  join Swaraj India  (political party founded by expelled AAP leader Yogendra Yadav and Prashant Bhushan) but chances are very bleak, on analysing  his past relations between them and his stand on their removal.
Other way around, what happen if Kumar Vishwas doesn't quit and gracefully digest the humiliation though it doesn't seem to occur, going by belligerent attitude of Kumar Vishwas and his track record but for argument sake if ? Let's see.
He has made Rajasthan in chief after Amanatullah Khan's controversy to placate him but his organizational capacity is still to be tested as he has largely been a star campaigner. The assignment in Rajasthan is an opportunity for him to show his organizational skills but unfortunately the way AAP has performed in recent elections, the fate of party in 2018 legislative assembly election of Rajasthan is very gloomy. Also, AAP does not stand anywhere in Rajasthan and fight is between Congress and BJP. No wonder, Kumar Vishwas will be made scapegoat if AAP's dismal performance continues and that aggrieved and hostile faction within the party will leave no stone unturned to kick him out. So, Kumar Vishwas's political future is full of uncertainty atleast for now.
From party's point of view, Vishwas' exit or removal in current phase that party is going through will prove to be a disaster. It will leave party workers in disarray, demotivated and  disgruntled after seeing the removal of founding members one after another. Still there is time, it can be resolved and things may bring back to normal but unfortunately determination seems to be lacking among senior leaders and it clearly suggests that a faction within the party is hell bent to kick him out and has full fledged support from top leaders. There is great possibility that they will succeed too. Kumar Vishwas' facebook post reveals it all.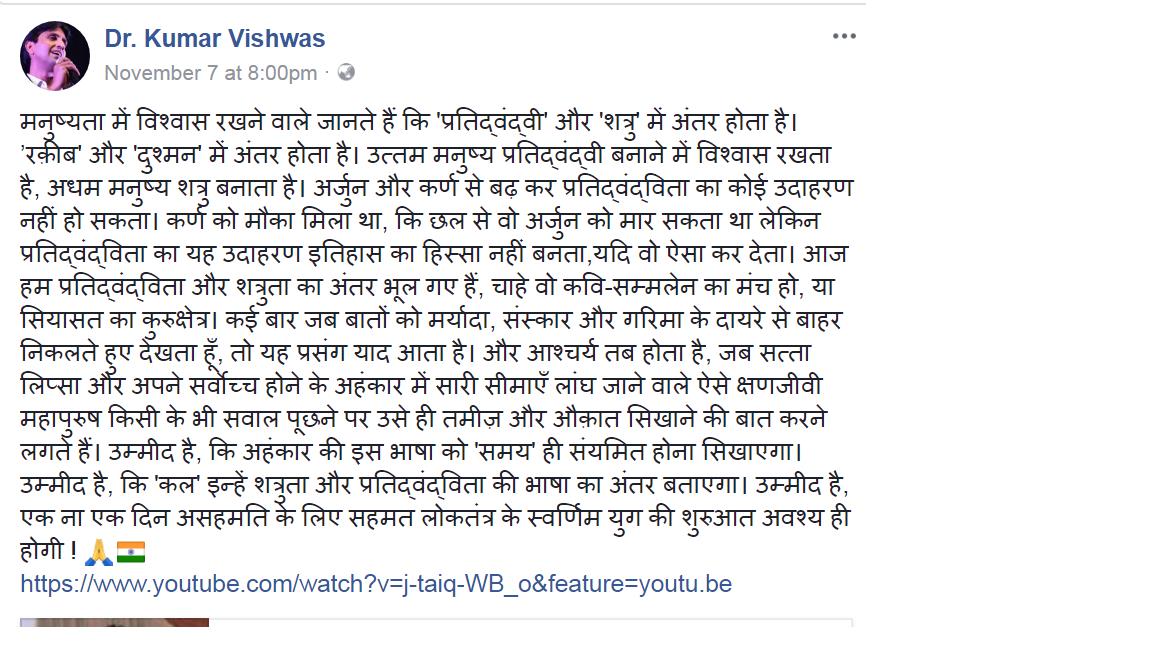 http://www.business-standard.com/article/news-ani/yogendra-yadav-prashant-bhushan-should-depart-gracefully-from-aapkumarvishwas-115032700253_1.html