Diwali is the most auspicious festival of Bharatvarsha and every year the festival is celebrated with great fervor and festivity. Each year, along with Big Box Office Battles, India witnesses some memorable moments during the festival, which leave a long-lasting impression on people's minds. This Diwali was special too possibly the most special in a very long time. Three wonderful people made this Diwali truly special.
An Absolutely Stylish PM Narendra Modi in Military Fatigues surrounded by Armymen on all sides
Just like the previous years, this year too PM Narendra Modi celebrated the festival of light with the bravehearts of India who risk their lives for the sake of the brightness in our lives. This year on October 19th 2017, when people across the nation were spending their time with their beloved ones, PM Modi celebrated Diwali with the troops of Indian Army and BSF posted in Gurez sector near the LOC in J&K.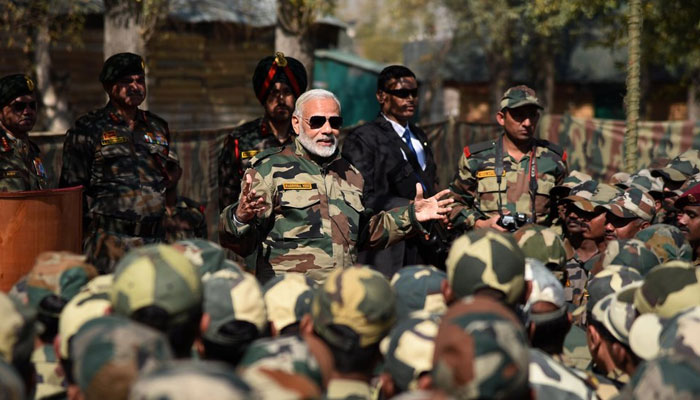 Dressed in Army Fatigues and dark sunglasses, PM Narendra Modi addressed the soldiers and officers stating that he gets the energy to serve India by seeing the penance and sacrifice of our soldiers. PM Modi thanked the soldiers for their service and applauded their courage to serve in challenging weather conditions. Just like people want to celebrate Diwali with their family, PM Modi said that he loves to spend Diwali with soldiers who are his "family". The PM greeted the soldiers with handshakes, hugs, sweets and gifts.
The most memorable moment of PM's Deepawali celebration probably was this.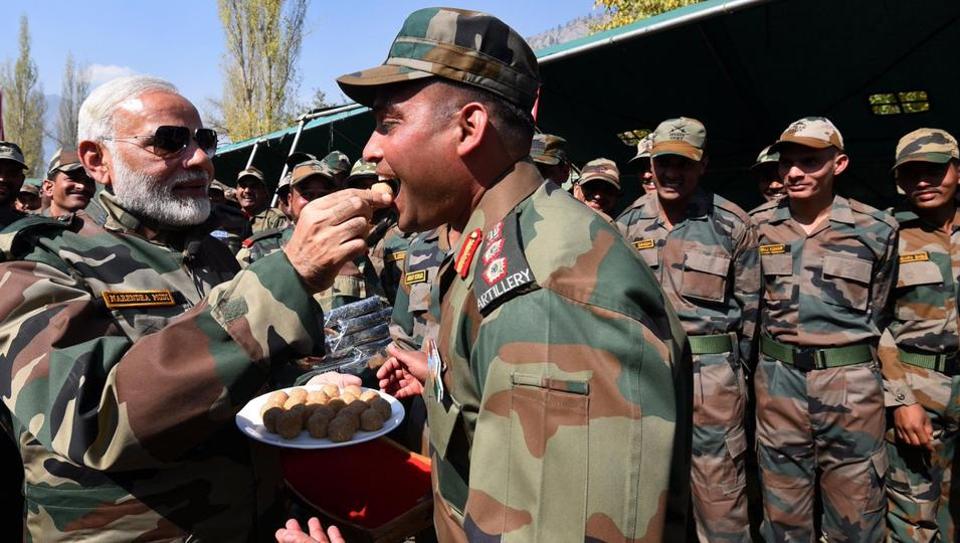 The PM has been celebrating Deepawali with the soldiers ever since he took the office of PM. He spent the last two Diwali days with troops in Himachal Pradesh and Punjab.
2. The Saffron Clad Yogi Adityanath
Apart from PM Modi, another person who won people's heart this Diwali was none other than the firebrand CM of Uttar Pradesh, the saffron-clad sadhu Yogi Adityanath. While rest of India reenacted the homecoming of Lord Ram, our King, his own kingdom witnessed celebrations befitting any other small town. Media Chased Delhi and Mumbai, discussing about the Rangolis and Fancy Lighting in the gliterring colonies of the Metros, Lord Ram's Nagri Ayodhya remained overlooked. But this year, people of "Ram ki Nagri" witnessed the grandest Deepawali celebration when the Yogi Adityanath organized a 'Treta-yuga'-like Deepotsav to relive the episode of Lord Ram's homecoming. The event started in the morning with "Mokshadaini heritage walk" for tourists organized by the officials from tourism department. A grand shobhayatra was organized which started from Saket College. Different chapters from Ramayan like Ram Janma, Dhanush Bhanga, Ram Vivaha, Sita Haran, Ram v/s Ravan war, return to Ayodhya in Puspak Vimana, etc. were shown on 11 tableus during the shobha yatra. The shobha yatra arrived at Ram Katha Park where the main event was held later.
Around 4.00 PM, actors dressed like Lord Ram, Mata Sita and Lakshman landed from a helicopter and were greeted by CM Yogi Adityanath, Governor Ram Naik, Deputy CM Dinesh Sharma and Tourism Minister Rita Bahuguna Joshi. Chants of "Jai Shri Ram" echoed on the river banks of the Saryu as actors portraying Lord Rama, Sita and Lakshman arrived on a chopper decked up to resemble the Pushpak Viman– a recreation of Lord Rama's return after 14 years of exile to Ayodhya, as a part of a grand 'Deepotsav' celebration.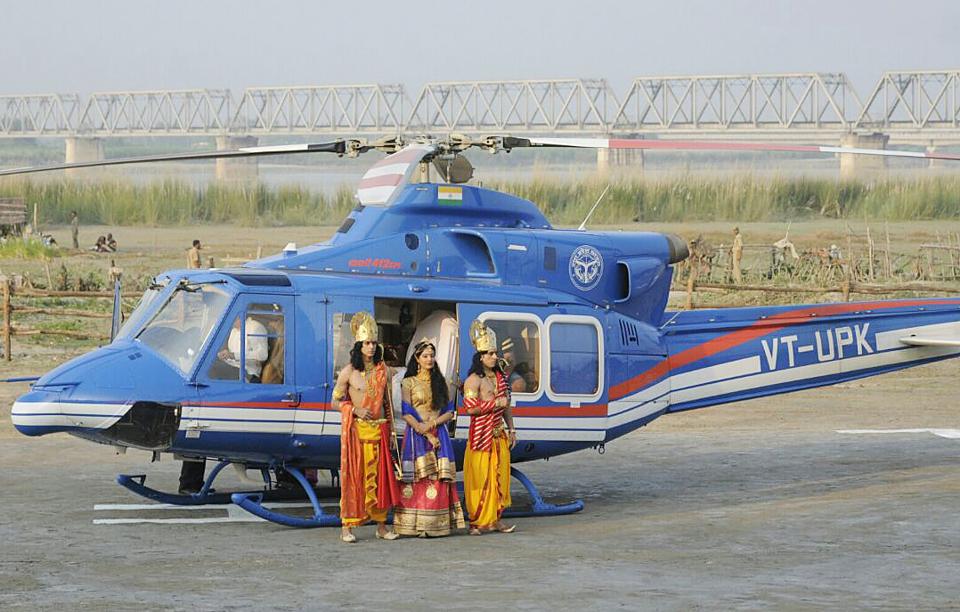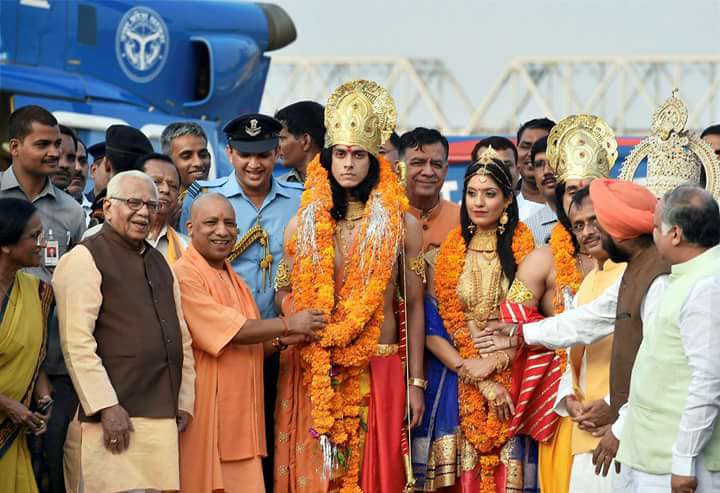 The CM and Governor walked with them to a stage near the park, where members of state cabinet and Union Ministers Mahesh Sharma and K J Alphons joined the actors. A beautiful laser show was organized which displayed major events from the Ramayan.
International artists performed in the Ram Leela event. The CM promised that Deepawali will be celebrated at even grander scale in future. Apart from the celebrations, the government laid foundation of various infrastructure projects of Rs. 133 crore for Ayodhya during the occasion- which included free electricity connection to 108 poor families. CM also distributed certificates to beneficiaries of Pradhan Mantri Awas Yojana and other schemes. 
The Diwali event did not end here. Around 5.50 PM, students started lighting diyas on the banks of river Saryu in Ayodhya. The evening witnessed a breathtaking view when 1.75 lakhs diya dazzled up to brighten the pink-lit riverbanks of Saryu. The lighting of 1.75 lakh diyas set a new world record.

As expected, the political class which cannot think beyond "Grand Iftaar parties" did not like the idea of celebrating a Hindu festival at such a grand scale. The opposition leaders like Nationalist Congress Party (NCP) General Secretary Tariq Anwar and Janata Dal-United leader Ali Anwar slammed the event and lambasted at Yogi Adityanath for…well…following his faith. Congress leaders also slammed Yogi Adityanath and said that if it is Yogi's personal faith then he should celebrate it in private and not as the Chief Minister. Opposition leaders also questioned the expenses of organizing such a big Hindu festival. Yogi Adityanath, on the other hand, said that opposition has no right to interfere or question his personal faith. Playing dirty politics by giving a communal color to the event, Congress leader Salman Khurshid said– "It is a good thing that such huge numbers of earthen lamps were lit… I hope the Chief Minister also invited Muslims from all across the nation to these celebrations".
The opposition which was questioning the expenses of 1.75 lakh diyas, 11,000 kg sesame oil and 850 kg of camphor, needs to know that 60 potters of Kumhartola of Harsinghpur (who made those diyas) are happy to have a cracking business which helped them to celebrate Diwali this year with joy and happiness. Similarly, it helped people who earn their living by selling camphor and oil. That is the beauty of Hindu festivals, which provides breads to many.
People who were busy in imparting communal colors to Diwali celebration in Ayodhya, hardly know that Yogi Adityanath did something wonderful which brought joy to one of the most deprived communities in India. The Vantangiya community comprises of the descendants of the people brought from Myanmar to plant trees for afforestation during the colonial rule. Yogi met the Vantangiyas this year and distributed sweets, textbooks, fruits and clothes for the children and wheel-chair for the disabled. Yogi declared five villages namely Tikonia number-3, Ramgarh (Rajhi), Chilbila, Sarkar and Aam Bagh Ramgarh as revenue villages. A revenue village is a small administrative region or a village with predefined borders. Declaring a tribal-dominated forest village as a revenue village will ensure the government to take measures to provide schools, dispensaries and other facilities for the community.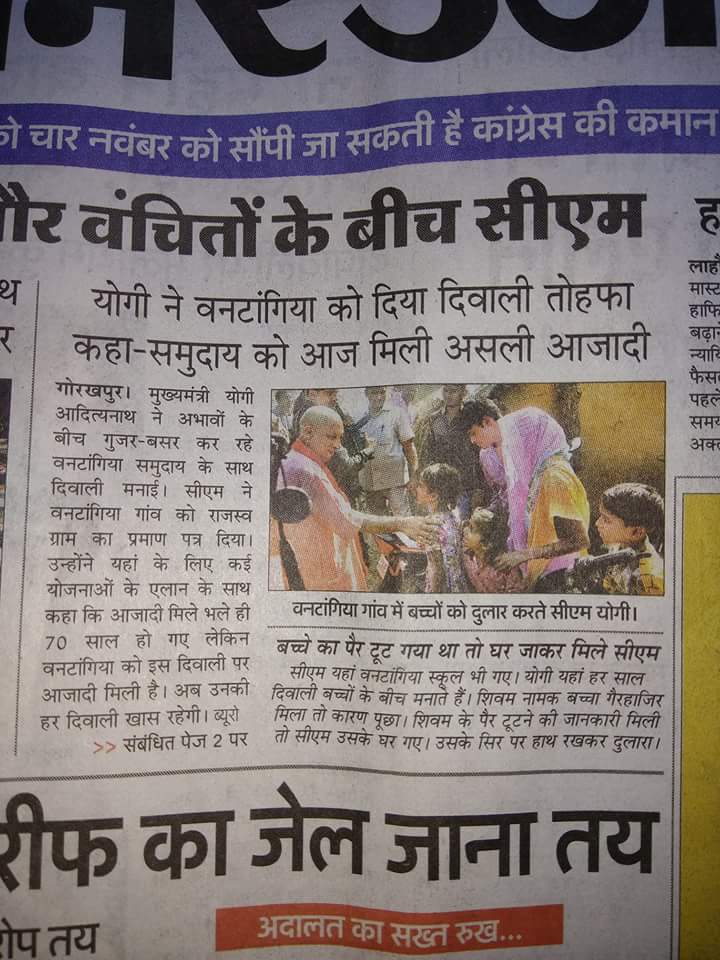 3. The third person who made this Deepawali memorable was none other than the common man of Delhi-NCR.
Just before the Diwali, the Supreme Court of India put a ban on sale of fire crackers till November 1 in an attempt to check pollution. While no one can say that Supreme Court's intentions were not right and let me state it categorically that Delhi needs a war-level effort to rid it off the poisonous fumes that City Dwellers have to live with Day in and Day out. But the method adopted by the Honorable Supreme Court was most surprising and the biggest surprise was that the ban was effective till November 1, and it is likely that there will be no ban on December 25th, December 31st and January 1st when the whole Delhi burns crackers to celebrate Christmas and New Year. Not to forget the super-packed Marriage season. The Supreme Court needs to find better ways to curb pollution, because in my most humble opinion, banning crackers for 1 day won't purify the air of Delhi magically. In a city where 1.8 crore people use 1 crore registered vehicles, severe traffic rules are needed to check the pollution instead of some one-day ban on crackers. The factories, the mills (Especially the unregulated ones), the vehicles, etc cause 100 times more pollution than what crackers do.
Supreme Court's decision drew severe criticism. Despite the ban, the Delhites burned crackers and gave a clear message- no ban can kill the spirit of Diwali.