Zaira Wasim of Dangal fame took to Social Media to tender an unconditional apology for her conduct in recent times which has hurt the sentiments of certain people. In her open confession, she says, "I'm sorry for what I did but it was not a deliberate decision and I really hope people can forgive me." One wonders exactly what sin she has committed that she has to render such a meek apology on Social Media. Zaira Wasim further adds, "I know that many people have been offended and displeased by my recent actions or by the people I have recently met." One can hazard a reasonably well informed guess that she is talking about her meeting with the Chief Minister of J&K, Mehbooba Mufti. Again, it is bewildering that she would choose to apologize over something so trivial.
After Muhammad Kaif and Muhammad Shami were attacked recently on Social Media by members of the peaceful community for apparently straying from the true path of Islam, the latest victim of secular trolling seems to be the Dangal actress. It seems that according to a certain section of the Indian Population, acting in an Indian movie seems to be a grave sin for which one must sincerely repent. One must also take care to remember that people from a certain community in Kashmir have also forced a girls' band to quit music in the not so distant past. Zaira Wasim is their latest victim it seems.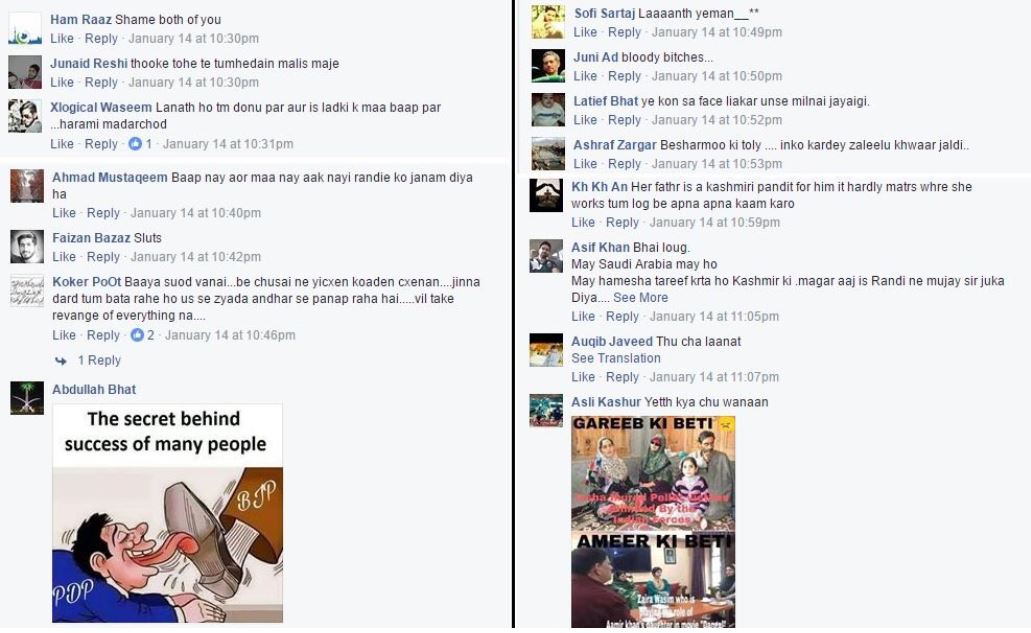 The secular trolls who have attacked Zaira Wasim seem to be from that section of the Indian population which still harbor separatist fantasies. They have not taken kindly to Zaira's meeting with Mehbooba Mufti whose government is in an alliance with the Hindu Nationalist party, BJP. Not too long ago, the same section had threatened girls riding scooties in the valley with murder and violence. It seems the only profession that the Nonresidential Pakistanis in Kashmir approve of is Stone pelting, for everything else, there is a Fatwa.
Zaira Wasim goes on to add, "The first and foremost thing is that I am being projected as a role model for Kashmiri Youth. I want to make it very clear that I do not want anyone to follow in my foot steps or even consider me as a role model. I'm not proud of what I'm doing and I want everyone, especially the Youth to know that there are real role models out there whether they be in this time or in our history." Congratulations, Kashmiriyat has emerged victorious after all. Why would any sensible Kashmiri consider Zaira Wasim their role model when they have glorious ones like Burhan Wani whose footsteps they would rather follow? Why should Zaira Wasim be proud of her work when she is not busying herself pelting stones at the Indian Army? Why should Zaira be proud of her work when she is consorting with the enemy as these ruffians would call it? It's heartbreaking that such young talents are forced to cower before elements who would rather watch the world burn than live in harmony with their fellow human beings.
One can only sympathize with Zaira Wasim at the moment.
To be forced to crawl before people you are better in every manner imaginable is humiliating and soul crushing. To undermine such a great achievement and talent is an atrocious assault on her self respect and dignity as a human being. Muhammad Kaif and Shami are matured enough to withstand such malicious attacks but Zaira, after all, is only a 16 year old who has just tasted her first bite of success. One can imagine how she feels right now, crushed and heartbroken and humiliated. A society that forces such humiliation on their brightest talents cannot and does not deserve to prosper.
Zaira Wasim is worthy of all our support against such malice. We hope that Aamir Khan who lamented the rise of intolerance in the country not too long ago renders her the support that she so very needs. But Zaira's tragedy also means we can no longer afford to neglect the morbidity that permeates much of Kashmiri society today. We must realize that the primary difference between India and Kashmiri separatists which has jeopardized peaceful coexistence is not one of oppression or lack of development, it's one or vision. We can no longer afford to ignore that Kashmiriyat has mutated into a twisted form of Islamic fundamentalism which feasts on its very children. We must change our approach and deal with changing circumstances accordingly. We can no longer afford to glorify Kashmiriyat and must expose it for it really is, a rabid form of Islamism.