UK home office report: There is a wonderful phrase consisting of a cocktail of Hindi and Urdu. It goes like this – अंगरेज चले गए, औलाद छोड़ गए| The phrase primarily refers to generations of post-British India. It highlights how Indians were psyched out by the self-styled suave and sophisticated Brits. So much so that even today, a lot of us have not learned to respect our own culture and way of life.
But, let me tell you, the phrase encompasses only half of the story. It does not comprise those who left India and settled in western countries. Sitting there, these people are busy targeting Indian interests in their respective geographies as well as in all other places coming under their area of influence. Certainly, a lot of people of Indian origin are trying their best to stop them.
At the same time, we have to acknowledge the fact that we are living in a world where negative voices get more amplified than positive ones. The anti-nationals are a minority, but they are a well-organised minority. Their galvanization power is extremely strong. This is why, rather than waiting for a bottom-up populous revolt against them, any attempt to stop them must be top-down.
In this context, the latest report by the UK home office is crucial. Until there is a big upheaval from the Rishi Sunak government, foreign hideouts of anti-nationals in the UK should get on high alert.
A UK home office report highlights the presence of radical Islamists
The United Kingdom has set up a special scheme and strategy for counter-terrorism. To counter it, the 2018 report relies on the 4Ps, namely prevent, pursue, protect, and prepare. Recently, the review of one P, namely, prevent, came out in the open. The UK home office report emphasises the growing threat of Islamic radicalism in the island nation. Issues related to India also find a detailed entry in the UK home office report.
UK home office report highlights how radical Islamists and anti-India elements have joined hands. Radical Islamists want to use liberalism to put an end to any of their critiques by imposing blasphemy-related sanctions. The problem is that the British government has come to know that a lot of these blasphemy advocates are themselves creating rhetorical notions against India and India's treatment of Kashmir.
The person who detailed the report wrote, "There is an element of crossover between those who seek to impose limits around blasphemy and those who voice incendiary rhetoric on Kashmir. I have seen evidence of UK extremist groups, as well as a Pakistani cleric with a UK following, calling for the use of violence in Kashmir. I have also seen evidence demonstrating that flashpoints related to Kashmir lead to a significant surge in interest from UK Islamists."
Also read: US to UK: Doval lays ground for battle against information warfare
The flashpoint that the UK home office report subtly talks about is the abrogation of Article 370 from the Kashmir region by the Modi government in 2019. Pakistan has been aggressively against it, since the seeming goal of existence is assimilating Kashmir inside the real estate of Pak Army. No amount of anti-India propaganda at multinational forums could pay off. This is why Pakistan is using its expatriates and other hardline Islamists in its attempt to knock down India.
The UK home office report acknowledges that it is not going to stop in the near future. Explaining its impact on the "Prevent" strategy, the author writes, "This has potential relevance to Prevent, as there are examples of those convicted of terrorism offences in the UK who had first fought in Kashmir. This includes those who subsequently joined al-Qaeda."
Also read: The coming future will witness the rise of the Islamic State of Britain
The war is on the civil front
The main concern is that of civil society. Civil society sympathetic to Pakistan has stepped up to this cause.
While earlier the South Asian community lived in unison in Britain, now religious differences have turned into a religious divide in that country. A large part of the credit goes to the rise of hardliners among the ranks of the British section of Islam, which is, by the way, the second-largest religion in England.
Look at this chart. It reflects the percentage of followers of each religion. According to the most recent British census, now 6.7 per cent of people in the UK adhere to Islam.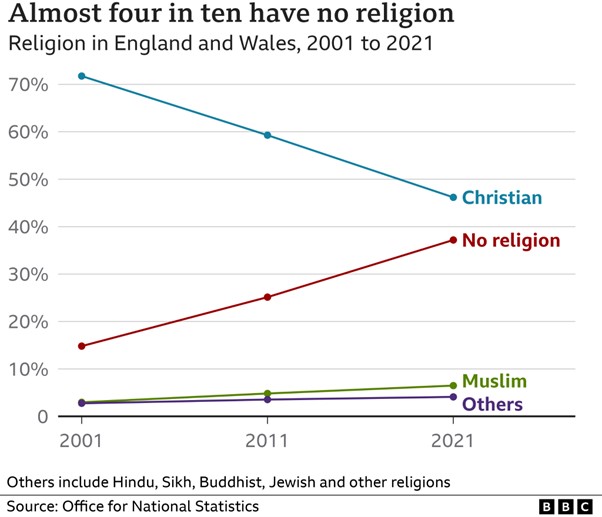 The situation in London is worse. While in all of England, the percentage of Muslims is only 6.7, Muslims now comprise 12.4 percent of the total population in the capital of England. According to a 2016 study, London has more than 1,500 Masjids. Now compare that with the ratio of the Christian population and the number of churches in London.
Despite Christianity being the main religion for 48.4 percent of Londoners, there are barely more than 2,000 churches in the city. By 2030, the number of Masjids in London is expected to overtake the number of churches in the city.
Also read: How Indians are dominating Britain
It is this spike that has allowed Islamists to infiltrate the ranks and pollute the peaceful environment, especially after the abrogation of Article 370. Even the friendly rivalry over a cricket match between India and Pakistan is taking such a drastic turn that violence after the match has become commonplace. Last year, communal violence broke out between both communities in Leicester and Birmingham.
28th Aug: After a #INDvsPAK2022 cricket match rival fans bantered. Such banter is commonly seen amongst boisterous football fans too, it was non-religious & became serious only when an individual supporting the #Pakistan cricket team snatched and disrespected the #India flag. pic.twitter.com/GsVWalGoVb

— INSIGHT UK (@INSIGHTUK2) September 10, 2022
We know there are concerns in the community and we are working to identify those responsible for the disorder and racist remarks after the cricket match on Sunday evening – a statement from the force: pic.twitter.com/nLAaaqV1gP

— East Leicester Police (@LPEastLeics) August 30, 2022
Thank you @leicspolice @LPCityCentre for accepting your mistake.

Hindus of #Leicester suffered immensely due to this grave mistake.

We expect you will do justice to the #Hindu victims by charging the culprits.

Your strict actions can only bring peace & security in the future. pic.twitter.com/PQj03UjPcT

— INSIGHT UK (@INSIGHTUK2) September 18, 2022
Surely, the affected section of the population must have been reaching out to the Indian government. Apart from the British government, only the Indian government can help Hindus out there. Hindus comprise only 1.7 percent of the British population, which puts them at a disadvantage when it comes to violent threats on the basis of numbers. Anti-India rhetoric does not help their cause either.
In 2020, 200 prominent British citizens signed a letter condemning India. One of them was Dany Boyle, the director of Slumdog Millionaire. The list claimed to include some "prominent Indians" as well. These people, who have roots in India but have ditched their country for economic and other opportunities, mainly dominate the liberal departments of British academia.
Their voices are considered sacrosanct by Brits and taken as authentication of their Indophobia. In a 2017 survey by the BBC, 38 percent of Britons expressed their reservations about the rise of India on the global stage.
Also read: The vitriol against Rishi Sunak once again reveals the "civility" of Britain
Narrative ploy by BBC
The BBC itself has a big role in this. It had tried to whitewash the 11/26 attacks against India. M. J. Akbar, a well-known Indian journalist, called for a boycott of the much-maligned corporation. British Parliamentarian Stephen Pound had termed it "the worst sort of mealy-mouthed posturing." In the 2008 version of the peer-reviewed Historical Journal of Film, Radio, and Television, Alasdair Pinkerton took a nosedive into the BBC's coverage of India from 1947 and 2008.
He had no qualms in labelling it Indophobia. Media analyst Ajai K. Rai has also analysed how the BBC assisted Pakistan's cause by showcasing Kashmir under India in a poor light. The tools used by the broadcaster involve fabricated images and false allegations too.
Then there's the latest BBC documentary on Prime Minister Modi. The documentary, devoid of any substance and eligible for inviting contempt of court in India, further maligns India's image.
This is one reason why Ajit Doval, India's national security advisor, made no bones about it during his UK tour. During his interaction with Tim Barrow, his British counterpart, he raised the issues of the BBC documentary and pro-Pakistani groups in the territory. Doval pointed out that anti-India Pakistanis living in the UK are negatively influencing Britain's policies towards India.
Also read: Dear Stewart if you still think that India is dependent on Britain, think again
The Khalistan conundrum
One other issue raised by Doval was the emergence of anti-India Khalistani groups in the UK. It seems as if his words have changed the policy of the British government. In their latest UK home office report, they seem to be more watchful of Khalistanis.
Talking about Khalistanis, the report says, "Prevent should also be mindful of pro-Khalistan extremism emerging from the UK's Sikh communities. A false narrative is being disseminated by the tiny number of pro-Khalistan groups operating in the UK that the government is colluding with its counterpart in India to persecute Sikhs."
The Rishi government is right in its analysis. For the last few years, Khalistanis all across the world have gained momentum for their campaign, especially in the UK and Canada. In early 2016, Jagmeet Singh, the chief promoter of the Canadian section of Khalistan, observed in London alongside pro-Khalistan supporters Shamsher Singh and Harwinder Singh Mander, who are co-founders of the National Sikh Youth Federation.
Those who were accompanying Jagmeet in London were promoting the idea of religious superiority. They stated that Sikh culture, language, and principles are superior. Shamsher Singh went so far as to declare that they aspire to establish a sovereign nation and are willing to resort to violent means to achieve it.
In fact, the UK is the first place where Khalistanis felt secure enough to organise an anti-India and pro-Khalistan referendum in 2021. British Police were busy providing security to it. To add insult to injury, the referendum was organised by Sikhs for Justice (SFJ), a banned organisation in India whose leader Gurpatwant Singh Pannu was declared a terrorist. India has expressed strong objections to it. Later in April 2022, the British government had to suspend the licence of a pro-Khalistan channel that was spreading hate and violent ideas against India.
Also read: When there is no Great Britain, what's the point of Commonwealth? India drops hints to leave the Commonwealth
Brits are not doing favour
One reason why Brits are more concerned about Khalistanis is that they are in desperate need of a free trade agreement with India. The deal could not get completed by the stipulated date of Diwali last year. It is acting as indirect pressure on the British government. The tanking economy needs a saviour called India. There is no reason why they would be so worried about Khalistan, whose threat is low according to their own analysis.
Quote: "Such groups' narratives glorify the violence carried out by the pro-Khalistan movement in India. While the current threat is low, praise for violence overseas and a simultaneous belief in a state-led campaign of repression domestically is a potentially toxic combination for the future."
Also read: Britain may have a lot of hate for India, but it doesn't have a lot of food and oil
We have an internal weakness
In a way, the acknowledgement by the British government is the first of its kind. The thing is that anti-India sentiments have persisted for the last 4-5 centuries throughout the Western world. While, until 1947, one could pin the blame on Britishers and other western academics, it is no longer an excuse now. Simply because a large number of Indians have moved to these counties of their own volition. Make no mistake about their hard work. They have made these countries a better place to live. What they did not do was control the rise of bad apples in their ranks. It has worsened the perception of India.
Consider this. Indians are the dominant community in America when it comes to education and per capita income. Despite that, historically, our voices did not reach places where they should have. The true narratives related to a free India do not find much voice. Instead, big portals like Time Magazine, The New York Times, The Washington Post, The Guardian, The Economist, and Vice have only negative things to say about India.
In that scenario, we can't expect children living in these places to grow up and think positively about India. No wonder anti-India hardliners like Khalistanis and radical Islamists are gaining traction. The initiative by the UK government is a good one, but not enough. The target should be killing the idea, not just apprehending people endorsing it.
Support TFI:
Support us to strengthen the 'Right' ideology of cultural nationalism by purchasing the best quality garments from TFI-STORE.COM
Also Watch: