The 21st century has presented India and the world with a set of peculiar challenges. It is a century in which distance between geographical blocs rarely matters, especially not when both want to be on friendly turf. India's push to deepen relationships with Latin America is a prime example of it. The budgetary allocation of aid to these countries stands as a strong testament to it.
Aid to Latin America enhanced
In the Union budget 2023, Finance Minister Smt. Nirmala Sitharam has allocated Rs 6,000 crore for foreign funds. Countries like Bhutan, Afghanistan, and Mauritius will get less than they did in previous years. On the other hand, Bangladesh, Nepal, crisis-hit Sri Lanka, Mongolia, and other Eurasian, African, and Latin American countries will get more than what they got in 2022.
Of these, Latin American countries have witnessed a massive upsurge in their allocations. Their allocation has been increased by more than 600 percent, from Rs 7 crore to Rs 50 crore. The next big percentage increase is that of Mongolia, with a change of less than 300 percent.
There is no doubt that Rs 50 crore is a penny for such a vast region. The Latin American region is five times the size of India, while its population is less than half that of India. It is definitely not going to be enough and, in one way, stands as a disappointing testament to the history of India's outreach in the region.
Also read: From Chile to Brazil, China is losing Latin America. One country at a time
India's history in Latin America
The Latin America region was one of the first blocs to welcome the establishment of an Indian state in the New World Order. Mexico recognised us in 1947. In the very next year, Brazil established diplomatic ties with us. India was one of the first countries to recognise Fidel Castro's overthrow of Batista and establish its embassy in Cuba.
As the USSR and USA started to fight for supremacy in the region, India's outreach could not gain much momentum. And this was despite many Latin American countries having socialist governments and joining the non-alignment movement. Both of these failed on massive levels.
When the USSR fell, the Americans got a new rival in the region in the form of China. Between 2002 and 2021, China's trade with the region increased by 27 times, from $18 billion to $450 billion. In fact, it is the top trading partner in nine different Latin American countries. Despite that, not many countries in the region are happy with China. Just like everywhere else, China's cheap products are flooding the Latin American market, killing the local businesses.
Also read: Latin America has officially opened its doors for India and Brazil is the first step
Latin America needs India
They need relief, and America is not the option due to its hegemonistic tendencies. India, being a stable nation and a soft power, can become a better replacement for authoritarian China. In addition to that, China's decline is also going to play a big role in India's renewed Latin America initiative.
To ensure its significant position in the region, India has developed a stable launchpad in the last 2-decades in the region. India's most strategic ally in Latin America is Brazil. Brazil is the largest country in the region, both in terms of size and economy.
Both countries are strategic and economic partners, and most of the time they are on the same page with respect to geopolitical issues. During COVID, Brazil had referred to India as Bhagwan Hanuman for giving it medicines.
Also read: 50 Years after the Death of "Revolutionary Socialist" Che Guevara, Latin America is Realizing its Folly
Both countries are partners in multilateral forums like BRICS and IBSA. The ties are well reflected in trade numbers as well. Bilateral trade between both countries was recorded at $124 billion between 2001- 21. It is nearly one-fourth of India's total trade with Latin American and Caribbean countries during the same period. India's exports to Brazil during FY22 surpassed those of its FTA partners like Japan and Thailand.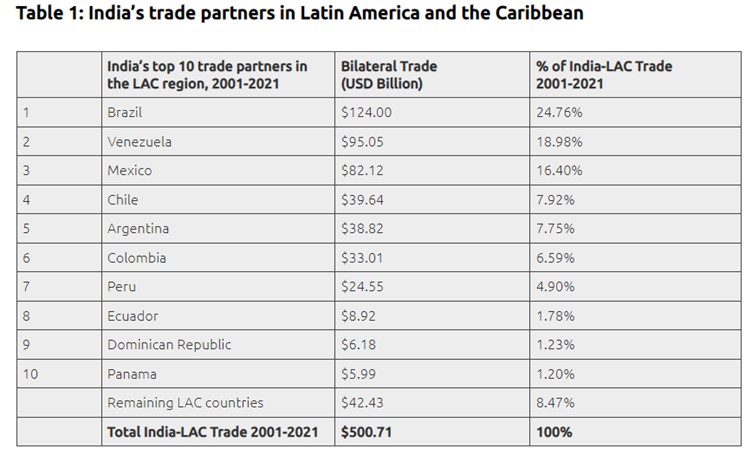 PC: ORF
Apart from Brazil, Mexico, and Argentina, two other Latin American economies in the G20 group also share a stable relationship with India. While Brazil was the number one destination for our exports, Mexico was number 2, and Argentina was number 3.
In fact, Mexico was the second largest market for our cars in 2019. In terms of annual percentage increase, Argentina came first with a 107 percent increase in its Indian imports. All three countries fared better than the average increase of 48 percent in our exports to the region. Brazil and Argentina were two countries that EAM Jaishankar visited in 2021.
This is an add-on to PM Modi's special emphasis on the region, with as many as three visits during his tenure. The responsibility of handling Latin America has been shifted from the Minister of State to EAM himself. The reason behind it goes way beyond geopolitics.
Also read: India's strategic outreach in America's backyard
It's a big market for export
Apart from being in close proximity with America, Latin America provides us with huge potential for business. The business climate in these countries is not as strict as that of the EU and the US, nor is it as regulated as that of Africa or, for that matter, Jinping's China. Their per capita GDP is also less than that of the EU and the US but more than that of India. Its $16,611 per capita GDP is close to that of Southeast Asia.
It is well reflected in the way they are consuming products. Between FY2010 and FY2022, India's exports to the region have witnessed a more than 2.5-fold jump. India's value-added consumer products and inputs, such as cars, motorcycles, pharmaceuticals, and chemical products, are major hits in the region. Most of the time, India remains one of the top 5 exporters of cars, motorcycles, and pharmaceuticals. In pharma, most of our exports to Latin America are generic medicines, drastically decreasing the cost of medicine.
Also read: Dear America, you have no business interfering in India's oilonomics
Imports and IT outreach
Even on the import front, India is faring better than before. Mineral fuels and oils, pearls and precious stones, animal or vegetable fats and oils, ores, slag and ash, and electrical machinery and equipment are some of the major items comprising India's import basket. Compared to FY 2010, India's imports from Latin America were more than twice as large.
It became possible despite India's decision not to purchase oil from Venezuela after American sanctions hit the country. The country is home to the world's largest petroleum reserves. While India is looking to diversify its oil import options, the country could emerge as a vital cog, apart from Russia. But India could not exercise its strategic autonomy, just like it did in the case of Russia. The reason was a less historic emphasis on developing ties with the region.
With a renewed approach, India can correct the historical wrongs. Thankfully, our business community has a better presence in the region, and that too in the IT sector. India is one of the largest suppliers of IT services in the region. More than 35,000 Latin Americans work for Indian IT firms. It could come in handy in the wake of increasing tensions over securing critical minerals like copper, lithium, iron ore, gold, and silver.
The world is multipolar now. Latin America as a region wants to take advantage of the competition. America and China are setting goals for themselves. It is only India's game to lose now.
Support TFI:
Support us in strengthening the "right" ideology of cultural nationalism by purchasing the best quality garments from TFI-STORE.COM.
Also Watch: