The expansion of the Indian Telecom market is not all that hunky-dory. A big flaw is that now, there is very less space for competition. With an attempt to revive Vi, the government is doing its bit for fair play.
Saving Vodafone Idea
Government's interest due on Vodafone Idea will now be converted into equity. The company has been asked to issue 1613,31,84,899 equity shares at an issue price of Rs 10. With it, the government will own 33.14 per cent stake in the company while promoters' share will drop down to 50.
Overview of lack of competition in Telecom sector
The move is a step in the direction of opening the sector for more communication. Despite having less government control, the sector has not seen much diversity. As of September 2022, India had a subscriber base of 1.17 billion. The problem is that, only two companies dominate the chart, and that is despite the Private sector chalking up 90.24 per cent of the share. TRAI informs us that in the same month, Reliance Jio occupied 36.85 per cent of market share, while Bharti Airtel occupied 31.92 per cent. Vodafone Idea could occupy only 21.48 per cent.
Market was not always the same. As of Feb 2016, Indian telecom market had 12 players with Vodafone, Idea and Bharti Airtel in the dominant position.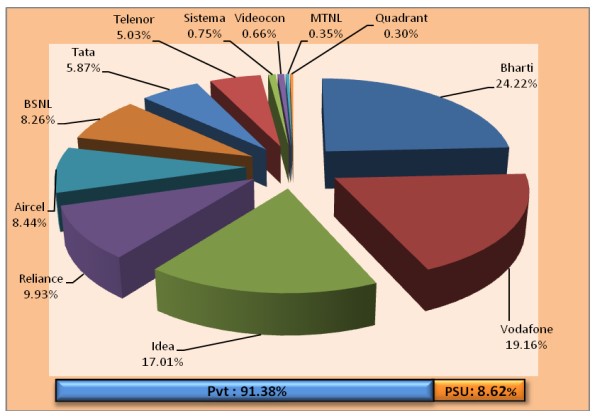 Things changed after the launch of Jio. Its cheap (read almost free) tariffs made it next to impossible for smaller players to survive. At that time, Vodafone was involved in a tax dispute with the Indian government, which is also one reason why it could not fully focus on 4G spectrum. In 2018, Vodafone and Idea decided to join hands to increase their combined penetration in the second largest telecommunication market of the world. Meanwhile, Jio was expanding while these companies were establishing the infrastructure for 4G.
Vi needed a push
While facing such an onslaught, it has been tough for them to increase their market share on their own. It has taken both Vi and Airtel a lot of time to reduce their rates at par with the one provided by Jio, simply because they did not have financial muscle. Additionally, an unexpected help has started to arrive in the form of Jio decreasing its competitiveness. For the last few years, Jio has been increasing its tariffs, while simultaneously its quality is not what it used to be when it was first launched.
It is focussing more towards 5G and 6G, while other two are recovering from their tragedies in 4G. While Bharti Airtel is on a good track, Vi needed the push. Government has given it. Other private players are also chipping in. Telecom 2023 is heating up.
Support TFI:
Support us to strengthen the 'Right' ideology of cultural nationalism by purchasing the best quality garments from TFI-STORE.COM
Also Watch: