Some call it religion, some call it a way of life. To be fair to them, both sides are correct in their analysis about Hinduism. The problem is the limiting scope of the protective net provided by adherents of one school of thought. That's where a Judgement in 1995 case stands on wrong footing.
Crux of the case
On 13th December 1987, Vile Parle Constituency of Maharashtra Assembly went for elections. Dr. Ramesh Yeshwant Prabhoo, supported by Bal Thackeray turned out to be the winner. Later, he was found guilty under sub-sections 3 and 3A of the Representation of People Act, 1951. These sections prohibit asking for votes on the basis of candidates' religion. His election was declared to be void by Bombay High Court. Resultantly, he approached the Supreme Court for relief.
India's most legendary lawyer Ram Jethmalani had taken the case for Dr. Ramesh. One of the issues involved was whether using the word Hindutva or Hinduism in election speeches would amount to corrupt practice under the ambit of Section 123 of RPA, 1951 or not.
Delving deep into origin of Hinduism
To determine it, the Apex Court went deep into the etymological, philosophical and phenomenological origin of Hinduism and word Hindu. The Court was in agreement with the definition of Hindu as derived from the word Sindhu, an idea endorsed by the Constitutional Bench in the Sastri Yagnapurushadji case. Then it referred to an observation by Dr. Sarvapalli Radhakrishnan.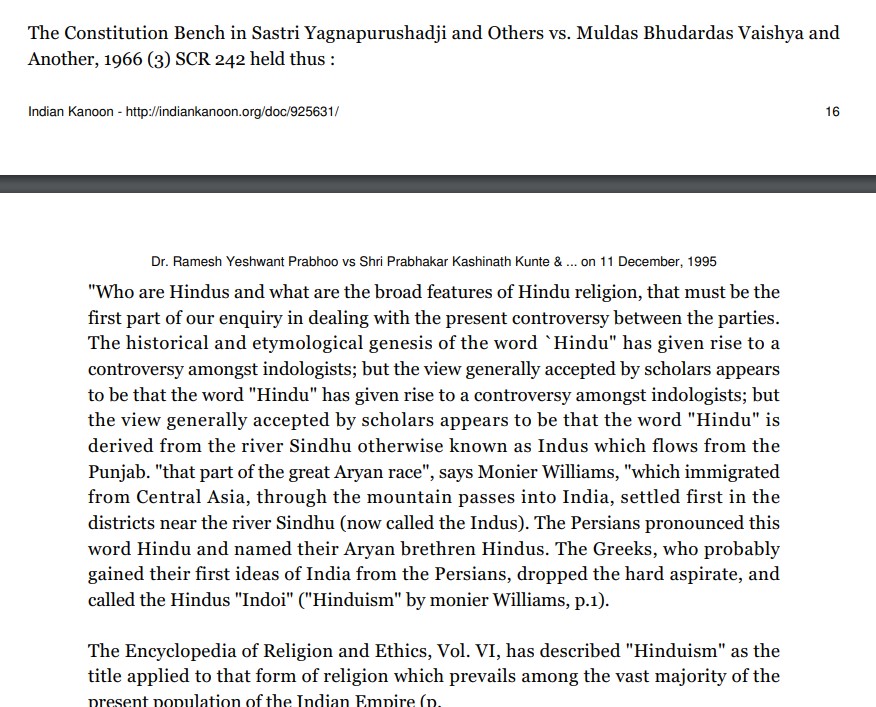 India's 1st Vice President had differentiated between Hinduism and other religions. In his words, Hindu religion doesn't have single prophet, God, dogma, philosophical concept, rites or any other characteristic associated with religion. Quote, "It may broadly be described as a way of life and nothing more."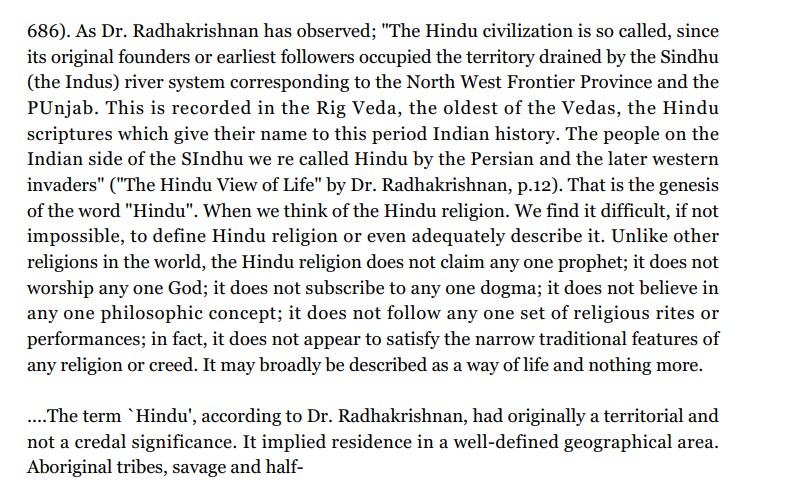 Also read: U. Akbar Ali vs. State of Tamil Nadu: The death blow to conversion mafias in India
SC declared Hinduism and Hindutva as a way of life
The Apex Court cited few more renowned works on Hinduism. Apart from Dr. Radhakrishnan, Monier Williams and Arnold Joseph Toynbee, both the British and Boden Professors of Sanskrit also made the cut. In terms of documentary evidence, definitions of Hinduism from Webster's Third New International Dictionary of the English language and Encyclopedia Britannica (15th Edition) were also looked upon.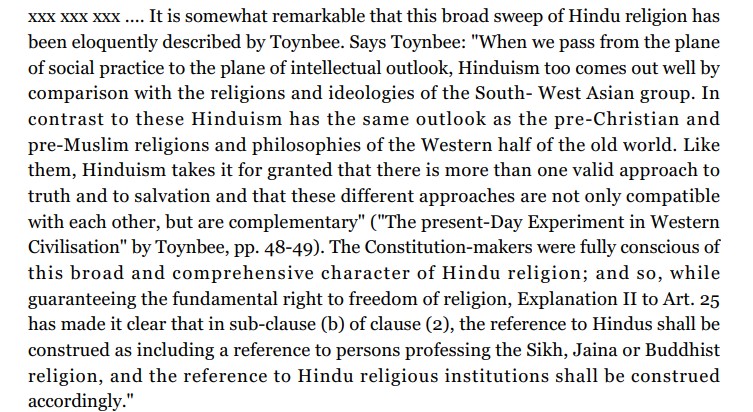 Based on detailed analysis, the Apex Court observed that Hinduism or Hindutva is generally understood as a way of life.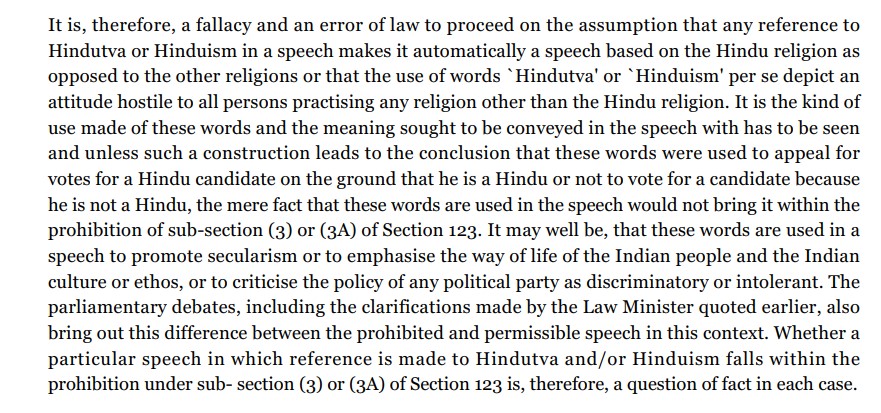 The Judgement later became a bone of contention for the secular lobby of India as it in a way gave legal justification for pro-Hindu parties to subtly demand votes by using these words.
Too little, too late
But it has its downsides as well, something which very few have pondered upon. By calling it a way of life, unknowingly, the Apex Court has snatched the legal carpet on which the rights of adherents of Hinduism are protected. This is where the judgement came too little, too late for Hindus.
It is true that Hinduism is a way of life in pith and substance. However, a way of life stands at second or maybe further downward pedestal to religion in modern socio-legal and cultural framework. Way of Life has very few legal protections available anywhere else in the world.
For instance, veganism, nihilism, liberalism, conservatism and many more are ways of life. Do they have more legal protection? Can the government stop people from eating meat to not offend vegans? Is it illegal to live a life without caring for immediate benefits as propounded by nihilism? Are Marxism, socialism and their other derivatives illegal so that liberalism and Conservatism could be protected?
The answer to all these questions is No with the capital N. You can readily offend adherents of any of the above categories of way of life and until you are staying in highly authoritarian regimes like that of China, you will remain legally immune.
Also read: The Case of Ismail Farooqui vs. Union of India: Why Hindus Can Worship in Ram Mandir
Ascribing religiosity is more pragmatic legal step
This is not the case with religion. A cursory analysis of the aftermath of Nupur Sharma's comments is good enough to understand the legal umbrella provided to religion, especially minorities. Multiple FIRs have been filed against her in different states. Jurisdiction of Courts are also not a hurdle when it comes to religious sentiments. The difference between Nupur Case and that with other religions is that their adherents do not strictly enforce the code of conduct others need to legally follow.
Hindus do not do it because they are hooked on the idea of a way of life. With this Judgement, the honourable SC made it official. When push comes to shove, this Judgement could be used as a justification to undermine Hindu rights.
Support TFI:
Support us to strengthen the 'Right' ideology of cultural nationalism by purchasing the best quality garments from TFI-STORE.COM
Also Watch: