Kumari Chandra vs State of Rajasthan case: Murdering someone is not just killing the person. It also kills the souls of their near and dear ones. Emotions are amplified when kids are involved. There is no reason for their parents to forgive the convict. But, Indian Courts can. One of the official reasons for acquittal can be PMSing.
Woman drowned 3 kids
In 1981, a woman named Kumari Chandra took three kids, namely Omprakash, Deoki, and Udhavdas, for a walk. Contrary to expectations, she pushed all of them into a well. Deoki and Uddhavdas survived, but Om Prakash could not. Survivors were gravely injured.
Initially, the FIR was registered under Sections 307 and 367 of the Kumari Chandra vs State of Rajasthan case. After investigation, the police charge sheet showed the offence was registered under Sections 302, 307, and 364 of the IPC. Sections 302 and 307 provide punishment for murder and attempted murder, while 364 is for kidnapping.
In her statement under Section 313 of the CrPC, Chandra alleges false implication. After examining 34 witnesses and 41 documents in total, Court of Additional Sessions Judge No. 1 Ajmer found her guilty. The conviction was appealed to the High Court. The court had to check whether Chandra intended to kill them or not. Moreover, if she killed them, she could claim immunity under Section 84 of the IPC due to insanity.
Also read: 1959, Commander K. M. Nanavati vs. State of Maharashtra: The case that virtually ended the practice of jury in India
Neighbours' fight or insanity?
To prove the intention, Chandra's character was brought into question. It was alleged that Chandra was not maintaining what they termed 'sound character.' Her coming late at night was objected to by the parents of the drowned children. Omprakash, the murder child's father, used to reprimand her and complain to her father. Omprakash's mother also gave similar testimony.
On the other hand, Chandra had said that she did not have any enmity with children. Her counsellor argued that Chandra was suffering from premenstrual stress syndrome (PMS). It was argued that a few days before the onset of her cycle, she would lose control over herself and get excessively outraged. It was corroborated by Chandra's sister, the wife of her brother, and a neighbour as well.
Also read: Mobarik Ali Ahmed vs State of Bombay, 1957: Foreign nationals under the grip of IPC
Chandra was suffering from PMS
Her family tried various treatments, including taking her to Peer Baba Nizamuddin for black magic. She was also on medication prescribed by Dr. Mahesh Chandra Agarwal and Dr. G.B. Advani. On cross-questioning, however, Dr. Agarwal said that he is not an expert on PMS. Hence, the court called for an expert named Dr. Shri Gopal Kabra. He told the court that the mental effects of PMS can include irritation, depression, abnormal behavior, suicidal ideation, violence, and child abuse, among other things.
Dr. G.B. Advani, the other doctor treating Chandra, agreed with the expert's view and said that her condition is severe. However, he submitted that 5 percent of PMS cases do belong to psychotic disorders, but he had yet to see PMS in women cause a woman to murder someone.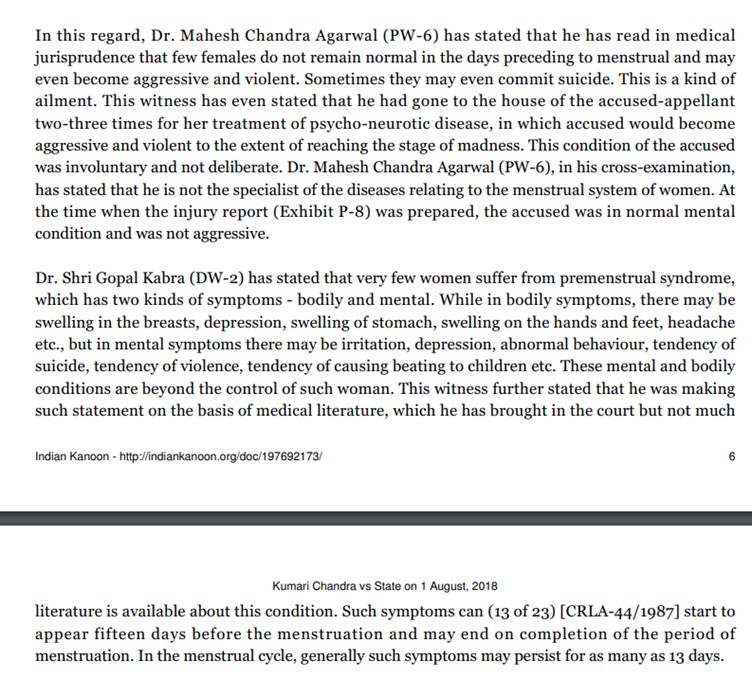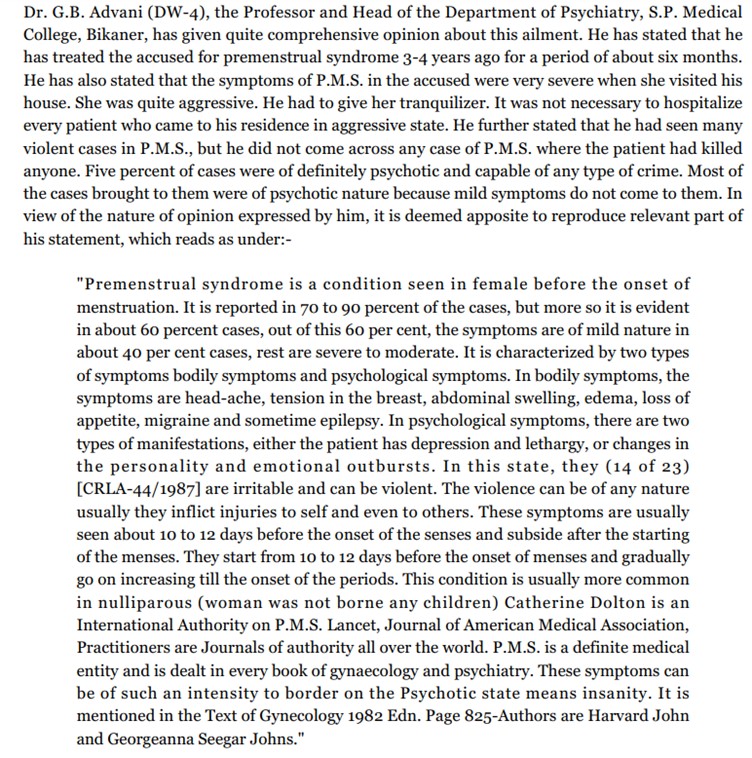 The Court then checked the applicability of the PMS defence all across the world. Research papers named "Premenstrual Stress Syndrome as a Defense in Criminal Cases" by Marc P. Press, published in the Duke Law Journal, "Menstruation and Crime," "Premenstrual Syndrome (PMS): The Malady and the Law," authored by Dr. Harinder Singh, and "Exploring Premenstrual Syndrome in Criminal Law," published on March 23, 2015, in the UK, were studied in detail by the Court. In addition to these studies, Regina v. Craddock and a Canadian judgement were also given an in-depth overview.
Also read: Tukaram vs State of Maharashtra: The case whose aftermath introduced misandry in IPC
Acquittal leaves more questions than it answers
The High Court said that PMS defence is not developed in India. However, the accused could claim defence under Section 84 of the IPC. The given section, along with Section 105 of the Evidence Act, requires the accused to prove that she was insane. The High Court gave her a bit of leeway by stating that even if her counsel creates reasonable doubt in the mind of the Court, she could be acquitted. And indeed, she was acquitted.

The judgement left some pertinent questions behind. Would it be acceptable if an employee did not hire women on the basis of this judgement? Would such a defence not be used by evil women to acquit themselves of deliberate crimes in the future? And lastly, would men who are well known for using more brutal force not go into biological essentialism to claim innocence?
Support TFI:
Support us to strengthen the 'Right' ideology of cultural nationalism by purchasing the best quality garments from TFI-STORE.COM
Also Watch: