It always feels good when the whole world gets a taste of something which you have had for years. India's civilisational journey is at that inflexion point. Not only our numbers in economy, military and various other aspects are giving us hard power, our slow but steady involvement in day-to-day affairs of the people all across the world is giving us a tag of soft power as well.
Hard power on the rise
Recently, India's tremendous economic growth of 13.5 per cent dominated Global headlines. Within a few days, the world, especially the western bloc was in for a ruder shock. India had pushed the United Kingdom, its former coloniser, down the economic ladder. The IMF said that India became the fifth largest economy in the world.
The economic might has arrived with increased military and strategic reputation as well. Our made-in-India defence products have started to dominate the international arms market. Similarly, our Ministers are getting a reputation of giving thorough and factual retorts to existing global powers. Both America and China, two competing powers, have tasted it from our Foreign Minister Dr S. Jaishankar.
What about soft power?
But, and there is a big BUT, these are our hard powers. They give us an upper hand in bilateral and multilateral negotiations. What will we do when an anti-India government is at the helm of affairs in other countries? To solve this crisis, we have to make deep inroads into people's hearts as well, so that when needed they could ask their government against taking an anti-India stance. That is the essence of soft power. Now, let's talk about India's feasibility in this aspect.
India's food is on everyone's plate
Food is the most important aspect of soft power. The more you stabilise people's hormones, the more likely they will pay you back. One reason why the Arab world is not so against India is because India provides them with breakfast, lunch and dinner.
But it's not only the Arab world. India's agri-exports are booming. In 2020-21, India's agri-exports grew by 17.34 per cent to $41.25 billion. India became the saviour when the world needed wheat in the aftermath of the Ukraine-Russia war.
Not only raw agricultural products, India's cuisines are also popular around the world. In 2019, US economist Joel Waldfogel published a paper titled "Dining Out as Cultural Trade" in National Bureau of Economic Research. Joel found that Indian cuisine is the 4th most famous cuisine in the world.
Yoga keeping the world fit
To stay fit from overeating, people all across the world are quickly resorting to Yoga, which also originated in India. Though it was first copied by the western countries nearly 200 years ago, people really adapted to it in the 1980s.
The declaration of International Yoga Day gave further boost to the tradition. Today, nearly 30 crore people practice yoga. Its good effects have given birth to a whole new industry called Yoga Pants. Its market value is estimated to touch around $40 billion in 2028.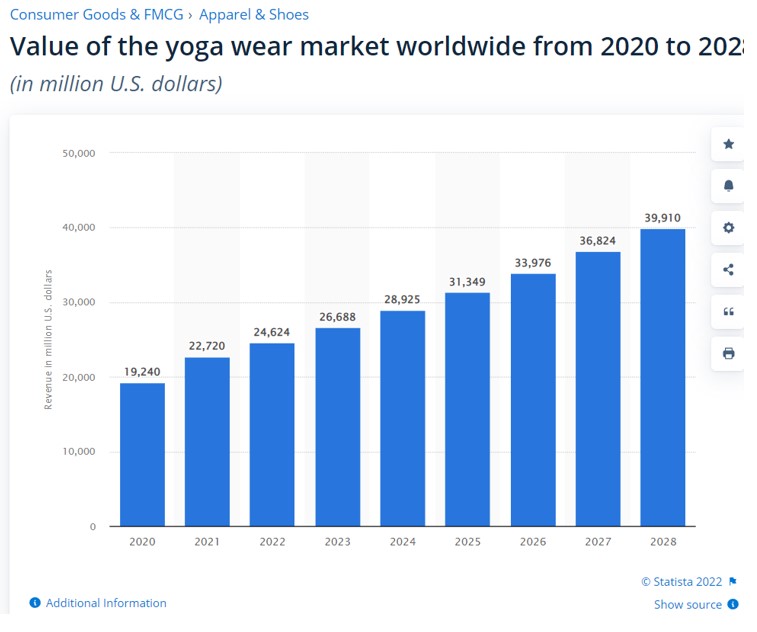 Popularity of Indian clothes
Not only food and fitness, India is also gaining ground in the clothing segment. Our Rs 3 trillion India apparel market exports 95 per cent of the hand-woven fabric available around the world. Today, our textiles and clothing, including handlooms and handicrafts, are being exported to more than 100 countries. In Fiscal year 2022, India exported apparel worth over $14 billion to the world.
45 per cent of our products landed in western block with the US alone occupying 27 per cent slot. Our exports of casual wear, sportswear, formals, denim, woven, and knits has giving employment to more than 10 crore people.
India to lead the Asian century
The strength of India's soft power was recently witnessed by Germans when one of their startups named "Leaf Republic" was laughed at for launching leaf plates. Indians have been using it from time immemorial. Not only leaf but also the Republic of the word Leaf Republic has its origin in India's Janpads.
There is no doubt about the 21st century being the Asian century. There is only one doubt about which country of Asia will lead the journey. At the moment, the decline of China and the advent of India gives us a hint about the answer.
Support TFI:
Support us to strengthen the 'Right' ideology of cultural nationalism by purchasing the best quality garments from TFI-STORE.COM
Also watch: