The Hindu, a leading publication of India, pretends to be a beacon of honest and unbiased journalism. However, it is 'popular' for publishing fake reports to peddle its agenda under the garb of journalism.  And now, it is back with yet another lie to demean the Indian Government.
Mind you, this one is a bit different from the media house's earlier propaganda as the recent claim by a journalist of 'The Hindu' is the most hilarious to date.
'The Hindu' journalist's pro-DMK propaganda
Parvathi Bindu Benu, a journalist associated with the propaganda portal 'The Hindu' Business Line, recently attempted to spread misinformation regarding the evacuation of students from Ukraine's city of Pisochyn.
On Thursday, Parvathi quoted a tweet of DMK Rajya Sabha MP Kanimozhi in which she had asked for contact information of those stuck in Pisochyn of Kharkiv province. Without even verifying and getting the facts checked, the Hindu Business Line journalist claimed that "The government of Tamil Nadu arranged the transport to evacuate students free of cost from Pisochyn."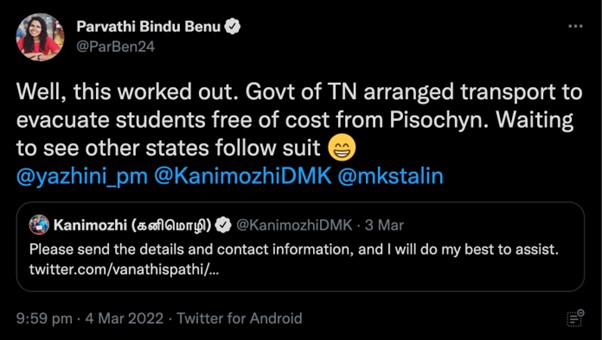 The journalist also 'instructed other states' to "follow the suit".
If Parvathi's tweet is to be believed, then it can be said that the journalist was insinuating that the Tamil Nadu government 'directly arranged' the bus to evacuate the stranded students without any efforts of the Ministry of External Affairs.
Isn't it irresponsible that the journalist, without any concrete facts to support the claim, declared that the DMK-led Tamil Nadu government arranged a bus to evacuate Tamil Nadu students and not the Central Government?
No Parvathi! Not DMK but the central government evacuated students
Is it possible for any state government to run independent evacuation operations? No. There is a strict protocol for the evacuation of Indian students stranded in Ukraine.
Seemingly, Parvathi is unaware of these protocols and is hell-bent on displaying her pro-DMK agenda without any proof.
Read more: While liberals and their media kept crying for Indian students in Ukraine, the Modi govt started their evacuation, for free
It cannot be denied that the Tamil Nadu government has shown its intentions to get the Tamil Nadu students stuck in Ukraine back home. But it cannot directly coordinate with authorities in Ukraine.
Notably, the entire evacuation process is being run and monitored by the Ministry of External Affairs under 'Operation Ganga' to evacuate Indian nationals from Ukraine.
On Friday, the Ministry of External Affairs (MEA) Spokesperson Arindam Bagchi had stated that "Some Indians were stranded in Kharkiv while five buses were waiting to take a section of citizens out of the Pisochyn area."
Highest attention on the eastern #Ukraine particularly Kharkiv and Pisochin. We have managed to get some buses there. 5 buses already operational, more buses later in the evening; 900-1000 Indians stranded in Pisochin & 700+ in Sumy. We are concerned about Sumy: MEA pic.twitter.com/f2MLcHvfUy

— ANI (@ANI) March 4, 2022
Numerous visuals on social media platforms displayed Indian students being evacuated from Pisochyn rightfully refutes the claims made by Parvathi.
Visuals of Indian students being taken out on buses from Peshocin, Ukraine. pic.twitter.com/KnbXg8nEbc

— Sidhant Sibal (@sidhant) March 4, 2022
It is disheartening to see the campaigns being run by left-liberals to discredit the centre's efforts to evacuate Indian students. There is a certain boundary to criticise and question your government but the liberals, seemingly are hell-bent on demeaning the Modi government so much so that they have forgotten the fact that it is their own government.