India is a cricket frenzied nation. The cricketers may be ordinary athletes between the 22 yards, but outside the stadium, they are often elevated to a status akin to that of a demigod. So much so is their popularity that the stardom of the biggest of actors or politicians pales in comparison. With a nation desperately looking to quench its thirst for cricket, and everything ubiquitously related to it — the cricket journalists become the historians of our time and in turn, a memory of the transient.  
While reporting a cricket match or tournament requires objectivity and brevity like any other facet of journalism – it appears that the cricket journalists in the country and abroad are also wrapping themselves up in hatred for Hindus and Prime Minister Narendra Modi. The Polarisation of politics has reached the echelons where even cricket journalists cannot differentiate between black, white and grey.  
Wisden India and its feminist writers
Sarah Waris, a Wisden India journalist who has received bylines in infamous left-liberal portals like The Quint, NDTV has found herself in the middle of a raging storm after an old tweet of hers' went viral on social media platforms. 
Reportedly, in the tweet dated 2013, Waris can be seen gleefully giving an idea to one of her peers to call Hindus rapists. 
She tweets, "@angelamalik11 injuuuu another awesomer idea..if someone calls US terrorists…say all rapers are Hindus..name one Muslim one"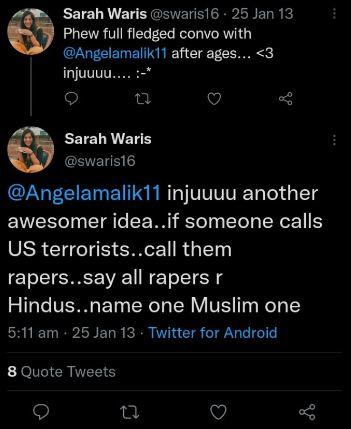 Wisden and its journalists appear to have an inherent hatred for India. Former Indian opener and legend of the game Sunil Gavaskar had called out the publication last year for being biased towards the white-skinned English players.  
Sunil Gavaskar and VVS Laxman slam Wisden for its biasness
After Rohit Sharma was excluded from the 2020 edition of Wisden Cricketers' Almanack, Gavaskar wrote in a column for Mid-Day. "A player could get thousands of runs and hundreds of wickets but if that hasn't happened in England, then he still won't be in the list. Since that has been the case for so long, why should anyone even give the publication any importance." 
Similarly, VVS Laxman also targeted Wisden by stating, "I think anyone who follows the game of cricket will be surprised and shocked not to see Rohit Sharma's name in those five players list. World Cup is bigger than Ashes. I am really shocked and surprised by this announcement from Wisden," 
Wisden Editor forced to eat his own words
And Wisden has had a history of hating on Indians. The recent Ranveer Singh starrer 83, based on the exploits of the Indian Cricket team that won the 1983 Prudential's Cup or World Cup showed it without any white-wash.  
David Frith, former Wisden editor, before the tournament began in 1983, wrote an article, objecting to the idea of India being invited to the World Cup because of their dismal record. Firth wrote in the article that he would eat his words if India progressed beyond the league stage.  
However, after David's prophecy came untrue, he was forced to eat the paper in which the article had been published. While the entire incident has been referred to as banter by David, those close to the matter understand that it was yet another casual racism by a white-skinned Britisher.  
The Australian and its cricket journalists parading their notions as facts
Then there are Australian cricket journalists such as Gideon Haigh and Peter Lalor, cleverly painting their hatred for India as criticism for the Indian cricket. 
At least the portals like NYT, WaPo play on the fairground and have no pretence of their hatred for the current regime. However, akin to the Chappell's of Australia, who preferred to bowl underarm to deny the opposition a fair chance, the cricket journalists are doing all the same. 
Gideon last year wrote a feature-length article in 'The Australian' titled 'Ugly trend that can poison Indian cricket' where he presented his prejudiced and myopic understanding of complex issues as 'oversimplified facts'. 
Gideon talked about the fake farmer protests, political appointments to BCCI, India's alleged diminishing space for dissent, Rihanna, and more. A paragraph of the article is enough to understand where Gideon was coming from. 
"Unfortunately, India is a democracy in worsening decay, thanks to seven years of the BJP's Hindu majoritarianism, at odds with the country's traditions of pluralism and tolerance. And that's got implications for cricket, even Australian cricket, of which we should be aware. The ruling BJP's modus operandi is demonising minorities, subverting institutions, intimidating media, criminalising dissent and, not least, tyrannising the internet," read the para. 
It's not the first time that politics and cricket have mixed in India. During the UPA rule, the likes of Sharad Pawar practically usurped all power in BCCI and ICC and yet the minority rights were not infringed. Australia, which has imposed draconian lockdown measures on its residents over the last one and a half years need not preach to India about tolerance. 
Another 'The Australian' cricket journalist named Peter Lalor, meanwhile, is direct in his attack on the Hindus and PM Modi. He openly bats for the likes of Disha Ravi and gains good amounts of retweets by quote tweeting India's oxygen misery. 
In one of his tweets, Lalor quote tweeted known leftists and history distorter Ramchandra Guha, "Why Modi And Shah Fear Young Activists – by Ramachandra Guha – NDTV"
Why Modi And Shah Fear Young Activists – by Ramachandra Guha – NDTV https://t.co/ftb4WvbyV1

— Peter Lalor (@plalor) February 18, 2021
Similarly, in another one of his tweets, he shared the Scroll article on the oxygen crisis by remarking, "…it had taken the Narendra Modi government eight months after the pandemic began to invite bids for 162 oxygen generation plants".
" it had taken the Narendra Modi government eight months after the pandemic began to invite bids for 162 oxygen generation plants".

Oxygen in Delhi: A personal story https://t.co/HrutFtp4Tk via @scroll_in

— Peter Lalor (@plalor) May 1, 2021
In 2016, after Virat Kohli refused to be friends with the Australian's and share a drink after the match, the entire Australian Media compared him to Donald Trump. Meanwhile, Lalor wrote in his article, "If there were any doubts about the poor spirit between the Indian and Australian sides it was confirmed after the series when the home side shunned a suggestion the two sides drink together." 
Cricket and Hindu nationalism – two favourite words of left-leaning cricket journalists
In 2016, when India and West Indies played a seemingly innocuous yet high octane T20 series in the USA to popularize the sport, certain gullible cricket journalists here in India, in cahoots with foreign vested interest propagandists published a similar report.  
The report titled, "Cricket in the Service of Hindu Nationalism" stated that the tour was an attempt by the supposed Hindu Nationalist government of Narendra Modi to spread their influence in the states.  
The article read, "Modi, elected in 2014 and reelected by a startlingly large margin earlier this year, has represented the sharp end of Hindu nationalist politics throughout his rise to India's top job,"
It further added, "In his five years as prime minister, Modi has deliberately challenged India's constitutional commitment to secular politics, and embraced economic neoliberalism in a country that is rapidly privatizing and deregulating. His foreign policy has also been aggressive: he has courted fellow authoritarians like Donald Trump and Vladimir Putin and shares Putin's taste for choreographed man-of-nature posing; he has turned up the heat on already simmering tensions with Pakistan and Bangladesh; and he has used the theoretically neutral Indian Army as a propaganda tool."
At first glance, it wouldn't look like it is a cricket-related article but it indeed is one. A leisurely read of the article and it doesn't take much to join the dots as to why the writers picked this particular series to extrapolate and push their divisive ideas, masquerading as compelling criticism. 
In May 2019, Donald Trump was at the peak of his powers and a few weeks later, the results of the Lok Sabha elections were to be announced. The left establishment was furious and needed a new avenue to push its agenda. Cricket articles, even if bad in quality are chugged down in astronomical quantities in India and thus pushing such ideas through a cricket article appeared rather convenient. 
Indian journalist penning the said article
The article is penned by an Indian journalist named Nakul Pande and a customary look at his social media footprint is enough to suggest why such regurgitation was done from his end. 
When the new IPL teams were announced last year, Nakul took to Twitter to show his funny side but failed miserably. He tweeted, "The Ahmedabad Sanghis and the Lucknow Bhakts? #IPLExpansion #IPL2022"
When a tweeter replied by saying, "Ahmedabad Modi's surely?", Nakul retorted with another crass remark, "The Ahmodibad Chowkidars"
A PM of the country that served as the CM of the state on multiple occasions is seemingly attacked. Meanwhile, a state and the identity of millions of inhabitants are reduced to a remark that is used as crass slang by the left-liberal sepoys to besmirch those supporting a certain political ideology. Truly, a work of cricketing logic on display from Nakul in those tweets. 
If it was a troll or a politician it could have been understood that such attacks were warranted. However, when a journalist and that too a cricket journalist tends to wear the cloak of politics, it suggests something sinister is cooking in the offing.  
This is a carefully crafted narrative by the Left media. Sports and in specific Cricket related articles had remained untouched from the tentacles of politics. However, the deluge of such journalists and articles by them suggest that the left lobby is changing its game plan. It is trying to persuade the readers and their psyche through their surrogate political ideas passing off as cricket commentary. Beware of the trend and lookout for it.