Akshay Kumar is believed to be one of the most hardworking artists in the Hindi film industry. While all the other stars like Khans and Ajay Devgan release one or a maximum of two movies in a year, the Khiladi Kumar has released 14 movies in the last 4 years.
Akshay wraps up the shoot of 'Mission Cinderella'
According to the reports, the next movie in Akshay's bucket is the remake of the Tamil movie 'Ratsasan', a 2018 psychological thriller starring Vishnu Vishal in the lead role. After wrapping up the shooting of the movie, Akshay Kumar shared a picture with the entire cast and crew on Twitter. He also thanked the Production No 41 team (producers of the movie) and everyone involved in the shoot. The movie is said to be renamed as 'Mission Cinderella' in Hindi. The film stars Rakul Preet Singh, a close aide of Rhea Chakraborty as a female lead. The director of the movie is Ranjit Tewari who is infamous for directing 'Bell Bottom'.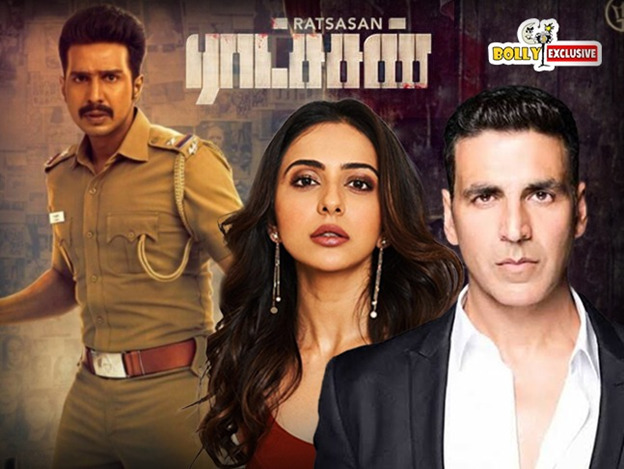 Can't believe it's a wrap on #Production41! Grateful to have shot and completed a memorable journey with the loveliest team! Thank you for all the love,smiles and fun!@vashubhagnani @Rakulpreet @ranjit_tiwari @jackkybhagnani @honeybhagnani @poojafilms @sargun_mehta @aseem_arora pic.twitter.com/vsbyrreGpS

— Akshay Kumar (@akshaykumar) October 9, 2021
BIG- #AkshayKumar and #RakulPreet to star in the Hindi Remake of Tamil Thriller #Ratsasan . Film to be directed by #BellBottom director Ranjit Tewari. Film Shooting to commence from August in UK, slated to release in 2022. pic.twitter.com/ecJwgmiDan

— Sumit Kadel (@SumitkadeI) June 29, 2021
Fans criticise Akshay
However, fans do not seem to be happy with the idea of remaking a South Indian movie by a Bollywood star, and that too, Akshay Kumar. One of the users asked Akshay to have some shame.
Akshay Kumar is going to do #Ratsasan remake.

Fans to Bollywood- pic.twitter.com/BViaGmVtsl

— भारतवासी (@mauryajispeaks) June 29, 2021
Another user asked the production house about their reason to destroy the original movie by taking an actor like Akshay Kumar.
Why you want to spoil a great movie with a Hindi remake? That too with Akshay Kumar.#Ratsasan

— Lt Cdr Gokul (@gokulchan) June 29, 2021
Commenting on Bollywood's habit of putting in songs at wrong intervals, one user tweeted- "Akshay will smash Christopher (the main villain of the original movie) and will have an item dance with Nora Fatehi,"
Akshay will smash Christopher and will have an item dance with Nora Fatehi.

— b747 (@b_747_) June 29, 2021
Laxmii- An absolute disaster by Khiladi Kumar
Fans' anger stems from Akshay's last attempt to remake 'Kanchana', a Tamil movie. Even though the director of 'Kanchana', Raghav Lawrence helmed the movie 'Laxmii'(the remake of Kanchana), the movie turned out to be an absolute disaster.
It was especially castigated for the bad and surreal portrayal of Hindus and the transgender community in the movie. Akshay Kumar portrayed the role of a liberal Muslim in the movie 'Laxmii', despite his counterpart being Hindu in the original movie. The movie portrays the Hindu family as a believer in foolish supernatural elements who even kick their eunuch child out. Additionally, the movie continues the centuries-long negative portrayal of Hindus as sly, hypocrites, and also oppose inter-caste marriages.
Read more: Akshay Kumar's film Laxmii is a massive insult to Hindus, transgenders and logic
Akshay went too far in showcasing his secular credentials
While 'Laxmii' shows Hindus in a bad light, it shows Muslims as good and civilized citizens. Whether it is Abdul Chacha who takes care of transgender Laxmii, or the main protagonist Asif, minority appeasement was once again promoted through this film. It is pertinent to note that there is no harm in showcasing Muslims as good, but if you portray only Hindus in a negative light, then it is appeasement of the highest standards. Similarly, the film tried to present a rosy picture of the much-derided and dirty practice of love-Jihad.
If we go by the standards set by Akshay Kumar and his team in 'Laxmii', it can be very well assumed that Hindus will once again be mocked and defamed in the remake of 'Kanchana'.
Read more: Seasonal Deshbhakt, closet Hindu hater, Akshay Kumar is a top class hypocrite
Making a remake is not a bad idea if implemented properly. Akshay Kumar himself once did justice to a film titled 'Chandramukhi' by giving a comical yet entertaining remake 'Bhool Bhulaiyaa'. However, currently, there is a wave of remakes in Bollywood, which stems from the fact that Bollywood artists are lacking original content. Now, it looks like Akshay Kumar's lack of originality and secular tilt casts a shadow of doubt on his upcoming movie, 'Ratsasan'.