The menace of the reservation system, which has already eaten up the cores of meritorious servicemen during the last 70 years, was on its way to eat up meritorious non-resident Indians. But, the Modi Government's emphasis on merit and efficiency did not let this dragon named "reservation" face its mouth to NRIs.
According to a report published by THE HINDU, Rohit Vinod, a resident of Kuwait, and citizen of India had applied for a seat under the NRI quota in the National Eligibility cum Entrance Test. Moving on to the next page of the application form, he expected the class pop-up menu to showcase options like General, OBC, SC, ST. To his utter surprise, "General" was the only option. He wanted to choose OBC and avail reservation under that category. The matter is currently pending in Kerala High Court.
Court and Government tussle 
Meanwhile, Kerala High court in its interim order directed the Health Ministry and National Testing Agency (NTA), which conducts NEET to vary its utility in "such a way that he is able to claim admission to MBBS course against the quota marked for OBC-NCL in the event of selection". However, NTA has not made any modifications in the form. In its affidavit, to the High Court NTA described the unsustainability of class quota for NRI categories. NTA's affidavit read as "NRI is already a separate reserved category for the MBBS course. The petitioner cannot be given the benefit of sub-reservation,"
Rohit's father Vinod Karthikeyan expressed his views through a telephonic interview. He said – "Why should NRIs be denied community-based reservation? Are we not Indian citizens who are guaranteed constitutional rights? Why are we being treated similar to the foreigners' category?" He further added, "high-scoring college topper, Rohit hoped to enter one of many nation's greatest establishments through the OBC quota".
The politicization of the Affirmative Actions
The reservation system originally intended to benefit the socially backward classes was expected to be a game-changer in India's socio-economic development. However, the system is now tainted by its incessant politicization. The reservation system was put in place for 10 years after Indian Independence, but the successive governments have been pushing the deadline for more than a half-century. Not only they pushed the deadline, but to utilize the numerically superior communities, they changed the system in such a way that more and more groups were included under its fold so that they could vote for the party implementing it.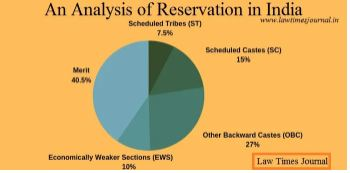 The shift from need-based reservation to rights-based reservation
The reservation system should have been used to properly develop efficient school and college systems so that there is no need for this regressive system in the country. Instead of that, we have people like Vinod Karthikeyan who demands reservation just because it is their constitutional right and not because they need it.