With the 2022 Uttar Pradesh Assembly elections nearing, the parties have kickstarted the campaigns in order to sweep the state. In such a move, the former Chief Minister of the state, Mayawati promised to focus on the development of the state rather than statues, memorials or parks. Committing a big change from her last stint in power, Mayawati seems to have learned from her past mistakes.
While campaigning for elections on Tuesday, Mayawati said, "We do not need to make any new monuments or parks in the name of those who were our guiding lights – we have already done it thok ke bhaav (wholesale) in our previous terms."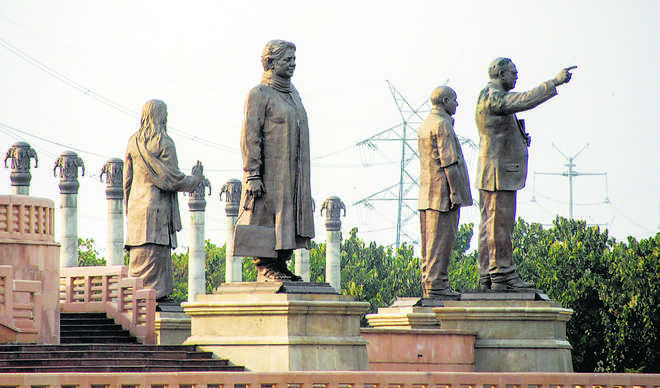 She further said, "If I form the government again I will not concentrate on statues or memorials or parks but in governing the state to the best possible ability."
Mayawati's last tenure as CM
Earlier reported by TFI, Mayawati had made huge spending on the construction of grandiose statues of elephants in Lucknow, Noida and few other places in the state during her tenure as Chief Minister. She had also erected her own statues and positioned herself as the 'Messiah of Dalits'.
Instead of being known for any administrative expertise or her able work towards public welfare, Mayawati squandered crores of rupees of taxpayer money on statues and buildings. Supreme Court however had directed her to reimburse the public money, she spent on the construction of grandiose stone images during her tenure.
Read more: Mayawati's statue spree cost Rs 2600 crore to state's exchequer
Mayawati and her anti-Brahmin politics
Mayawati's politics began on the note of consolidation of Scheduled Caste votes as the party effectively segregated SC castes from the combined Hindu vote bloc. She has been shamelessly spreading hatred against upper castes with provocative quotes such as Tilak, Taraju aur Talwar, inko maaro jute chaar' (Beat the bearers of Tilak, Balance and Sword with shoes). Needless to say, that Tilak stood for Brahmins, Taraju for Vaishya, and Talwar represented Kshatriyas.
The party repeatedly reminded the lower castes about how the upper castes have oppressed them and as a result of it, she became a deity for millions of Scheduled caste people in the state of Uttar Pradesh.
Read More: Coherent and Crafty – How Mayawati changed herself after 2019 General Elections
Recently, she also stated that "My successor will be another Dalit who has stood by me and the party with all honesty and dedication even during the most trying times. The party has seen many ups and downs."
Mayawati's changed strategy
Mayawati seems to be a changed person now as she suddenly began Brahmin appeasement. The former CM has made it quite clear that she is all set to contest elections with new strategies. In a move to rectify her previous mistake, she also seems to have recognized the importance of the vote share of Brahmins in the state. Hoping to add the support of the Brahmin community to her core Dalit vote base, she is aiming at wooing the Brahmin community.
She promised that her government would conduct a high-level probe into all cases where Brahmins were victims of "narrow-minded, casteist and politically vindictive" action. Strict action would be taken against the officials found guilty while the victims would be compensated for their financial loss.
However, it will be interesting to see if the new strategies adopted by Mayawati for the upcoming elections in Uttar Pradesh will help her winning or she will end up losing both Brahmin and Dalit votes.