As the Rajasthan Government rushed to glorify India's star javelin thrower Sundar Singh Gurjar who bagged a Paralympic Bronze in Tokyo, it was subjected to a rude shock when he revealed the fact that the Rajasthan Forest Department, where he had worked since November 2020 did not approve his salary for ten months until he won the medal.
"I have been working in the forest department in Rajasthan since 5th November 2020. But the day I won the Paralympics medal, within two hours I got my first salary of 10 months," he said.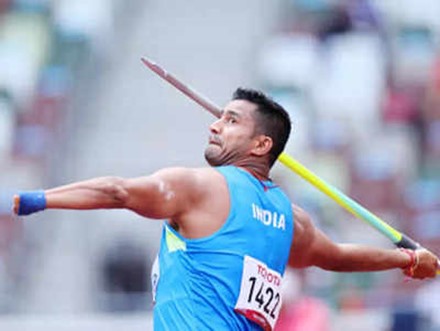 Until 2015, Gurjar competed in able-bodied competitions and was even a part of the junior national champ featuring Tokyo Olympics gold-medallist Neeraj Chopra among others. The 25-year-old's life drastically changed when a tin shed fell on him at his friend's house leading to the amputation of his left hand.
Read more: 'Excessive celebration of just one medal must stop,' only a gold medalist like Neeraj Chopra could say this
Fighting Back Suicidal thoughts
In an interview with PTI, Sundar Singh Gurjar opened up about his struggle to overcome suicidal thoughts after being disqualified from the 2016 Rio Games. Although he qualified for the 2016 Rio Paralympics in less than a year, fate struck again and wrecked his dreams. A delay of 52 seconds in reaching the call room led to his disqualification from Rio Games, the Paralympic medalist recalled.
"I fought back and qualified for the 2016 Paralympics only to be disqualified. That time I started thinking everything is finished, there is nothing left for me. I thought of committing suicide but that time my coach (Mahavir Saini) realised something wrong is going on in my mind. For a month he kept me along with him 24×7, didn't leave me alone", Sundar told PTI.
Sundar didn't give up hope, and with his coach's unending support, he returned to the field. The 25-year-old Bronze medalist credited his coach Mahavir Saini for standing by his side 24/7, for single-handedly transforming his life and career when he was 'heartbroken and thought everything is finished'.
"As time passed, my thoughts started to change. I started thinking I will start playing again and answer back to the world," he further added.
He recalls his time training at the camp with Neeraj Chopra  gold medalist at the Tokyo Olympics 2020, Sundar said: "He was two years junior to me. I used to play Under-20 and he used to be in Under-18. We played a few competitions together at the youth level".
Read more: The effect of Neeraj Chopra's gold on Indian Sports will be huge
Gehlot's Government's lack of support
Despite apathy and lack of support from the Gehlot government, Sundar aced the para-Olympics and made India proud. In a shocking revelation, it was learnt that along with Sundar, seven players, including Gold medal-winning shooter Avani Lakhera, javelin silver medallist Devendra Jhajharia in the para-Olympics were also recruited as officers of the rank of assistant conservators of the forest department between five and 10 months ago, but their salaries remained pending until the trio came into the limelight.
Read more: Rapes, Murder, and Child Theft: Rajasthan under Gehlot is a total mess
India has logged it's best-ever performance at the Olympic Games this year. Yet, it's shocking how the Rajasthan state government demeaned its sport persons. Rajasthan under Gehlot is a total mess and their mismanagement reflects on the sporting culture of our country. Although India's future in sports looks brighter but most of this untapped potential can be brought to the fore only with the Government's support. Sundar's victory will encourage more people to get indulged in diverse arenas in sports and represent India. Yet, Gehlot government's lack of support would discourage people from indulging in the same.
State governments should make sure that investment on sports should be diverted towards supporting the athletes and improving sports infrastructure in the country so that more and more medals would come our way.