Indian Prime Minister Narendra Modi and his government's push towards doubling farmers' income got another boost from the international market. India's agriculture export trends show that India is well on its way to become a top-5 agriculture exporter by 2030.
India's agriculture exports see a mammoth jump of 22%
During the first five months of the current fiscal year, exports of 37 agriculture and processed products increased by 22% to $7.9 billion on a year-to-year basis. These 37 products are the ones that are promoted by the Agricultural and Processed Food Products Export Development Authority (APEDA). The rise in exports is mainly attributed to the rise in demands for rice, other cereals (Jowar (Sorghum), Bajra (Pearl Millet), Maize, Ragi (Finger Millet), etc),  meat, dairy, and poultry products. The key findings of the export figures are:
India's rice exports grew to $3.8 billion from $3.3 billion, marking a rise of 13.7%.
Exports of fresh fruits and vegetables saw a growth of 6.1%. It brought in $1.08 billion, compared to $1.01 billion last year.
Cashews witnessed a growth of 28.5%, marking an uptick towards $185 million from $144 million last year.
Processed food exports brought in $889 million – a 41.9% increase from $627 million last year.
Meat, dairy, and poultry products' export increased their basket from $1.18 billion to $1.55 billion – a significant 31% improvement over last year.
The most staggering rise of 142.1% was registered in the export of other cereals. The export of other cereals increased to $379 million from $157 million last year.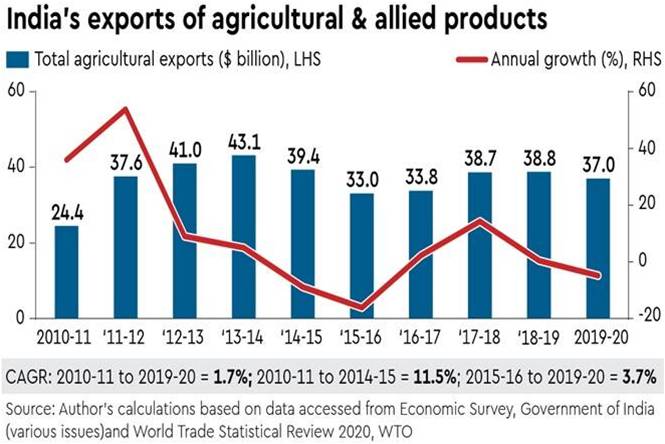 Earlier, India's overall agricultural export of the year 2020-21 had shown a growth of 17.34% on an annual basis. The agricultural export basket was worth $41.25 billion in 2020-21.
M Angamuthu, chairman of APEDA, said– "This rise in exports (in April-August 2021) has been achieved notwithstanding Covid-19 restrictions. This is also a testimony to the government's commitment to increase farmers' income through giving thrust on boosting exports of agricultural and processed food products,".
Read more: When all other sectors are expected to crash, Agriculture will drive the Indian economy in 2020
Agriculture exports regime
After the Modi government came to the fore in 2014, India has made some significant changes in Agriculture export policies. Agriculture export policy was announced in the year 2018 with a focus on agriculture export-oriented production, export promotion, better farmer realization, and synchronization with the policies and programmers of the Government of India. Farmer producer organisations and farmers have been given a considerable stake in AEP. Direct linkages with international markets have improved the efficiency and price realization of the farmers.
Key features of India's agriculture export regime are:
Participation and involvement of State Governments – Various levels of negotiations were held with states to include agriculture in their respective state export policy. A state-level monitoring committee has been formed in 20 states and 1 Union territory, while 26 states and 4 union territories have nominated respective nodal agencies for the implementation of Agriculture export policy.
Formation of clusters – Different areas have different soils and different soils are suitable for different crops. Keeping this theme in mind, the government adopted a cluster-based approach. 47 unique product-district clusters have been notified for export promotion. 9 of these clusters, comprising of 21 districts have been activated by forming cluster-level committees.
Direct involvement of farmers – The Farmer Connect Portal has been established to ensure farmers are supported on various stages of crop development. Traceability systems for various products like mango, vegetables, citrus fruit, basmati, peanut, meat have been made to ensure the quality of exports.
Transport and logistics development – Under initiatives like KISAN RAIL, 157 Kisan Rail services on 18 routes for transportation of fruits, vegetables, and other perishables. Under 'Operation Greens-Top to Total,' a subsidy of 50% is granted on transportation of fruits and vegetables on KISAN RAIL. Kisan Rath Mobile Application has been launched to facilitate the farmers, FPOs, and Traders to post their load requests for transportation of agriculture and horticulture produce.
Farm laws are proving to be a game changer for agriculture
India has set its annual agriculture export target to touch $60 billion by the end of the year 2022. Under digital agriculture mission, a database of 5.5 crore farmers is ready and work is progressing for verifying others with land records.
The farm laws implemented by the Modi government are proving to be a boon for India. Until now, Indian farmers did not have much to compete with, as they had to sell theirs produces to agriculture produce market committees at the fixed prices. The newly implemented farm laws have opened the agricultural market for competition. The competition for better prices will ensure a better quality of crops by farmers along with efficient and environment-friendly practices. As big companies are looking to make a foray into the agriculture market, the digitisation and formalization of Indian agriculture are doing wonders for India. India's entry into the top-10 of global agriculture exporters is just a start.