On Friday, Rajasthan Assembly passed the Rajasthan Compulsory Registration of Marriages (Amendment) Bill, 2021, which amends the Rajasthan Compulsory Registration of Marriages Act, 2009. Under the bill, information on child marriage must be furnished by their parents or guardians within 30 days of the wedding in a prescribed manner.
Child Marriages in Rajasthan
Child marriage is rampant in Rajasthan. According to a report released by the National Commission for Protection of Child Rights (NCPCR) in 2018 on India Child Marriage & Teenage Pregnancy (based on NFHS-4), Rajasthan still has a 16.2% prevalence of child marriage. While the national average stands at 11.9%, the state ranks among the top 12 states with very high rates of Child Marriage.
Rajasthan Compulsory Registration of Marriages (Amendment) Bill, 2021
According to a Hindustan Times report, the amendment bill permits the government to appoint an additional district marriage registration officer (DMRO) and block marriage registration officer to register marriages. Prior, only the DMRO was authorised to register the marriages in the state. Moreover, under Section 8 of the Compulsory Registration of Marriages Act, if the girl's age at the time of marriage is less than 18 years and the boy's age is less than 21, then her parents will have to inform the registration officer within 30 days.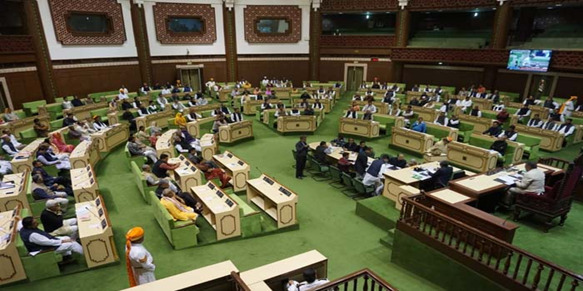 BJP protests against Child Marriage
However, the BJP in the opposition criticized Rajasthan Government for the amendment of Section 8 of the 2009 Act. The 2021 amendment states that the parents or guardians of a bridegroom who is under 21 and a bride who is under 18 "shall be responsible to submit the memorandum, in such manner, as may be prescribed, within a period of thirty days from the date of solemnisation of the marriage to the Registrar."
Protesting against the amendment bill that allows child marriage, BJP MLA Ashok Lahoti said, "It will be a black day for the assembly if this bill is passed. Does the assembly permit us to unanimously allow child marriages? By a show of hands, we will be permitting child marriages. The bill will write a black chapter in the history of the assembly."
Rajasthan government defended the bill
Refuting the claims that the bill justifies child marriage, Rajasthan parliamentary affairs minister Shanti Dhariwal, asserted, "You say that child marriages will be validated. Nowhere does this amendment say that such marriages will be valid. A marriage certificate is a legal document, in the absence of which a widow won't receive the benefit of any govt scheme."
The amendment bill that allows registration of child marriage has been passed in the Rajasthan Assembly. With such a move, the state government has officially legalized Child Marriage that will further lead the state to a poor scenario.