NDTV is a notorious media organisation. Financial fraud, tax evasion, deceiving shareholders of a public listed company, collusion with powerful politicians prior to 2014 – the media organisation has reportedly done it all. Historically, NDTV has been sympathetic for terrorists and their extremist organisations, calling them "fighters" on bad days and "militants" on good ones. Post-2014, the times have largely been bad for the media organisation, in contrast to how they were good back when the channel found itself involved with absconding fugitive Vijay Mallya. These days, NDTV is rather busy giving a platform to marauding Talibanis, who are ravaging Afghanistan in their quest to establish an Islamic Emirate 20 years after the group was ousted from Kabul.
The channel recently interviewed the terror group's spokesperson, Muhammad Sohail Shaheen, who used the platform provided to him to spread propaganda across India and convince the little number of people who watch NDTV that the Taliban was a righteous, pure and astutely disciplined organisation whose fighters engage in no barbarity whatsoever. NDTV's journalists, of course, were quite impressed with this charade.
In his interview with NDTV, Shaheen rubbished reports about 22 surrendered Afghanistan security forces personnel being massacred by his organisation. He was heard saying, "There is no case of our people killing those who have surrendered." The Talibani spokesman touched on various issues, and also sought to absolve his organisation of any criminal conduct relating to the murder and mutilation of Indian journalist Danish Siddiqui. He told NDTV, "You can't say Danish Siddiqui was killed by our fighters. He was killed during cross-firing."
Deleted by NDTV pic.twitter.com/EU7ZqnBmxe

— Shubhangi Sharma (@ItsShubhangi) August 13, 2021
The Taliban spokesperson said that Siddiqui was travelling along with the Afghan forces and there was no difference "whether they are security personnel or militia or soldiers of Kabul or a journalist among them". NDTV, on its part, allowed this unadulterated nonsense to be peddled on its platform.
.@OnReality_Check | Muhammad Sohail Shaheen, current Taliban spokesperson, on award-winning photojournalist #DanishSiddiqui's killing in Afghanistan.#NDTVExclusive pic.twitter.com/kqBHCoC711

— NDTV (@ndtv) August 13, 2021
These comments by the deceptive Talibani spokesperson were made on a show on NDTV called "reality check". Shaheen also used NDTV's "reality check" platform to rubbish reports about Afghan girls as young as 15 were being forced into marriage by the Taliban. Defending his medieval and violent organisation, Shaheen said Islam did not allow coercing a person to give his daughter in marriage and therefore the information is fake news. Very convenient.
.@OnReality_Check | Muhammad Sohail Shaheen, Taliban spokesperson, on whether the #Taliban is backed by Pakistan.#NDTVExclusive pic.twitter.com/bm9xZpwslP

— NDTV (@ndtv) August 13, 2021
According to media reports, 18 of the 34 provincial capitals are now under the Taliban's control as of Friday. The organisation is fast advancing towards Kabul, where it will rest assured, engage in a bloodbath that will put all ongoing violence in the war-torn country to shame. 90 per cent of Afghanistan, as per the organisation's admission, is now under their control. More than 1,000 people have been killed in Afghanistan in the last month.
Read more: 25 crore penalty on NDTV and a crore each on the Roys, NDTV in news for all the wrong reasons again
Despite such barbarity being seen by people across the world, NDTV is racing against time to give a platform to the Taliban in order to help the organisation spread its propaganda. What NDTV is doing is not journalism. Its employees may say they are trying to present the 'Taliban's side of the story', but the reality is that they are not working to find the truth, but only giving a platform to the terror organisation.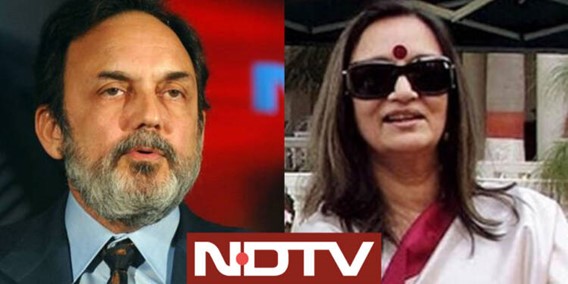 The NDTV is cowardly. While it gives the Taliban a free platform, it gets readily intimidated by Indian Islamists and their gangs on social media – case in point being the recent deletion of a tweet by NDTV in which they provided a Covid-19 update using the picture of a Muslim man wearing a skull cap. Threatened by the likes of Sharjeel Usmani, NDTV was fast to delete its tweet. Now that the media organisation is drawing major flak for giving the Taliban a platform for peddling its agenda, NDTV is least bothered to delete any tweets or apologise for its un-journalistic conduct.
In the past, NDTV and its employees (present and former) have never shied away from siding with violent extremists. Barkha Dutt had referred to Burhan Wani as the "son of a school headmaster" after he was eliminated by security forces, in a brazen attempt at humanising the man. Another NDTV journalist, Nidhi Sethi, who worked as Deputy News Editor at NDTV, had posted a comment on Facebook which seemed to glorify the 2019 Pulwama attack. She had written, "where a grisly 44 has been proven to be greater than the mythical 56." This was accompanied by #howsthejaish.
NDTV has, therefore, a colourful history of despicable conduct, and the blatant attempt at providing the Taliban with a platform to tell their side of the story is yet another feather in that cap.