Mamata Banerjee's intolerance towards the truth is touching a new level day by day. Recently on a visit to a flood-affected area, a photo of her went viral where she was seen scratching few inches of water level while most of Bengal is submerged neck deep. The TV report showed her standing in the middle of a flood while she was actually standing a few meters away from the dry surface. Now, in the latest saga of series of intolerant behaviours by her party's big wigs, they have decried the topmost exam conducting body UPSC for asking a question related to poll-related violence in an exam.
Pic 1- How CM Mamata wants to be seen

Pic 2 – How Public saw her pic.twitter.com/8qHQycp76z

— Rishi Bagree (@rishibagree) August 11, 2021
The exam conducted for the post of assistant commandants in high-level security organisations like BSF, CRPF, ITBP, SSB and CISF had a question asking candidates to write a report in 200 words about  Poll violence in West Bengal. Ms Mamata Banerjee said that BJP was using CAPF(Central armed police forces) and the UPSC for its own political gains. She had previously accused CAPF of booth capturing and killing people at Sitalkuchi during the Assembly elections. "This is an attempt to politicize the recruitment process. The UPSC is supposed to be neutral. This is a ploy to malign all those who are in the opposition. They (BJP) have also politicized the NHRC. They are trying to destroy the secular fabric and Constitution of our country," said Mamata. TMC's Lok Sabha leader Sudip Bandopadhyay termed it as a 'Political' Party's question. He also towed the party line and accused UPSC of behaving like a BJP's organ.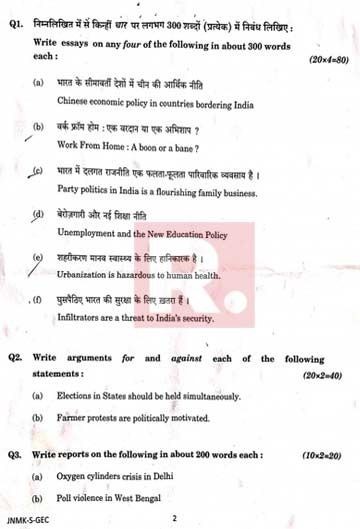 Even before the elections, there were speculations of violence, due to this Election commission took some proactive steps even before the election. Despite that, the violent incidents under Ms Banerjee administration were in such proportions that the Calcutta High Court had to order an NHRC inquiry into all violent incidents related to polls. The NHRC in its report revealed that close to 2,000 complaints had been received from 23 districts. The report had termed the situation in the state as 'law of ruler' rather than 'rule of law'.
Read more: The NHRC report on Mamata's post-poll Bengal is here and it has the evidence to ensure that President rule is imposed soon
Earlier West Bengal legal services authority (WBLSA) had stated that 3,423 poll-related violence were recorded by it till June 10. The WBLSA in its report had categorically stated that, when the complaints of post-poll-related violence were reported to district police officers, no response was received from them. The Calcutta High Court had observed the inaction of district police officers to be the exact cause behind ordering NHRC enquiry into incidents recorded by WBLSA. The Bench also criticized the TMC government for inaction and lethargy as NHRC had received more than 500 complaints till then while State human rights had recorded zero complaints.
It is to be noted that the Central armed police forces' main job is to maintain internal as well as border security of the country. If the candidates are not aware of the causes and effects of any kind of violent incidents occurring inside the borders of the country, they would not be able to understand the dynamics involved in it. Not having a clear picture in their mind, they will not be able to take decisive actions in the field which will certainly cause collateral damage as well as loss of human lives. A constitutional body like UPSC which conducts the most coveted exams like Civil services examinations, National Defence Academy, Combined defence services and CAPF examination has to pick the best of the best from a nation of 1.4 billion people. The questions related to poll violence were based on factual reports by statutory bodies like NHRC and WBLSA.
It is time for Ms Mamata Banerjee to finally look deep into the functioning of her party members and not divulge the truth. The brutal murders, rapes, house burnings and many more crimes are done by her party members to any person being remotely connected to BJP is finally recorded in official documents even after attempts of thwarting the documentation process. Maligning the image of a neutral and reputed organization like UPSC will only make her lose more credibility.