Justice N V Ramana, who is in line to be Chief Justice of India after the retirement of SA Bobde, in a no holds barred warning to activists like Prashant Bhushan, said that judges have become soft targets since the advent of social media.
"Judges are restrained from speaking out in their own defence. Today, judges have become soft target of criticism and especially with social media's advent, judges have become subject to juicy gossip. There seems to be a misunderstanding that judges lead a life of luxury in their ivory towers. That is not true. Judges have to balance their social lives in order to be independent," he said in his speech at the launch of a book authored by recently retired Supreme Court judge, Justice R Banumathi.
Justice Ramana, who is set to take over as Chief Justice by April next year and will hold the post for almost one and a half year before retiring on August 2022, said: "Freedom of speech of judges is curtailed by the same laws and machinery that uphold the freedom for others who use it to criticise the judiciary and judges."
In the last few years, Prashant Bhushan and many other senior lawyers who are from the left-liberal establishment have tried to malign the image of the Supreme Court through various accusations and insinuations. Previously, when Justice Ranjan Gogoi was CJI, a woman- who was reportedly helped by Prashant Bhushan- accused him of sexual harassment.
Advocate ML Sharma, who is a senior lawyer, mentioned in his petition that Shanti Bhushan, Prashant Bhushan, Indira Jaising and others allegedly played an important role in attacking the CJI with an accusation of sexual harassment. They helped the former woman employee in filing the complaint against CJI Ranjan Gogoi. In his petition, he also asked for an urgent hearing in front of the CJI but Gogoi asked him to approach another bench.
Moreover, a few weeks ago, the apex court of India found Prashant Bhushan guilty in contempt of court when he made remarks to malign the chair of Chief Justice of India; although he was acquitted with a fine of 1 rupee. "We are, prima facie, of the view that the aforesaid statements on Twitter have brought the administration of justice in disrepute and are capable of undermining the dignity and authority of the Institution of Supreme Court in general and the office of the Chief Justice of India in particular, in the eyes of the public at large," a three-judge bench headed by Justice Arun Mishra observed.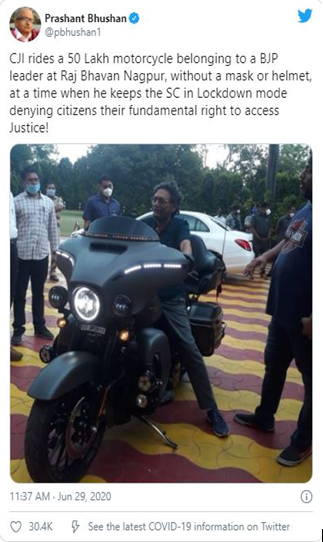 Many lawyers and experts of the judiciary have spoken against Prashant Bhushan for his ill-seated attempts to malign the image of the apex court. Noted lawyer Harish Salve in a webinar has hit out at Prashant Bhushan and the ilk for their attempts to defame the judiciary and the Modi government as they seek to impose their will on the government through the judiciary.
One of the country's most respected lawyers who is also representing India at the International Court of Justice in the Kulbhushan Jadhav case without charging a penny, Harish Salve has had enough of the leftist cabal led by the likes of Prashant Bhushan and Harsh Mander.
Prashant Bhushan has been also slammed by successive Supreme Court judges for making a profession out of PIL filing. Successive CJI's have slammed Bhushan for his 'PIL activism' with CJI Bobde lamenting if RTI filing is becoming a profession. Even ex-Chief Justice of India, Ranjan Gogoi had rebuked Bhushan for his quest to make the SC pass unnecessary orders.
People like Prashant Bhushan file PIL in cases which have no basis like Rafale purchase, and when the court's ruling is no in their favour, the business of accusation and insinuation starts. This time, the next CJI has warned him that this type of negative activism would no longer be acceptable.