In the last few decades, India's political, social, as well as economic scenario changed drastically. The country moved from a dynastic political state to one of fierce competition and meritocratic one; socially it moved from joint to nuclear family and family values changed rapidly.
But, one factor that changed a lot- for good- is India's political economy. With economic liberalization, earning profit and accumulating wealth is no longer Nehruvian sin or Gandhian sin. In a free-market economy (compared to before 1991), everyone is free to make money based on their skill and competence without fearing state.
And this has fundamentally changed the nature of India's Richie-rich. The long arms of the government no longer stop some people from becoming rich and the monopoly of the small elite on wealth has ended. This change like India's political economy and its impact on wealth creation and concentration is very much evident in a Livemint's research report on India's billionaires. The business daily has prepared a comparison of India's billionaires in 2000 and 2020, based on data from Forbes and Peterson Institute for International Economics (PIIE).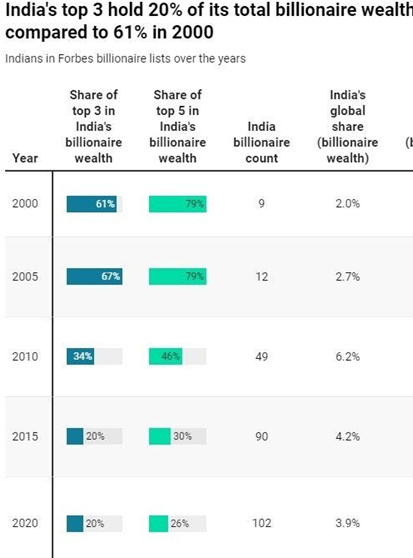 Two decades ago, in 2000, the share of the top 3 billionaires was 61 per cent of the total billionaire wealth because the number of rich people was very few and wealth was concentrated in a few hands. So, we had a tiny group of the super-rich who ruled the wealthy club. In two decades, the wealth of ultra-rich has declined significantly to 20 per cent. The share of India super-rich in global wealth was just 2 per cent in 2000 and now it has increased to 3.9 per cent, which means, the clout of Indian billionaires has increased on the global level.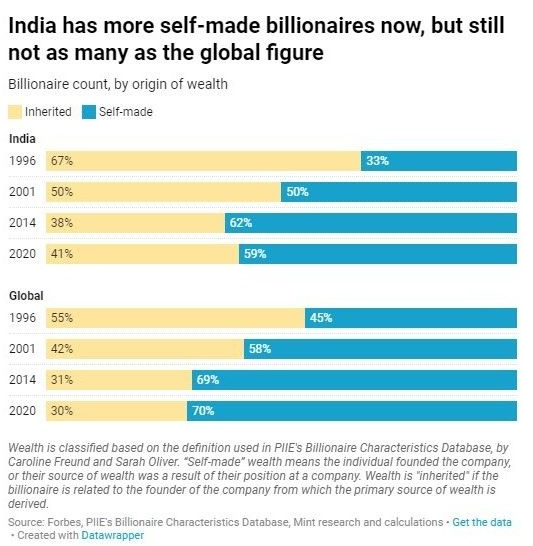 Moreover, the number of self-made billionaires has increased from 33 per cent in 1996 to 59 per cent in 2020, which means, the majority in the billionaires club is of self-made people rather than the dynastic ones.
Just like now powerful political posts are dominated by self-made people like PM Modi, HM Amit Shah, or Defense Minister Rajnath Singh instead of dynasts like Rahul Gandhi or Akhilesh Yadav.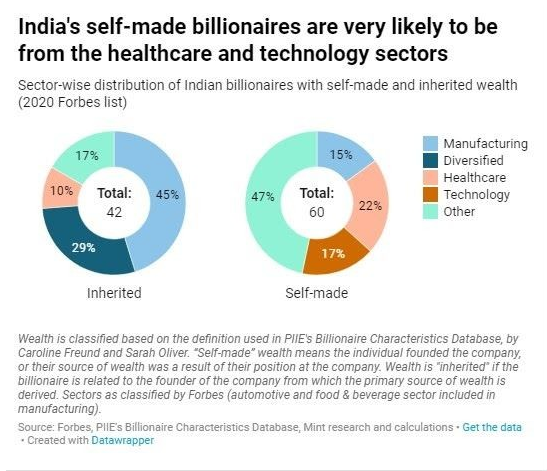 The new billionaires are not from traditional sectors like manufacturing as they are already dominated by old hawks, but, from emerging sectors like technology, healthcare which are likely to foundational base for the 21st-century economy. So, the wealth and clout of old billionaires are likely to diminish in the upcoming decades.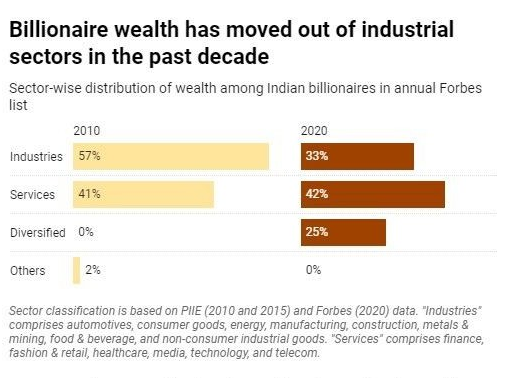 Almost a decade ago, manufacturing was the dominant sector which produced a majority of the Indian billionaires, but, given the exponential growth of services and diminishing importance of manufacturing in the overall economy, service sector became dominant with 42 per cent of total billionaires.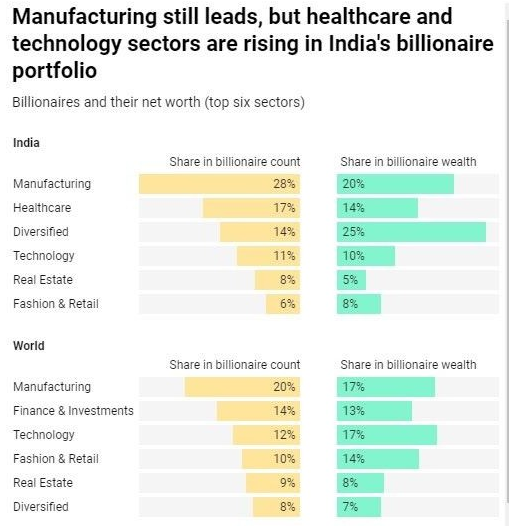 The new economy is led by people like Vijay Shekhar Sharma, Byju's Raveendran, Ritesh Agarwal- founder of OYO, the world's second-youngest self-made billionaire, next to only Kylie Jenner, who are from small cities but dare to dream big and an active government is out there to support them. The billion-plus consumer base gives a very avenue for growth.
The economic liberalization gave India a new aspirational middle class whose dreams were no longer limited to Nehruvian and Gandhian ideas of a closed India. But, this middle class wants to compete with the developed world and willing to work hard to make India a first world country.