China and its espionage network around the globe has only grown manifold since it opened itself to the world in the 1980s. With China steadily becoming a global power, its communist regime has upscaled its evasive surveillance techniques. With the use of modern and at times nasty cyber-attacks to using the old and conventional method of honey trapping the aristocrats of a country—China dominates every sphere of this surveillance war.
Now a book titled, 'Hidden Hand: Exposing How The Chinese Communist Party Is Reshaping The World' has been released and its large excerpt has been published in the Daily Mail and it shows a critical arm of Beijing's surveillance skillset— Sexpionage.
Sexpionage is one of China's many espionage weapons and Beijing prefers calling it 'Meiren Ji'- literally translating into 'the beautiful person plan'.
In the book, the authors Clive Hamilton and Mareike Ohlberg write about how the Chinese Communist Party and its secret agents lure the politicians and the top bureaucrats for divulging classified information by engaging beautiful ladies, working for Chinese intelligence, as a bait.
Using a sexually attractive person to snare a target to lure the politicians to extract the classified information pertains to a term called honey trap which heavily features in popular culture, especially in spy genre movies like James Bond.
Ian Clement, the former deputy mayor of London, honey-trapped
One of the prominent stories shared in the book is of Ian Clement who was Boris Johnson's deputy when Johnson was London's Mayor in 2008. Clement had gone to the 2008 Beijing Olympics games on an official trip to create contacts and network to lobby for the 2012 London Olympics.
After an 11 hour trip to China, Clement met a Chinese lady at the bar on the opening night in a hotel and later took her to his hotel room after being smitten by her charm.
The former deputy Mayor woke up from his sleep in the morning and found that the lady had not only searched his room thoroughly but also downloaded all the information from his blackberry phone. He knew then that the woman was no ordinary socialite but an agent of Chinese intelligence service. Clement came out with the confession that he possibly was drugged.
In the 1990s, the MI5 published a manual for British businessmen, saying "Be especially alert for flattery and over-generous hospitality."
However, three decades on, this advice continues to hold true if Clement's honey trapping incident is to go by.
Joey Chun—the former FBI officer/CCP agent 
The book also mentions another incident involving an FBI employee named Joey Chun. The said officer was convicted by the FBI of supplying critical surveillance information about the bureau's operations to Chinese agents in exchange for free international travel and visits to prostitutes.
Originally born in China, Chun was a naturalized U.S. citizen who had been an employee of the FBI for 19 years.
According to the Justice Department, in 2011 Chun met with a Chinese official during an overseas trip who asked him about his work with the FBI. Chun discussed sensitive information with the official, including telling him the identity of an FBI special agent.
The prosecutors during the trial had called out Chun for 'a duplicitous betrayal of the FBI', which had employed him in its New York field office since 1997.
Chun was sentenced to prison in 2017 for providing a Chinese operative an FBI organizational chart and photographs related to surveillance technologies in the year 2013.
Duffie Shriver—the CCP mole
The book reveals the case of one US citizen named Duffie Shriver who was slowly turned into a CCP mole to infiltrate into the FBI. The report mentions that during a summer study-program, Shriver fell in love with China and later moved to Shanghai where he got paid a hefty amount to write short papers on trade relations.
Over time, 'friendships' were built and Shriver was offered more money. Then he was encouraged to seek employment in the U.S. State Department or the CIA and was paid large sums when he applied for the aforementioned positions.
Shriver underwent weeks of interviews for a CIA position with the National Clandestine Service but the agency was aware of his connections to Chinese intelligence and he was caught red-handed.
At his sentencing hearing after being caught, Shriver confessed that things had spiraled out of control. 'I mean, you know, large stacks of money in front of me.' Shriver admitted being motivated by greed.
Winston Sterzel 
A YouTuber named Winston Sterzel going by his YouTube pseudonym SerpentiZA who routinely uploads videos on his channel to showcase the dark realities of China in a new video has mentioned that how the CCP has been trying to ensnare him.
Winston shows his WeChat account where a Chinese girl reportedly sent him lewd and unsolicited pictures to honey trap him. The Chinese lady repeatedly tried to meet him at a Hotel or his home for an interview.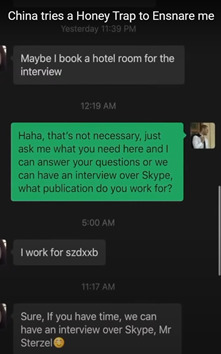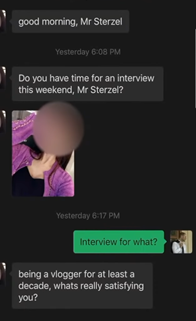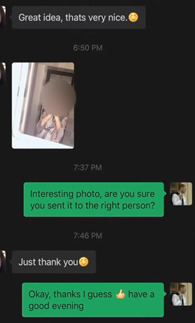 In the video, Winston mentioned that since he has moved to Los Angeles from China, he has seen the number of cyberattacks rise on him.
The intricate espionage web of honey trap and providing large sums of money to buy off people is undertaken by Xi Jinping's 'magic weapon' United Front.
The United Front undertakes a heavily resourced campaign to acquire sensitive foreign technologies and intellectual property through the secret agents who masquerade as students and workers that come to a foreign country to study and work.
An institute that does not even exist
Not surprisingly, universities in the West are the target of intensive influence efforts by the CCP. Since 2007, China's People's Liberation Army has sent more than 2,500 military scientists and engineers to study abroad, in the process developing research relationships with hundreds of top scientists across the globe.
Most of these scientists claim to be from the Zhengzhou Information Science and Technology Institute, which, judging by the number of publications in which it's cited, is one of the world's leading centres of computer science and communications engineering.
However, Daily Mail in its report has sensationally reported that the Zhengzhou Information Science and Technology Institute does not actually exist.
The institute has no website, no phone number and no buildings. It does have a Post Office Box in Henan province's capital city, Zhengzhou, but that's about it.
The institute is a big cover-up for the People's Liberation Army Information Engineering University—a University that trains China's elite military hackers and signals intelligence officers.
The intricate Chinese espionage web
Simply put, the United Front is a coalition of groups and individuals working towards the CCP's common goals against its enemies to pin them down.
These operations are mostly covert and deceptive and they spread well beyond China's borders. Sexpionage is merely a small part of it and most of the incidents do not ever see the light of day–because governments fear it might put a dent on their surveillance units' credibility.
These Chinese operatives are on a mission to infiltrate and influence almost every aspect of a foreign country's life–from politics to business to the media and everything in between.
Wang Yang, the fourth-ranked member of the Politburo (the Communist Party's command) and one of Xi Jinping's closest aides runs the United Front Work Department (UFWD).
The covert organization has been in existence for a long time but in a globalized world and since China opened up to the World, the scope and scale of this surveillance/propaganda machinery has evolved.
The Chinese espionage network is so intricately placed amongst us that we can not possibly differentiate between the black and white. The West has been infiltrated by CCP and it isn't getting out any sooner from the clutches of Dragon.