There is no end to China's lies, deceits and frauds. Now, Beijing is at the centre of the discovery of the biggest gold counterfeiting scandal in human history. This has set ripples across the world, and now we might be looking at backlash or a blanket ban against Chinese companies from the United States.
Kingold Jewelry Inc, China's largest privately owned gold processing and jewellery company headquartered in Wuhan, the place of origin of Coronavirus, took a loan of more than 20 billion Yuan (2.8 billion dollars) with pure gold as collateral. But when the company defaulted in repayment, it was found that what the company claimed to be pure gold was actually gilded copper.
Caixin, a Beijing-based media group known for investigative journalism has exposed the massive gold scam. The Chinese company misrepresented to the tune of 83 tons of the yellow metal. This is equivalent to 22 percent of China's annual gold production or 4.2 percent of China's gold reserves as of 2019.
This is a huge jolt to the Chinese economy and whatever creditworthiness the country still enjoyed stands eroded now.
At the very outset, this should send the warning bells ringing for Chinese companies. They are already on the American radar over transparency, or the lack of it and frequent frauds.
Last month, the US Senate passed a Bill, which if signed into a law can lead to as many as 800 Chinese companies getting delisted. Chinese majors like Alibaba and Baidu are set to be the worst-hit.
The Bill creates two restrictions on foreign companies insofar listing on American stock exchanges is concerned. Firstly, the Bill requires companies to certify that they are not under the control of a foreign government.
Secondly, if the Public Company Accounting Oversight Board (PCAOB), an American watchdog isn't able to audit the accounts of a firm for three consecutive years, the company would stand de-listed from the American stock exchanges.
The Bill itself was not country-specific, but it targeted Chinese companies and crippled their ability to raise money from American investors. Beijing doesn't allow PCAOB to examine the audit-books of the listed Chinese companies. The Dragon claims that the audit-books are national secrets and cannot be shared with other parties.
Moreover, top Chinese companies listed at the US stock exchange are either State-owned or bear close links with the Communist Party of China (CCP). Companies like PetroChina Company Limited, China Life Insurance Company and China Petroleum are all State-owned. Even Jack Ma's Alibaba is not free from Beijing's control.
Jack Ma himself is a CCP member, and promises to happily hand over all his businesses to the party if it so desires.
The move to push top Chinese companies like Huawei and Alibaba towards de-listing was triggered by the Luckin Coffee scam.
Luckin Coffee- a Chinese coffee house chain founded in 2017 had made a grand debut at the Nasdaq last year, and its shares had risen by 50 per cent on its debut at the American stock exchange, Nasdaq.
Exactly a year later, a massive fraud has been unravelled. The company was exaggerating its sales for the second and fourth quarters in 2019 by a whopping 310 million US Dollars.
American investors lose their money when a Luckin Coffee or for that Kingold Jewellery Inc make fraudulent claims or public misrepresentations. It is highly probable that this money is ultimately going into the hands of the Chinese Communist Party (CCP) as private companies in China are hardly private. All of them owe allegiance to the CCP.
Both Luckin Coffee and Kingold Jewellery scams come as a wake-up call for the Trump administration. While the former led to the US Senate bringing a harsh law, still harsher measures could be in the offing.
Kingold Jewelry Inc's share price, for example, has dipped by 16.26 per cent on NASDAQ today following the unearthing of the massive gold scam. American investors are going to lose big.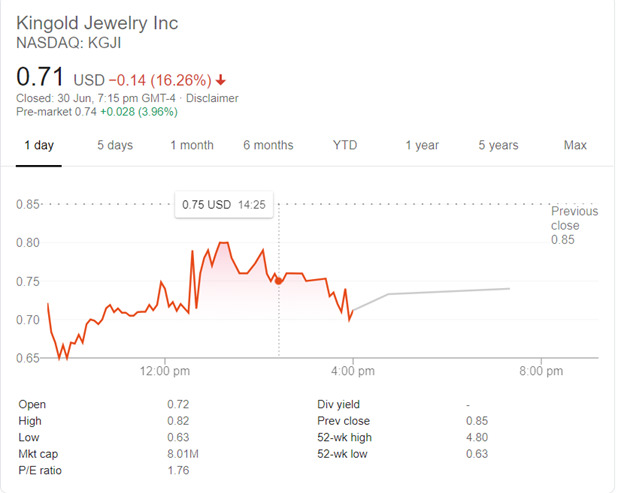 The United States cannot allow Chinese companies, an overhang of the CCP, to loot American money. US-China tensions are at an all-time high and Chinese credibility at an all-time low. Don't be surprised if the Trump administration ends up imposing a blanket ban on the listing of Chinese companies on American Stock Exchanges. If China doesn't play fair, there is no reason why it should be allowed to play.