In a massive embarrassment for the government, the Bureau of Police Research and Development (BPR&D) ended up adding a fake news website, Alt News, as a factchecker in an official document meant to serve as a step-by-step guide for law enforcement agencies to identify "fake news" and videos intended to spark tensions through hatred and communal violence in wake of the Coronavirus Pandemic.
An indicative list of fact checking sources mentioned Alt News and this has turned out to be a massive faux pas as twitter handles exposed how the stated portal itself behaves like a fake news peddler.
MHA's police think thank – the BPR&D gives an indicative list of websites that could be accessed by law enforcement agencies for fact-checking, which includes The Hindu among others. https://t.co/xQrYJOU7fI pic.twitter.com/g8HOPXJ4Ew

— vijaita singh (@vijaita) May 10, 2020
Various twitter users exposed how Alt News has mastered the art of selective fact checking in order to create politically convenient perceptions, and how it has been behaving like a PR arm of the Tablighi Jamaat which has been drawing fire for creating COVID-19 clusters across the country.
Union Home Ministry is listing Alt News as a credible source for its officers to use in investigating fake news.

Has the govt completely lost it???? @AmitShah What's happening in your department? pic.twitter.com/XrTbong51V

— Arihant (@haryannvi) May 10, 2020
Altnews, particularly, has been working like a PR arm of Tablighi Jamaat – hiding the real cases of misconduct of its attendees, using selective fact-checking to whitewashing all their misdeeds as fake news, and now actively pushing disputed info to give it a clean chit.
Why? https://t.co/K9AhY34Or9

— Swati Goel Sharma (@swati_gs) May 9, 2020
It was rather ironic that only recently Alt News co-founder Mohammad Zubair had tweeted a fake Indian Express report claiming that Maulana Saad's audio clip which went viral during the Tablighi Jamaat fiasco was tampered with. The Alt News founder had shared this report that was later condemned and refuted by the Delhi Police.
In a bizarre turn of events, the fact checker deleted this fake news from his own Twitter handle without even apologising for sharing it in the first place. The fake news outlet, Alt News that identifies itself as a fact checker probably turned out to be deceptive for the BPR&D that might not have been able to understand its true character.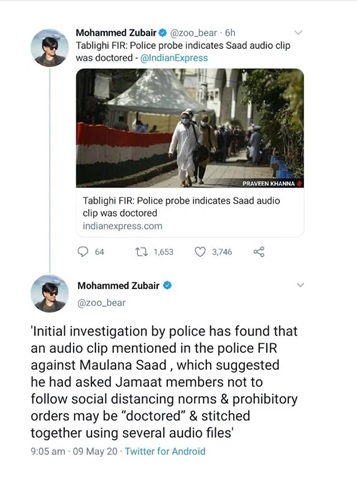 To be very specific, Alt News is the agency that has started the trend of fake 'fact checking' in the country and even during the violent anti-CAA agitation a few months ago, the biases and prejudices of Alt News were for everyone to see.
The portal has a history of trying to pass off any news against the leftist-Islamist nexus as fake news. And when anti-CAA hooligans were caught pelting stones on CCTV camera during the Jamia Milia violence incident, it had tried to pass off the stones in their hands as wallets.
Following the outrage on social media, the document supposed to be working as a guide for police and law enforcement agencies have been taken down by BPR&D, as the agency seems to have realised the blunder it committed by adding a fake 'fact-checker' in the indicative list of agencies to be used for keeping a tab on fake news and communally sensitive material.
The question that arises here is why the BPR&D added such an outlet in the first place, and now why it has taken down the document? While everyone can understand the rectification that is to be made by removing the document that mentioned Alt News as a fact checking source, the BPR&D or any other government agency must clarify in unambiguous terms why the document was taken down so that there is greater clarity about Alt News' murkey character in larger public interest.