When one makes a cinematic product, especially a movie or a web series, one has to keep track of many things. From ensuring a crisp, tight script, to ensuring that the performances are top-notch and that the message is clear, there is much to be paid attention to. Sometimes, some series become ideal examples, like Chernobyl or Sherlock to name a few. But when you will watch Betaal, you will learn a lesson that might come handy – how not to make a web series.
Directed by Patrick Graham and produced by Shah Rukh Khan owned Red Chillies Entertainment, Betaal is a horror series, starring Vineet Kumar Singh in the lead role, assisted by actors like Aahana Kumra, Suchitra Pillai, Jitendra Joshi to name a few.
The Plot 
The plot of this series revolves around a village, which is reportedly haunted. A builder wishes to break through a closed tunnel in order to pave the way for a highway, which is resisted by the villagers. In order to clear the path, the builder calls for an elite commando squad. How this squad inadvertently stirs the Hornet's Nest and how the squad and the villagers tackle the impending forces of doom is the basic theme of Betaal.
The Good, The Bad and The Ugly 
Following the buzz that Paatal Lok garnered, Shah Rukh Khan probably sought to milk the opportunity and make another 'scintillating' propaganda fest. His director however, made a parody of the same. If you analyse carefully, the series is heavily pro Naxal, portraying the government and the security forces in an extremely bad light. However, the way Patrick Graham has made a mess of it is a treat to watch in itself. Fun fact: Patrick Graham is the same chap who had delivered the 'legendary masterpiece' – Ghoul.
Betaal is a brilliant guide on how not to make a web series, especially a horror one. It is said that if the message of the series becomes clear to the audience in the first 10 minutes itself, the series has done a horrible job at delivering the message. In Betaal, this issue deteriorated to the extent that instead of sending chills down your spine, this would leave people scratching their heads at its bizarre narrative.
To begin with, if there is a builder, he/she is bound to be arrogant, mean, and unscrupulous, with no room for any good qualities. He is so powerful that he can not only brand an entire village as Naxal, but also order an elite commando force in order to clear the tunnel. This is over the top at a whole new level, to be honest, or as Arnab says –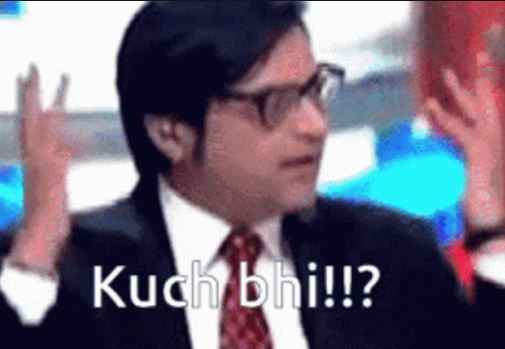 That's not all. In many instances, it is shown that anyone who questions the Government is derided as a left-liberal scum. Seriously, is this the best they could come up with?
The way this story has been told, it would make even the best actors look out of place. It is said according to the series that Vineet Kumar Singh's character suffers from Post Traumatic Stress Disorder. However, it looks like Vineet was less troubled, and more like sleepwalking throughout the film. The likes of Aahana Kumra and Jitendra Joshi were literally wasted here. None would believe that Jitendra Joshi is the same guy who made audiences adore the jovial but resolute cop Katekar in the first season of Sacred Games.
Now onto the ghosts, oops! The English zombies of this series. We are shown that the village in the series was actually a stronghold of the rebels during the Indian uprising of 1857, in which an English officer is buried alive along with his whole company by the rebels and the villagers.
Now God knows why, but these zombies have got such supernatural powers, that even their centuries-old matchlock muskets fire continuously like the automatic machine guns of today. Even the zombies look less scary and more like cartoonish, papier-mache figures, with red LED lights for their eyes and a pathetic mixture of chocolate sauce and food color for blood. Such zombies would make people die with laughter rather than fear, and one can be forgiven if they mistake them for a cheap copy of the Night King's mercenaries from the epic series of Game of Thrones.
Some films or web series are so bad, that they're actually good in their own weird way. This was something associated with Gunda in terms of films, and it looks like Betaal would earn that honor in terms of web series. TFI would give this -5 out of 5 stars.