Gopal Chandra Roy is a former MLA from Tripura who happens to also be a former President of the Tripura Pradesh Congress Committee, and currently serves as an advisor to the same. Gopal Roy, a few days ago, tried to get Tripura Chief Minister Biplab Deb in a net over a comment he made to the press.
In a moment of possible excitement, of perhaps being the only Congress leader in Tripura to directly take on Biplab Deb, Gopal Roy committed a grave mistake, for which he is now about to pay. Basically, the man's adventurism against the Chief Minister has backfired in epic proportions, due to which he is caught in a soup.
Biplab Kumar Deb had told a news channel that he had received reports that there were approximately 16 cases in Karimganj, Assam, while Manipur had 19 cases of Coronavirus. However, the government statistics do not corroborate the CM's claims.
As a result, former MLA Gopal Roy was convinced that this is a case of 'fake news', as a result of which he had an FIR lodged against the Chief Minister. Only that, he illegally used the national emblem of India on his letterhead raising questions.
Fir against EX Congress MLA Gopal Roy for using the emblem of India in his letterhead.@ANI @EastMojo @ie_seven @TOIIndiaNews @htTweets @ani_digital @vikrantkumar @nanditathhakur pic.twitter.com/1ijs8swbCK

— Raja • राजा 🇮🇳 (@RRa_jAA) April 5, 2020
According to the State Emblem of India (prohibition of improper use) Act, 2005, individuals and private organisations are restricted from using it. Under Section 3 of the Act, "no person shall use the emblem or any colorable imitation thereof in any manner which tends to create an impression that it relates to the Government or that it is an official document of the Central Government, or as the case may be, the State Government, without the previous permission of the Central Government or of such officer of that Government as may be authorised by it in this behalf."
It must be mentioned here that Gopal Roy had no authority to use the national emblem on his letterhead, as he is a former MLA of the State Assembly. Further, his letterhead states that he is an advocate, advisor, editor. It also states the man to be President of the Tripura State Olympic Association. None of these designations, however, permit him from using the national emblem.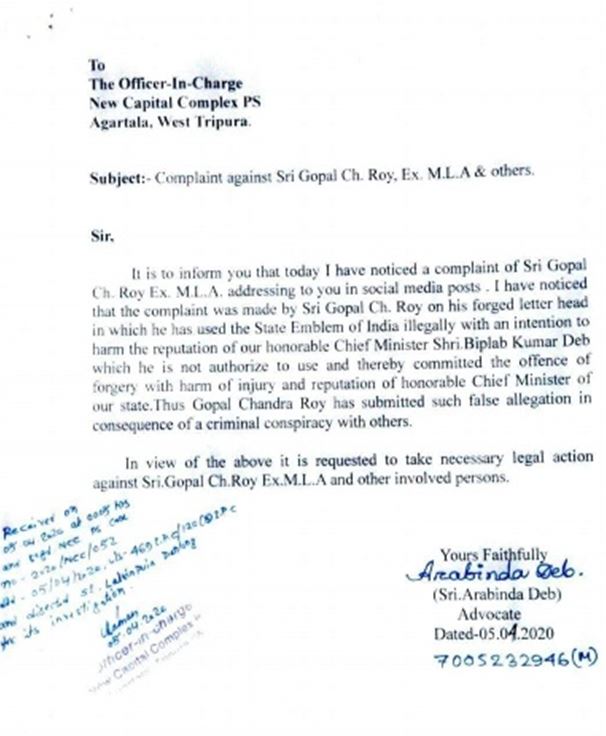 Needless to say, Gopal Roy must be regretting the moment he decided to try an overreach against Biplab Deb, and in the process also expose his illegalities.
The complaint lodged by Advocate Arabinda Deb states that "I have noticed that the complaint was made by Sri. Gopal Ch. Roy on his forged letterhead in which he has used the state emblem of India illegally with an intention to harm the reputation of our honourable Chief Minister Shri Biplab Kumar Deb which he is not authorize to use and thereby committed the offence of forgery with harm of injury and reputation of honourable Chief Minister of our state. Thus, Gopal Chandra Roy has submitted such false  allegation in consequence of criminal conspiracy with others." [sic]