At a time when the country is pulling out all stops to defeat the highly contagious coronavirus, the Uddhav Thackeray government is indulging in personal PR. Social Media platforms have suddenly been inundated with Bollywood celebrities praising Uddhav Thackeray and his son Aaditya Thackeray for their supposed stupendous handling of the coronavirus at a time when Maharashtra continues to be the state with the most number of cases in India.
Uddhav Thackeray has seemingly upped his PR game and left Kerala CM Pinarayi Vijayan to bite the dust. It is no coincidence that yesterday evening, there was a sudden spurt in celebrities praising Uddhav Thackeray. Astonishingly, even people like Swara Bhasker who in the past have berated Uddhav, suddenly started praising him and his son, Aaditya Thackeray.
Some people on Twitter were quick to uncover the truth as it is alleged that Uddhav Thackeray has hired a PR agency which goes by the name of Raindrop Media.
Shiv sena under the leadership of Papu @AUThackeray hired Bollywood PR firm Raindrop Media during the Corona crisis to project his father @OfficeofUT as an able CM . Watch how carefully to B town celebs are commenting on his work.

— Sameet Thakkar (@thakkar_sameet) March 30, 2020
Looks like @MediaRaindrop is doing a good job. Respect !👏🏻👏🏻👏🏻👏🏻🤩🤩🤩 #coronaPR #Covid19India pic.twitter.com/iTHapUdX1D

— Shweta Shalini (@shweta_shalini) April 5, 2020
A quick search on Raindrop Media reveals that they have a pretty impressive clientele with the likes of Kareena Kapoor, Priyanka Chopra, Sonam Kapoor, Kriti Sanon, Katrina Kaif and Abhishek Bachchan all managed by Raindrop Media.
Now it becomes clear why the likes of Katrina and Sonam started praising the Thackerays on the same day.
🚨 *Support starving powerloom workers in Bhiwandi!* 🚨

6 lakh power loom workers in Bhiwandi have been left with no income and no food during the COVID19 lockdown. The situation is so desperate that it resembles a… https://t.co/R2r4UwaGJd

— Sonam K Ahuja (@sonamakapoor) April 4, 2020
While yesterday morning, Sonam was busy criticising the state government, she quickly changed her tunes come evening.
Sonam Kapoor and Bollywood has Decided to Do PR for the State Government it seems!

Saturday Morning 10:40 AM – 6 Lakh Workers No Income

Saturday Evening 4:50 PM – Maharashtra CM Doing Good Job!

By The Way We have 661 Cases in the Maharashtra!#PRCampaign#Raindrop#Bollywood pic.twitter.com/p0S6TNPolZ

— Chandrabhushan Joshi (@MatruBhakt) April 5, 2020
Interestingly, Sonam has deleted the tweet praising Uddhav and Aaditya Thackeray after the PR strategy was successfully exposed. It was carefully coordinated PR strategy with Shiv Sena scion Aaditya even replying to Sonam as he claimed that how it was only their job and how they are doing the best they can.
How the paid PR campaign works -Do you see similarity btw Kathua Placard campaign & Udhav Thackerey handling #Corona pic.twitter.com/3Nl5d8pIF4

— Tanhaji (@indiapremi) April 5, 2020
A huge PR was unleashed right after Uddhav's address. Uddhav used the praise from Bollywood to legitimise his government's "good work" and spread his message to the maximum amount of people, the sudden love from the liberal fraternity with the likes of Swara Bhasker, Nikhil Wagle, Rohini Singh, Javed Akhtar, Swati Chaturvedi and the ilk, Uddhav was successfully "converted" as a secular leader as he received his certificate of secularism.
Katrina and Sonam praised the Thackerays on their Instagram stories too.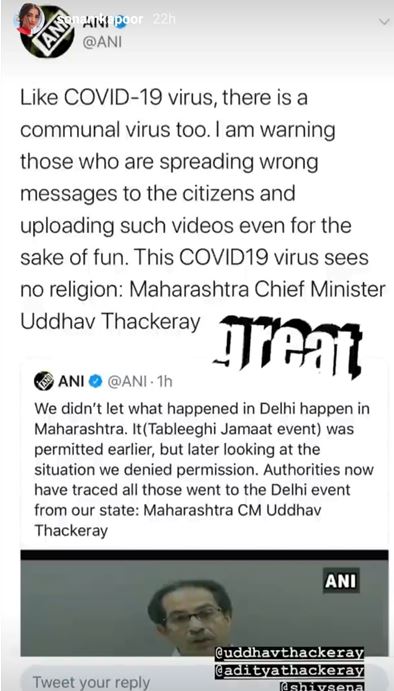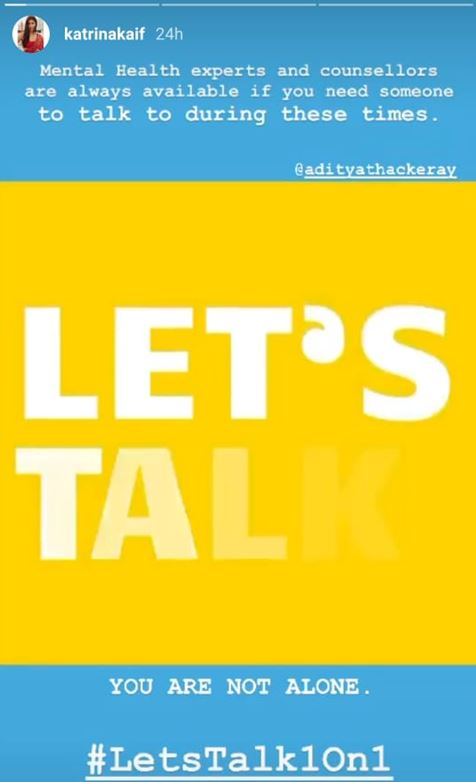 The interesting thing here to note is how only Uddhav and Aaditya are being praised. If it was indeed the case where the celebrities tweeted out of the goodness of their hearts, would't they have mentioned or tagged the Maharashtra government ? What about the Deputy CM Ajit Pawar? Is it that only the Thackerays are working while the rest of Maharashtra government is napping?
On paper Aaditya is just a Tourism and Environment Minister and in the current scenario, Aaditya's ministries are redundant. Sonam in her Instagram story has even tagged Shiv Sena which clearly signals that this was a co-ordinated strategy.
Amazing Aaditya .. you guys are doing your best. https://t.co/ttdd4hEo7W

— Sonam K Ahuja (@sonamakapoor) March 26, 2020
Earlier in March, Sonam had praised Aaditya but the tweet didn't churn up a storm. However, this time her PR was caught and the fact that she later deleted the tweet praising the Thackerays points out how it was nothing but a PR strategy gone wrong.
On paper, this looked like a fantastic PR strategy and the Thackerays would have almost got away with it had they not overdone it. This is just another example of how the "opinions" of Bollywood personalities are bought and we can take these opinions as the gospel truth at our own expense.