The widowed-wives of Islamic State operatives that were radicalized by the infamous Kerala module now want to return to India. In a video that has surfaced courtesy StratNews Global, three widowed IS brides Sonia Sebastian/Ayisha, Merrin Jacob/ Mariyam, Raffeala, and Fathima Isa/Nimisha can be seen retelling the stories of their Jihad to the Indian agencies in an interrogation dated December 2019.
Ayesha is the first wife of deceased mastermind Abdul Rashid Abdulla, who was the lynchpin of the IS recruitment module in Kerala. Rashid had successfully converted people from different faiths to Islam and radicalized non-fundamentalist Muslims who joined him and Ayesha in Afghanistan's Khorasan Province. Reportedly, they crossed over to Afghanistan on foot from the Iranian border.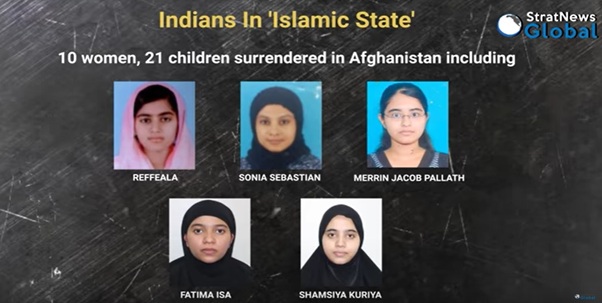 After the death of Abdul last year, Ayesha, married and widowed in the 'Islamic State', said that she was "disappointed" with her life in Afghanistan and wanted to return to her husband's family. "Once we reached here (Khorasan)in 2016, many things we saw were not up to our expectations. We expected to live an Islamic life, under an Islamic law. That is not what the reality is. Now, I want to return to India, to my husband's family," Sonia could be heard saying in the video. Ayesha who had been a Christian before marriage is known to have completed her engineering degree in Ernakulam and MBA in Bengaluru.
The other operative Nimisha said that she would like to meet her mother Bindu Sampath, provided she was not arrested. Nimisha, a Dental student hailed from Kerala's Thiruvananthapuram. She had married a Christian youth named Bexin from Palakkad without informing her mother and the couple had converted to Islam. They both are believed to have been radicalized by radical Islamist elements in Kerala who were working as recruiters for ISIS.
Indians are among the 1,400 men, women and children who surrendered to the Afghan authorities in November and December 2019. Kerala is already a highly radicalized state. The state has reported the highest number of cases. It has over the years become a hub for Wahhabi activity and radical Islam has spread its tentacles far and wide in the state.
Many of the women say they want to come home. But the question persists, can they be trusted that once they reach the Indian shores would they not try to spread the extremism and radicalism they bore to those around. From the locals to families to the jails they would be kept within, these radical Islamists would try to spew their venom everywhere.
The IS chief, Abu Bakr al-Baghdadi had announced before his death for all the jihadis to return to their homelands and continue the terror operations there. The main objective of leaving the country for these Kerala fugitives was not to continue fighting in Afghanistan or Syria. Their endgame was to always return to the country and try to enhance the modules and carry out attacks.
They pose a security threat to the country and PM Modi's 'zero-tolerance policy' on Islamist terrorism does not leave any room for complacency. The agencies have been intentionally slow in reacting as there is always a big worry with the ISIS returnees. The next step needs to be planned cautiously.