Shiv Sena and the Uddhav Thackeray government in Maharashtra continues to get embroiled in controversies exposing its hypocrisy time and again. Hypocrisy and double standards are not alien to the Indian democracy, but the kind of hypocrisy exhibited by the Udhhav Thackeray led Sena is absolutely unprecedented. The party deserted its ideology after Maharashtra assembly polls results, and that has led to a number of subsequent exposures that reveal its feeble ideological foundations and dubious double standards. 
It is relevant to mention here that in 1994, Sena's mouthpiece, Saamana had carried a frontage report which had blamed Congress turncoat Abdul Sattar of having close ties with the Dawood Ibrahim gang. However, later on, the alleged D-gang member joined the Shiv Sena, exposing the latter's hypocrisy and amnesiac character. Now, the Shiv Sena has unabashedly inducted Abdul Sattar in the Uddhav Thackeray cabinet. The 25-year-old Saamana editorial which had made serious insinuations against Sattar has gone viral on social media.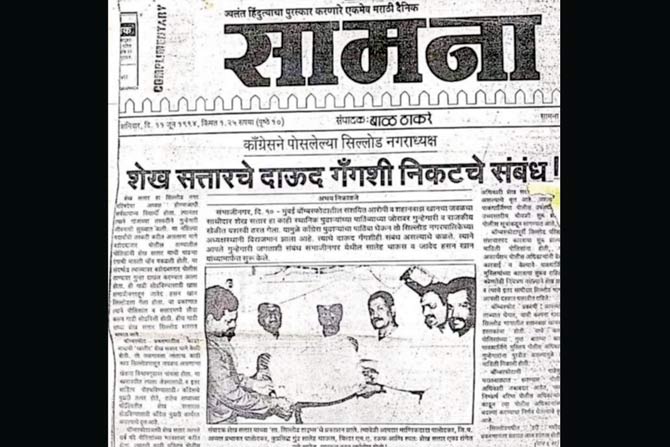 Sattar had joined the Uddhav Thackeray led Sena earlier this year after being denied a Lok Sabha ticket by the Congress. As if that was not enough, the Shiv Sena went a step further and inducted him into the cabinet after forming government in Maharashtra. This has unsurprisingly disenchanted the Sena cadres. The grassroots leaders are dissatisfied with the party leadership, and a senior functionary has been quoted as saying, "In politics, people keep changing parties. Induction of leaders from other parties is fine. But promoting newcomers in such a short span, especially at the cost of loyal party workers, is not a healthy sign." 
Another controversial leader, Aslam Shaikh, has also got inducted in the Uddhav Thackeray cabinet. An old letter written by Shaikh seeking clemency for the 1993 Mumbai serial blasts convict Yakub Memon has gone viral. He had sought clemency for Memon in the year 2015. Ironically, the Shiv Sena which had not parted ways from the BJP at that time had welcomed the death sentence for Memon. 
The BJP has expectedly come down hard on the Uddhav Thackeray led Shiv Sena for Shaikh's inclusion in the cabinet. Former BJP MP Kirit Somaiya has severely criticised the Sena for labelling Shaikh as a 'traitor' in 2015 when the latter sought clemency for Memon and now indicting him in the cabinet. He said, "Uddhav, your government is weird. Traitors have now become patriots. In the 2015, Maharashtra Assembly session, Aslam Shaikh had demanded that the death sentence of Yakub Memon should be commuted. Then, BJP-Shiv Sena MLAs had disrupted the House 6 times. Aslam Shaikh was labelled as a traitor. Now, Aslam Shaikh has become a minister in the Uddhav Thackeray government." 
There was a time when the Shiv Sena professed nationalism as a cherished value. Today, however, it seems to have given up those values for petty political gains. The Udhhav Thackeray led party has already witnessed a major exodus, with several party leaders migrating to the BJP. Now, as Sena's hypocrisy gets further exposed, it might just have to face a large scale migration of its workers and grassroots leaders who are feeling disillusioned with the dubious inductions in the Maharashtra cabinet. 
उद्धवा, अजब तुझे सरकार!!!?

देशद्रोही आत्ता देशभक्त झाले!!!

देशद्रोही अस्लम शेख, आत्ता देशभक्त झाले!!!??? @BJP4India @BJP4Maharashtra @Dev_Fadnavis @OfficeofUT @ShivSena pic.twitter.com/LiIUEDhv7a

— Kirit Somaiya (@KiritSomaiya) December 31, 2019
Maharashtra assembly poll results and Sena's subsequent behaviour had exposed how ideology had taken a backseat for the Shiv Sena. Now, with the inclusion of those who were once condemned as terror apologists and D-gang members, the Shiv Sena increasingly resembles the NCP. The party should be ashamed of using Bal Thackeray's and Shivaji's name for garnering votes and then giving up completely on ideology.