With Shiv Sena walking out of NDA to form coalition with NCP and Congress, the party is set to lose its base- Brihanmumbai Municipal Corporation (BMC). Mumbai and BMC have been crucial to the party's rise since it entered in politics, five decades ago. Shiv Sena came to power in BMC for the first time in 1985 and, it has ruled Asia's richest municipal body since then, uninterrupted.
When late Bal Thackeray started politics in late 1960s, his 'karmabhoomi' was limited to Mumbai. Over the years party expanded to other areas of Kokan as well as in Western Maharashtra, but, majority of the legislators of the party still come from Greater Mumbai region. It could never become very influential in Marathwada, Vidarbha, and Western Maharashtra and that's why it came to power in the state only two times, that too in alliance with BJP.
Mumbai forms the core of Shiv Sena's financial as well electoral base and by broking alliance with BJP; the party is set to lose it. In the last few years, BJP became as primary choice of the urban voters of Maharashtra. In 2017 municipal elections, which BJP and Shiv Sena contested separately, the party won 82 seats out of 227, only two less than Shiv Sena.
For the first time in last three decades, Shiv Sena felt that it could be dethroned from BMC, because the tally of BJP increased to 82 from 30 in last municipal elections. Shiv Sena could not have formed government without help of BJP and therefore the former started its usual tantrums.
Uddhav Thackeray asked a Sena minister to resign from the Fadnavis government if the party did not support Shiv Sena mayor and finally it received BJP's support for Sena's Vishwanath Mahadeshwar. But, with Sena's backstabbing to the saffron party, the Sena hold in BMC is set to fall.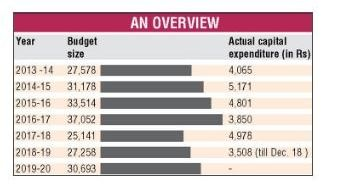 BMC is the richest municipal corporation in the country with revenue receipt of 24,984 crore rupees. Interestingly, it is six times greater than the Pune Municipal Corporation which is the second richest Municipal Corporation in India. The Pune Municipal Corporation has a revenue of 4,023 crore rupees while the New Delhi Municipal corporation gets revenue of 3,572 crore rupees. The budget of BMC is more than that of many smaller states like like Nagaland, Meghalaya, Sikkim and Goa.
BJP has emerged as the most powerful political force in urban Maharashtra. In 2017, BJP and Shiv Sena fought municipal elections separately and the saffron party registered victory in 8 out of 10 municipalities.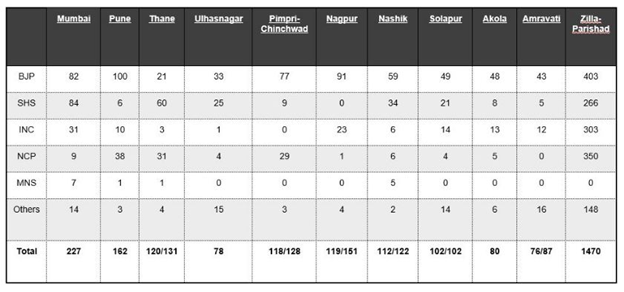 BJP created history in Pune and Pimpri Chinchwad, an NCP bastion where there is a BJP mayor for the first time in the history. The BJP also swept Nagpur, Nashik, Ulhasnagar, Amravati, Solapur and Akola. The Congress, NCP and MNS were completely decimated failing to win any corporation in Maharashtra. Results of zilla parishad were also announced simultaneously.
BJP's backstabbing to Shiv Sena will not send a good message to electorates of Mumbai where Gujaratis are a major vote bank with more than 20 percent population. The Gujarati community considers BJP as their own due to leadership of Modi and Shah, and they will strategically vote to defeat Shiv Sena whenever next municipal elections take place.
Shiv Sena is already losing its base in the state while fortune of BJP is rising. In 2019 assembly elections, The parties fought the election in alliance with Devendra Fadnavis as the Chief Ministerial face. But, in order to grab the CM chair for Thackeray family scion- Aditya, the party turned its back to alliance. Shiv Sena had demanded the CM chair for half term (2.5 years) despite the fact that the party won 56 seats at strike below 50 percent (it won 56 out of 124). BJP, which won 105 seats and had around 70 percent strike rate (it won 105 out of 152), is not ready to give up on the CM chair.
If BMC slips out of Shiv Sena's hand, the party is set to lose its core 17 percent voter base and will be swept out of the politics of the country.