Former CM of West Bengal Buddhadeb Bhattacharjee has been admitted to hospital and receiving intensive care. The 75 year old veteran Communist leader is suffering from acute respiratory problems for many years. Bhattacharjee was elected to West Bengal Assembly in 1977, when Communist government came to power in state for the first time, and held important ministerial portfolios, till he was made CM of West Bengal in 2000.
For almost 11 years (2000-2011), he ruled the state, and ultimately lost to Mamata Banerjee in 2011 assembly elections. It was a crushing defeat for him as he lost his seat- Jadavpur assembly constituency, which had been electing CPM candidates since 1967.
Bhattacharjee is often remembered as the man who lost to Mamata Banerjee, and often blamed for the end of Communist rule in West Bengal. It is time we take a look at his legacy.
Buddhadeb Bhattacharjee ultimately lost power as people had lost faith in Communist ideology. Although he had argued in favour of economic liberalization, but he was not able to implement the policies. The electorates witnessed the rise of states like Maharashtra and Gujarat- which were reaping the benefits of economic liberalization, and decided to overthrow the oppressive Communist regime.
When states like Maharashtra and Tamil Nadu were reaping fruits of economic liberalization, thousands of Bengali professionals moved to urban centres of India, because, there was very little opportunity in West Bengal. This was a reverse trend as Calcutta (now Kolkata) was an industrial hub in the pre-independence period and the early years of the post-independence period.
Many Marwari and Gujarati business families operated from Kolkata since the days of Mughal Empire. But during the Left rule, union strikes, harassment of businessman and industrialists were common occurrance, and these industrial families moved to Mumbai and Delhi. One major example of this is Birla group, which operated from Kolkata for decades, but moved to Mumbai after the oppressive Communist regime came to power.
BK Birla himself witnessed the ruin of one of the 60's most industrialised states in India. He said, half in sorrow and half in mockery, "What can businessmen expect but unions, strikes, threats and God knows what else. Tell me, which businessman will invest there. You know, when they are out of Bengal, the people are the most hard working, industrious and enterprising. But inside the state…you can see what happened to Bengal over the last 40 years. I don't need to elaborate. Of course, I have always considered Calcutta my home and always will. But frankly, I don't see a bright future for the state."
With its main entrepreneurial base lost because it no longer saw any opportunity in the state, the economic decline of West Bengal started. At the time of independence it produced a quarter of India's GDP, and now it is in the sixth position, behind Gujarat whose population is almost half of West Bengal.
The share of West Bengal in total industrial output declined from 9.8 percent in 1980-81 to just 5 percent today. The share of manufacturing in the state GDP declined from 21 percent in 1981-81 to 13 percent. The Bank deposit in the state declined from 11.4 percent of pan India deposit to 7 percent. On the infrastructure front, West Bengal's index was 110.6 in 1980 which means 10.6 percent better than rest of the country and it declined to 90.8 points. On the other hand, Odisha improved from 81.5 to 98.9 points.
The Bengali professionals with very familiar surnames could be found on top management positions of almost all large companies. But while Bengalis across the Indian cities thrive, West Bengal remains poor and badly governed.
Today, thousands of middle class Bengali people could be seen working across Information Technology, Media & Entertainment and other corporate sectors as professionals. The state has abundance of 'good human capital' due to introduction of modern education very early as compared to other regions of the country. But the modern service industries like Information Technology, Automobile, Banking and Finance firms did not open units in West Bengal due to apathy of Left Front government towards capitalism. Rigid labor laws, graft, trade unionism were other factors that kept these sectors away from cities of West Bengal, more specifically, Kolkata.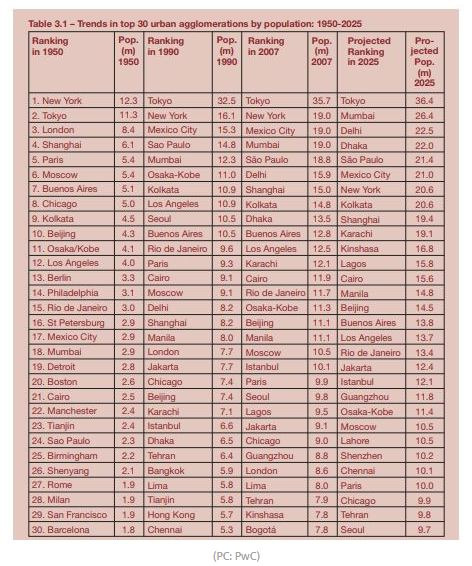 As one can see in the above picture, Kolkata was India's largest urban agglomeration in 1950. This was due to economic opportunities the city had to offer, ambitious and talented people from across the country migrated to Kolkata for better living condition. But Kolkata lost its status to Mumbai by 1990 and was displaced to second place. Delhi appeared on 15th place in the list.
Under Buddhadeb Bhattacharjee, the GSDP ratio (the debt to GDP ratio) of the state declined consistently and fell below 4.5 percent in FY 2007-08.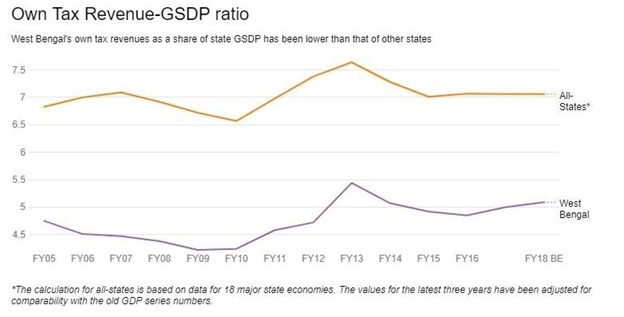 The capital expenditure of the state registered significant downfall under Budddhadeb Bhattacharjee. This problem arose due to excess revenue expenditure by the government on inefficient welfare schemes. Despite the rise in welfare expenditure, the state performed poorly on Human Development Indicators.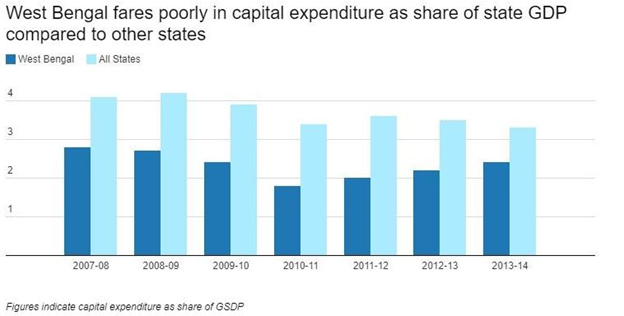 On Health and Education indicators, the state has been one of the poorest performers in last few decades. West Bengal was on eighth place in the list of Indian states by HDI and slipped to 28th in 2018, a massive 20 place decline.
The inability to raise revenues and a tendency to overspend on revenue expenditure has crippled capital expenditure in the state. Lower capital expenditure threatens the sustainability of the state's growth path, as well as the state's ability to lower the debt-GDP ratio.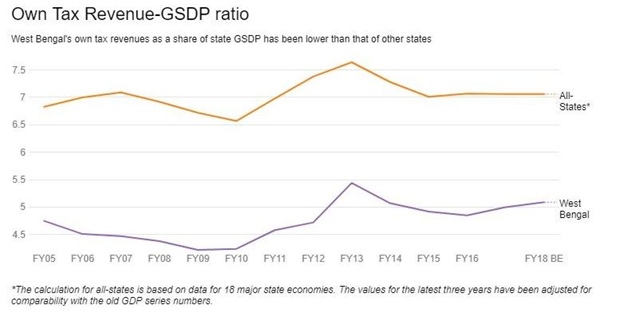 Therefore, the regime of Buddhadeb Bhattacharjee worsened the macroeconomic condition of West Bengal. Under his incompetent leadership, the state could not compete with Southern and Western Indian states- which reaped the benefits of economic liberalization, and absorbed the flight of human capital and industries from the state.