In a bid to strengthen the local and domestic players, the Modi government on Wednesday imposed 5 percent safeguard duty on imports of refined palm oil from Malaysia. Imports from Malaysia had skyrocketed from 6,26,362 Metric Tonnes (MT) in 2016-17 to 25,96,225 MT in Jan-June, 2019 (on annualised basis), showing an increase of whopping 314 percent whereas the imports from other countries declined from 23,15,292 MT in 2016-17 to 7,25,210 MT in Jan-June, 2019. This huge spike led the Solvent Extractors' Association of India (SEA) to lodge a formal complaint with the ministry, which last month on 26th August had recommended to levy five percent additional tax.
The ministry's investigation arm Directorate General of Trade Remedies had recommended the duty-hike after conducting a thorough probe into alleged jump in imports of "refined bleached deodorized palmolein and refined bleached deodorised palm oil. The safeguard duty has been imposed for a time period of 6 months.
India has raised the tax on refined palm oil from Malaysia to 50 percent from 45 percent to curb imports that will boost domestic output and local refining. The petitioner, SEA, had claimed a significant decline in production, sales and capacity utilisation for the product. They have also stated that the market share of Indian industry has declined whereas the share of imports has increased.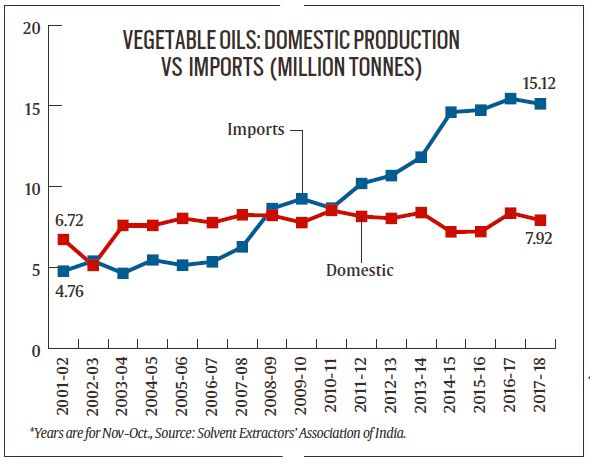 About 96-98% of palm oil consumed by India is imported. India currently imposes a 40% import duty on crude palm oil and 50% on refined palm oils. However, shipments of refined palm oils from Malaysia have since January been levied a 45% duty under the Comprehensive Economic Cooperation Agreement (CECA) with Malaysia, leading to a surge in refined palm imports in the first seven months of 2019 and causing serious injury to domestic producers.
Not even a third of palm oil gets directly used in home kitchens. The bulk of it is consumed by the food industry –for everything from mithais, namkeens, bread and biscuits to noodles and quick-service restaurants. It is the cheapest oil and amenable to deep as well as multiple frying. Hydrogenated vegetable oil (vanaspati), too, is entirely based on palm oil.
Various reports have suggested that palm oil is dangerous for health and consuming it can make people prone to more cardiovascular diseases. Being cheap also makes palm oil ideally suited for adulterating other oils, from mustard and groundnut to sesame. It is a neutral oil, with no aroma of its own and can easily mingle with other oils.
Whenever prices of other oils go up, you'll see a spurt in palmolein sales. The Modi government should take the onus on itself to systematically reduce the import of palm oil because of its health hazards and instead increase the land per hectare for local oilseeds like mustard, coconut, sesame etc and give boost to domestic players. This in turn would help the locals and bolster the economy as well as ensure a healthy life of citizens.