In a positive development, the Upper House on Wednesday passed the Motor Vehicles (Amendment) Bill 2019 with 108 Parliamentarians voting in favor and only 13 against it, with three amendments moved by Union Road Transport and Highways Minister Nitin Gadkari. On 23rd July the bill was passed by the Lok Sabha; however, the bill will be sent back to it due to a typing error.
This new legislation is poised to tighten road traffic regulations, with regard to the issuance of licenses and also proposed to impose firmer penalties for violations of traffic rules in a bid to improve road safety and improve compliance. The bill was also introduced in the 16th Lok Sabha, however, had lapsed pending approval in the upper house.
According to a report in Economic Times, Consumer Voice an organization involved in policymaking and complaints redressal, in a survey conducted last year had pointed out that 96% of the consumers believed that passage of this bill would help meet the United Nations mandate to reduce road accidents by up to 50 percent by 2020. 97% also feel that all parties should support the bill as it deals with an important aspect of bringing down fatalities due to road accidents, where India stands the highest in the world with a distressing figure of 1.46 lakh annually. 
"This is not only a Motor Vehicle Act, but also a road safety bill. I believe it'll cause a decline in accidents, the passing of this bill is a tribute to those who lost their lives in accidents" Union minister said.
Union Road Transport Minister, Nitin Gadkari on Motor Vehicles (Amendment) Bill, 2019: This is not only a Motor Vehicle Act, but also a road safety bill. I believe it'll cause a decline in accidents, the passing of this bill is a tribute to those who lost their lives in accidents https://t.co/z3y4idAiyY

— ANI (@ANI) July 31, 2019
Union Minister Nitin Gadkari also pointed out that the legislation will instill fear of law in traffic rule violators as an intelligent traffic system will monitor traffic offences; the union minister also informed the house that India is facing a shortage of around 22 to 25 lakh drivers, and in a bid to fill this gap, driver training institutes have been planned across the country for which the central government was ready to provide a subsidy of 1 crore each.
Such centres are not only needed in metropolises like Delhi, Mumbai or Chennai but also in remote rural areas to uplift tribals and the poor, union minister said.
Along with revision for fines and penalties for traffic violations like the use of vehicles without a license or driving without a license and others the bill also provides for a National Road Safety Board to be created by the central government through a notification. The National Road Safety Board will act as an advisory body for both the central and the state government regarding different aspects of road safety and traffic management including promotion on new and innovative vehicle technology, registration and licensing of vehicles, prevailing standards of motor vehicles and other standards for road safety.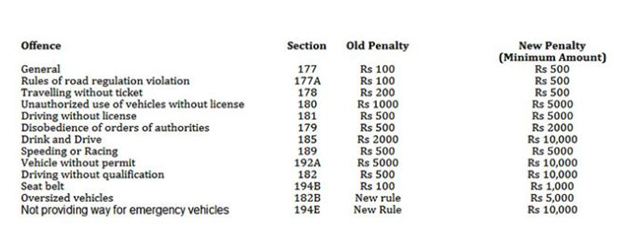 Besides, the Motor Vehicles (Amendments) Bill also provides a system for cashless treatment to road accident victims during the golden hour, i.e., the time period which lasts one hour after a traumatic injury.
The Modi government has also brought in a provision wherein road contractors will be penalized. if road conditions are not up to the mark.
The Motor Vehicles (Amendment) Bill also defines a Good Samaritan as a person who renders emergency medical or non-medical assistance to a victim at the scene of an accident. The amendment provides that such a person will not be liable for any civil or criminal action for any injury to or death of an accident victim.
This new bill is surely a positive long-standing improvement in archaic motor laws in the country, and will surely give a huge boost in making Indian roads safer.