The entry of Reliance Jio brought revolutionary changes in India's telecommunication market. The richest and most powerful corporate house of India entered in telecommunication segment in September 2016. The company has been able to capture 34 percent of market share with 33.13 crore customers as of June quarter overtaking Vodafone Idea which reported 32 crore customers in the same quarter. 
So, Reliance Jio is now the largest telecom player in the country in terms of subscriber base as well as revenue. Mukesh Ambani, second-generation industrialist has defeated the oldest business house of the country in less than three years with his innovative strategies.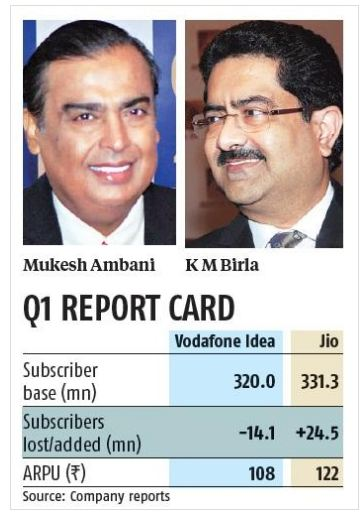 Vodafone Idea has lost more than 1.3 crore customers in one quarter as the company has reported 33.4 crore customers in March quarter. The company has the largest subscriber base in March quarter but now it has pushed to third place after Reliance Jio and Airtel India. "Our subscriber base declined primarily due to customer churn following the introduction of 'service validity vouchers' in the prior quarters," said Vodafone Idea in a statement.
So, the company which was crowned in the highly competitive telecom market is now at the bottom of the pyramid. The Kumar Mangalam Birla led company posted a loss of 4,873 crore rupees and the total revenue declined by 4.3 percent to 11,270 crore rupees.
Jio had already overtaken Airtel India in May 2019 when it reported 27.8 percent of market share with 32.3 crore customers against 320.38 million users and 27.6% market share of the Sunil Mittal led company. Reliance Jio is the country's youngest telecom operator and brought revolutionary changes in India's telecommunication market within a short period of less than three years.
Telecom Regulatory Authority of India (TRAI) counts active as well as inactive SIMs as consumers, although there are overlaps. After Reliance Jio forced the small players out of the market, the existing big players intentionally started weeding out inactive users with a compulsory monthly recharge of 35 rupees. In order to increase average revenue per user (ARPU), Airtel and Vodafone launched a compulsory recharge plan in November. The weed-out strategy worked for Airtel as well as Vodafone. These companies lost the consumers in the lower end of the spectrum but the ARPU improved.
Airtel lost 15 lakh customers in May while Vodafone lost 57 lakh users. On the other hand, Jio added 81 lakh customers in the same month. However, Jio's ARPU declined to Rs. 122 in June quarter from Rs. 126.2 in March while Airtel's improved to Rs. 123 in March from Rs 104 in December quarter. Vodafone Idea also showed little improvement in ARPU with Rs. 108 per user in June from 104 in March quarter.
The entry of Mukesh Ambani-led Jio forced many small players out of business and the merger of Vodafone and Idea, two of the largest independent telecom operators. The data tariff rate in India is the lowest in the world, thanks to Mukesh Ambani. Since his company entered the market with a 1GB free data and unlimited free calling package throughout India, the prices of calling and data services have crashed, the existing players like Vodafone and Jio have been forced to cut the rates in fear of being thrown out of the market. He was being compared to the freebie distributing Chief Ministers of Tamil Nadu but he was doing it with his own money, not the taxpayers' money.