One of the biggest developments in the last year was the rise and rise of Reliance Jio. The telecom company quickly acquired a giant status in the industry as it added more than 10 million subscribers every day in last year. The face of the telecom industry completely changed in less than 2 years. Before the entry of Jio in September, the industry was dominated by Bharti Airtel, Vodafone, Idea, BSNL, Reliance Communications and many smaller players. However, the market scenario looks completely different now.  However, now the industry has consolidated into only four players- Bharti Airtel, Vodafone Idea, Jio, and state-run BSNL. The entry of Jio forced all the smaller players to exit from the market. The two large players Vodafone and Idea who captured almost half of the market share before the entry of Jio were forced to merge in order to survive.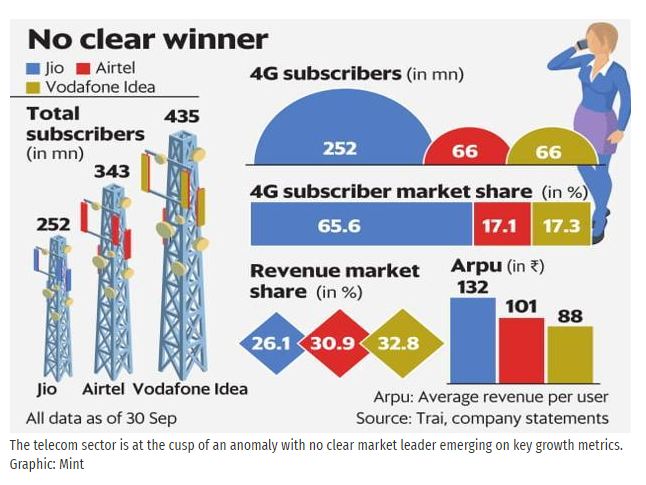 Now, Jio has started into eating market share of its arch rivals Airtel, Vodafone-Idea, and BSNL. Jio added 10.5 million users in October while Vodafone-Idea and Airtel lost 7.3 million and 1.8 million respectively. In the month of September, 13.02 million customers subscribed to Jio and 6.68 million and 2.35 million users left Vodafone Idea and Airtel respectively. "The incumbents (existing operators like Vodafone-Idea, Jio) are undoubtedly under great pressure and are struggling to compete. The large debt sitting on their books further impacts their ability to raise funds and invest in their networks. Vodafone Idea and Airtel reported loss of 4,970 crore and 118 crore respectively in September quarter. On the other hand Reliance Jio reported profit of 681 crore for the same period."
Jio is not only adding large number of new subscribers, it is also exponentially increasing its market share in terms of revenue. For July to September quarter Jio's revenue share was 26.1 percent in comparison to 11.6 percent for the same quarter in previous year while Vodafone's share decreased from 36.2 percent to 32.8 percent while Airtel's share was constant. "Reliance Jio, the erstwhile challenger in the market, is now dictating terms in the telecom sector. And this year, it may well emerge as the number one player by both subscriber base and revenue market share," said Uppal.
The data released by Telecom Regulatory Authority of India (TRAI) shows that after remaining in the range of 48 paise per minute to 51 paise per minute for over five years between March 2011 and September 2016, average voice tariff in India has fallen to a third at 16 paise per minute as of March 2018. The sudden fall in call rates is due to the entry of Jio. Reliance Jio entered the market in late 2016 and with its low pricing it captured more than 20 percent of the Indian market within a short span of only two years.  It's entry in telecommunication forced the existing players to bottom out their prices to remain in the market.
The consumer will ultimately benefit from the cut-throat competition in the market. This competition among companies has compelled them to give free 'voice tariff' to consumers. In future, the companies may also start giving free data to the consumers.