In what comes as a major setback for the left-liberal brigade, tainted IPS officer Sanjiv Bhatt has been sentenced to imprisonment for life by a local court in Jamnagar in connection with the custodial death of an undertrial, Prabhudas Madhavji Vaishnani in Jamjodhpur, which occurred in 1990. Another police official, Praveen Singh Jhala has been sent to the prison for life, as per the decision.
Recently, the Supreme Court had rejected the plea of Sanjiv Bhatt to have the cross-examination of 11 additional witnesses conducted. The Gujarat Police had vociferously opposed this move, denouncing it as a 'tactic to delay the outcome of the case.'
For those unaware, Sanjiv Bhatt was one of the top voices in the anti-Modi cabal who had left no stone unturned in order to see the then Gujarat CM behind the bars. He was hailed by the left-liberal intelligentsia as some sort of 'Super Cop', who had taken a huge risk in terms of filing an affidavit against Narendra Modi, then CM of Gujarat, in 2011.
Sanjiv Bhatt had alleged that Narendra Modi had personally supervised the carnage that followed the Godhra massacre of 2002, where more than 56 innocent karsewaks were charred to death. He was also instrumental in framing charges against the then state Home Minister, and now the current Home Minister of India, Amit Shah, in connection with the Sohrabuddin Sheikh encounter. Even though he was suspended, he was still the apple of the eye for many, courtesy the image makeover exercised by the left-liberal intelligentsia.
[One of the sources for his allegations on Sohrabuddin Sheikh, as reproduced through FB post by Bhatt himself]-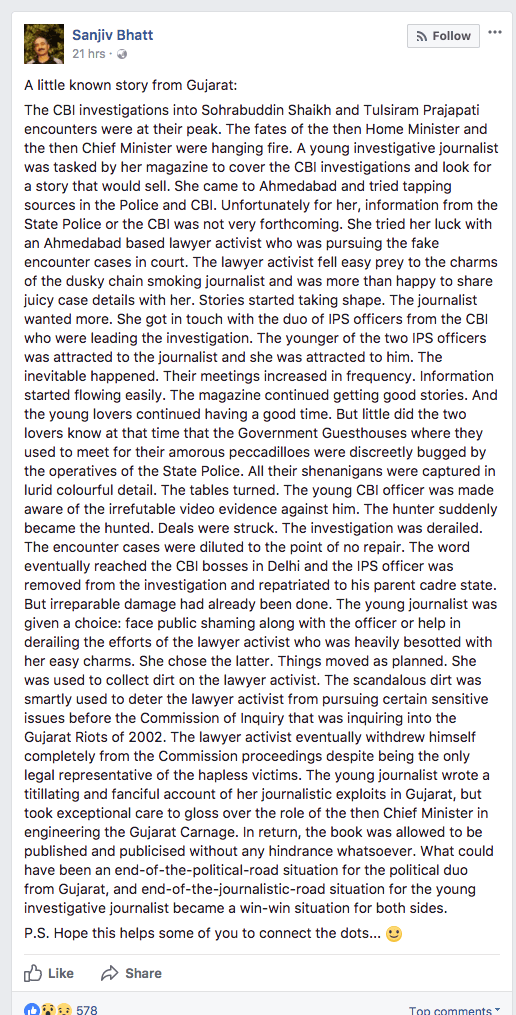 However, what very few people know is that Sanjiv Bhatt is not at all the 'Super Cop' the left-liberals claim him to be. His current case aside, Sanjiv Bhatt has been involved in many criminal cases, which pose a serious doubt over his career as an IPS officer.
Only a few years after the custodial death case as mentioned above, Sanjiv Bhatt got involved in the notorious Palanpur drug implant case in 1998. In this case, Sanjiv had not only allegedly got Sumer Singh Rajpurohit, an advocate by profession abducted, just because he refused to leave the possession of a property claimed by a former High Court judge, but also wrongfully implanted drugs on the lawyer. It is another matter that his bail plea on the same was rejected last year by the local court in the same district.
This was not all. Sanjiv Bhatt has also been accused of giving preferential treatment to the inmates when he was involved as the superintendent of Sabarmati central jail in 2003. He hadn't only introduced delectable delicacies for the hardened criminals, but also included undertrials like Muhammad Hussain Kalota, Salim Abdul Ghaffar Sheikh, Rol Amin Hathila etc. as members of the jail committee. Interestingly, these undertrials were accused in the same Godhra carnage, which had claimed the lives of 59 innocent karsewaks.
Interestingly, Sanjiv Bhatt's commanding officer in Gujarat during the 2002 era was R B Sreekumar, who is coincidentally the same person under whose watch eminent scientist and innovator S Nambi Narayanan wrongfully arrested and tortured on dubious charges of espionage in 1994. As such, it is hard to ascertain whether Sanjiv Bhatt was speaking the truth at all.
Apart from being involved in such serious cases, Sanjiv Bhatt has also been equally notorious for spreading vitriol against Indian culture through his social media accounts. Be it his absurd allegations against Ajit Doval in connection with the murder of army officer Lt. Umar Fayyaz, or sharing fake images about Kerala floods in order to criticize Modi government, or his communal post on the Indian cricket team, or even openly supporting Digvijay Singh for abusing PM Modi, Sanjiv Bhatt knew no limit when it came to bashing BJP or PM Narendra Modi.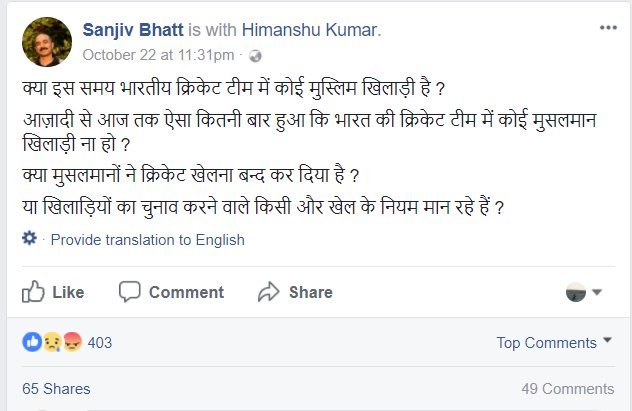 He was evicted from IPS in 2015 on the grounds of 'unauthorized absence', and subsequently reprimanded for his false allegations by the Supreme Court. In their landmark judgment against Bhatt, the bench accused him of being involved in the dirty games himself, raising questions on his silence for the 9 years between the occurring of 2002 riots, and his filing the affidavit. As Sanjiv Bhatt now awaits a life in prison, the disgraced IPS officer will have enough time to contemplate on what went wrong for him, and now he fell to the very vices he claimed to fight against.