According to a report by Standard Chartered PLC, a British multinational banking and financial organization, India is among the economies which will dominate global growth in the 2020s. India, Bangladesh, Vietnam, Myanmar and the Philippines are among the Asian economies which will be member of the elite 7 percent growth club in next decade. A notable exclusion from the elite club is China which was member of above 7 percent growth club in last four decades. The Chinese growth story is slowly becoming less interesting and the dragon will be growing at 5.5 in the next decade.
The 7 percent growth club is dominated by Asian economic with only two exceptions being Ethiopia and Côte d'Ivoire – two African countries. No European or American country could make in the elite club and this is another reason why the west centric global order is on a downward spiral while Asia is reborn. The 7 percent GDP growth results in doubling of GDP in a decade and exponential growth in per capita income.
The British multinational published the 7 percent growth list for the first time in 2010 and China, India, Indonesia, Bangladesh, Vietnam, Nigeria, Ethiopia, Tanzania, Uganda, and Mozambique were the countries which has been able to make it to the list. India, Bangladesh, and Vietnam from Asia are countries which have been able to make it in both lists while Ethiopia is only African country to make in the list for the second time.  
"Faster growth not only helps to lift people more quickly out of absolute poverty, but is also usually accompanied by better health and education, as well as a wider range of — and better access to — goods and services,"wrote Madhur Jha, Standard Chartered's India-based head of thematic research, and Global Chief Economist David Mann. "Higher incomes resulting from faster growth also usually reduce socio-political instability and make it easier to introduce structural reforms, creating a virtuous cycle," they added.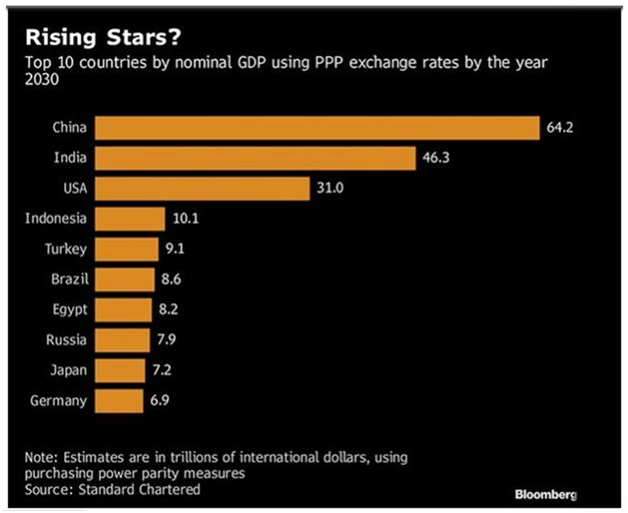 Previously, Standard Chartered has predicted that India will be the second largest economy by 2030. The projection has been done using Nominal Gross Domestic Product (GDP) and Purchasing Power Parity exchange rates (PPP). As per the projections, India will be ranked second just behind China and ahead of the US.
One common virtue witnessed among all countries in elite club is their savings and investment rate is between the ranges between 20-25 percent. India is one of the most investment savvy economies in Asia. Indian people tend to save more and invest the savings for gains rather than spending exuberantly. Another report by Standard Chartered, British multinational bank, based on the study of 11,000 affluent people across Asia, Africa and the Middle East suggests that almost 68 percent of affluent Indians use investment to achieve future financial goals.
Except the saving habits, the structural reforms by Modi government like implementation of GST to create a common market, Insolvency and Bankruptcy Code to solve the NPA problem and targeting inflation by mandate to Monetary Policy Committee will propel the economic growth in 2020s.