The grand old party's misfortunes don't seem to come to an end. Just when they thought things can't get any worse amidst the most crucial elections the Gandhi family has ever seen, they just did. In a fresh controversy gripping the party, Congress president, Rahul Gandhi's basic identity is being questioned wherein accusation of him holding British citizenship has emerged. Moreover, this accusation has also opened a whole closet for the Congress heir with many hidden skeletons.
Rahul Gandhi, before entering the 'family business' had decided to give his personal business abilities a whirl. In this regard, after gauging the market efficiently, he had entered the fray of BPOs in 2002; which was a booming sector during the early 21st century. His BPO was called Backops Services Private Limited, a New Delhi based company, which had essentially been a call centre-like operation providing engineering detail and structural planning services to large overseas civil engineering firms. Rahul Gandhi owned a share of 83 percent in the company. A few months following this, Rahul Gandhi had expanded overseas, by incorporating a company in the UK in the name and style of Backops Limited, in 2003. He was named as one of the 2 directors in the British firm and held 65 percent of the company share. What this company entailed is somewhat obscure. The companies operated for quite some years until 2009, wherein Backops Limited was dissolved and Backops Services Private Limited's shares were transferred to sister, Priyanka Gandhi Vadra. Currently, Backops Services Private Limited has been struck off, though not completely dissolved.
The businesses have appeared to be alright if viewed from the face of it, but further refining the companies with a fine-toothed comb brings out the discrepancies. Dr. Subramanian Swamy has stated that Rahul Gandhi had declared himself a British citizen with a UK address in documents related to Backops Limited. In this regard, he had written a letter to the Home Ministry of India in September 2017, raising questions on Rahul Gandhi's citizenship. Acknowledging the validity of the claim, the Home Ministry on Tuesday had issued a notice to the Congress president citing the complaint and asked him to reply within two weeks.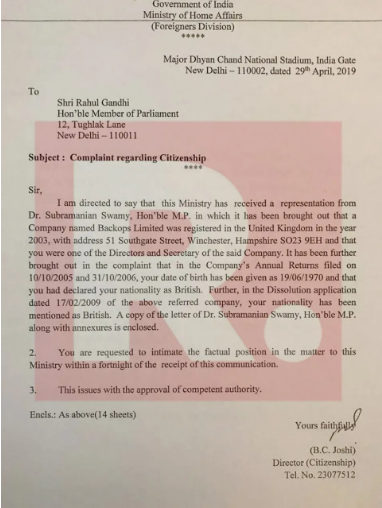 The documentation used by Dr. Swamy was the annual returns of the company. In the years 2005 and 2006, Rahul Gandhi had clearly stated his nationality as British in the documents.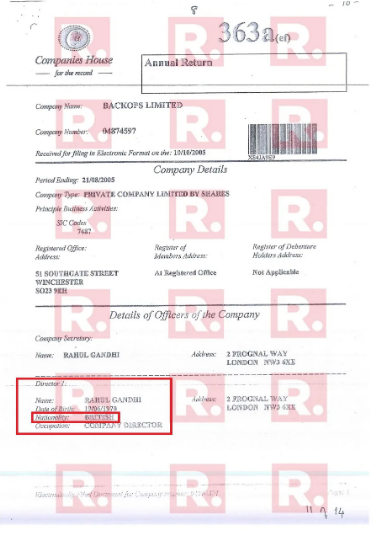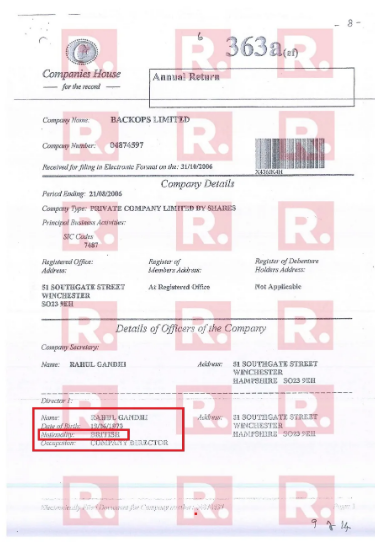 In justification to this, the Congress party chose to play dumb. They termed it as an "error". While one may believe that an educated person who chose the BPO business after much market analysis and scouring, seemed to lose his wits when it comes to this crucial aspect; it becomes difficult to continue to be this understanding when realizing that the error was not rectified even after it had been discovered in 2005.
BJP spokesperson Sambit Patra on this stated, "Rahul Gandhi chooses to become UK citizen by choice but probably want to remain Indian by compulsion because he is a Lok Sabha MP and does politics in the name of family. So, he is Indian by compulsion and presents him British by choice." He further added, "We have registration papers, dissolution and annual returns of Backops Limited. Rahul Gandhi is director, promoter and secretary.  Annual returns of the company filed on October 10, 2005, Rahul was a shareholder of 65 per cent. He has presented himself as British in registration papers, dissolution papers and annual returns."
If the nationality issue wasn't dicey enough, the actual working of the company will surely make the prudent citizens shudder. There are some troubling questions that surround Backops. The working of the UK based Backops Limited is unclear and India based Backops Services Private Limited has a list of questionable projects. The company was floated in 2002 and shortly after, Rahul Gandhi was elected as MP from Amethi in 2004. The company, known as "Backops engineering", in a short while since its incorporation has boasted some of the most impressive projects all over India and overseas, with Mumbai at its forefront. It adds to its list, Mumbai's international airport terminal building, the commercial complex at Phoenix Mills, Belapur railway station, Headquarters for Wockhardt and buildings at the Osho Commune, Pune, amongst many others. It is pertinent to note herein that the company was a newly formed start-up. It is improbable that a start-up would bag parts of such key projects whose value ran into crores of rupees; one might even say it is impossible. Therefore, the sanctioning of such prestigious projects to Rahul Gandhi's firm implies an unethical political interference. It points to the fact that Rahul Gandhi, using his influence as the Congress heir during the UPA government had used corrupt methods to obtain these. It is also viable to note that there is no other financial information about the company; neither any income statement has been filed since its incorporation.
Moreover, the location of the office of Backops itself is very underhand. The company's registered office is in central Delhi's Deen Dayal Upadhyay Road. When a Business Standard correspondent visited the address, he found not Backops, but a chartered accountancy firm called Thakur Vaidyanath Aiyer and Company. Employees there hadn't heard of Backops, and some became a little nervous when queried further. The Mumbai branch is though officially situated in Puran Nivas on Arthur Bunder Road, Colaba; it is so nondescript, even the watchman of the building doesn't know it exists. What the watchman does know, however, is that the office of 'Rajani Associate'. Located on the fourth floor in the building, the glass door of Rajani Associate reveals the huge name of "Backops Engineering" stamped on the walls inside.
However, the one thing which is extremely puzzling is the choice of the actual business. Incorporating a BPO, given the surge of BPOs during that era, is understandable. What isn't understandable is the fact that the BPO was focused on providing services for architectural, civil engineering and construction companies. Rahul Gandhi holds an M. Phil degree from Trinity College, Cambridge. Thereafter, he worked as a strategy consultant for Michael Porter. His educational and vocational background suggests he had no expertise whatsoever in the subject. That is why; it is somewhat strange that Rahul chose to provide engineering design services. However, to understand the queerness of his personal business choice, one has to understand his personal life itself.
Rahul Gandhi, speaking on his personal relations, had told The Indian Express, "My girlfriend's name is Veronique, not Juanita… she is Spanish and not Venezuelan or Colombian. She is an architect, not a waitress, though I wouldn't have had a problem with that. She is also my best friend." While Rahul Gandhi's personal love interests are his own business, it becomes a cause of concern to the public when her profession is seen in terms with Rahul Gandhi's company. As stated, she is an architect by profession, having expertise in exactly the kind of work profile Backops has. This direct relation simply implies that Rahul Gandhi had used his political influence to get projects involving architecture and civil engineering, no doubt at the cost of the taxpayers; for his girlfriend's vocational advancement. With the end of the relationship, Backops Limited was dissolved and Backops Services Private Limited was transferred to Priyanka Vadra.
The Gandhi family including Rahul Gandhi has been very secretive about Backops, as they have been with every other personal entity of theirs. Initially being stonewalled and silent, Rahul Gandhi has fiercely defended the allegations against the company in the past by accusing the people of breaching his privacy and private affairs. Whatever scarce information he has offered, has been under much force, and inadequate by far. He didn't clear the skeletons in the past, and now they are being dug up, at the worst possible time for the party.