In the last swearing-in ceremony of PM Modi, the leaders of the South Asian Association for Regional Cooperation (SAARC) members (include Afghanistan, Bangladesh, Bhutan, India, Nepal, Maldives, Pakistan and Sri Lanka) were invited. The move was received very well in domestic as well as global politics. However, in the swearing-in ceremony of the second term, the combination changed to BIMSTEC (Bay of Bengal Initiative for Multi-Sectoral Technical and Economic Cooperation) which comprises Bangladesh, India, Myanmar, Sri Lanka, Thailand, Bhutan and Nepal. The move was aimed at isolating Pak and showing its irrelevance in the South Asian region. The two other world leaders invited are the leader of Kyrgyz Republic and Mauritius Prime Minister Pravind Jugnauth.
It is obvious that the move did not go very well with Pakistan as intended. But Imran Khan government tried to put up a brave face and blame India's internal politics for it. "His (Prime Minister Modi's) entire focus (during the election campaign) was on Pakistan-bashing. It was unwise to expect that he can get rid of this narrative (soon)," said Pakistan's Foreign Minister Shah Mehmood Qureshi. "India's internal politics did not permit him to extend an invitation," he added.
Qureshi wanted to imply that India's internal politics has become so 'nationalist' and anti-Pakistan that invitation to Imran Khan would have sent the wrong message among electorates. The statement of Qureshi is like music to the ears of nationalist Indians. The four wars, uncountable border conflicts, terrorist attacks, support of the insurgency in Kashmir and ill will for India does not allow us to wish for 'good relations' with Pakistan. The 'state-sponsored terrorism' by Pakistan against neighboring countries (India, Afghanistan, and Iran) force them to isolate Pakistan. The killing of Indian soldiers in Pulwama, Uri and Pathankot and that of civilians in Mumbai attack was a result of 'proxy war' by Pakistan.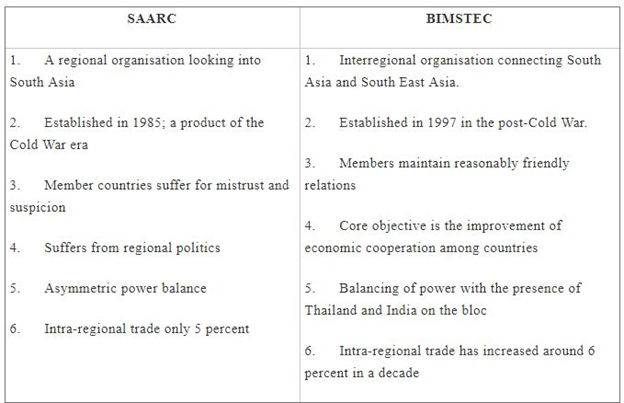 Therefore it is obvious that 'common people' of the country would have anti-Pakistan sentiment. Given the fact, will of electorates is supreme in a healthy democracy like India, the government would not be keen to 'engage' with Pakistan.
BIMSTEC was revived by PM Modi due to the 'obstructionist' approach of Pakistan in regional cooperation through SAARC. The engagement with countries located in the Bay of Bengal is also aligned with India's 'Act East'policy'. "For India, it is a natural platform to fulfill our key foreign policy priorities of 'Neighborhood First' and 'Act East'," said PM Modi.
In the last few years, India started much needed 'course correction' in foreign policy. For decades, India saw itself as land-based power and therefore engagement with arch-rivals (Pakistan and China) was 'crucial'. But given the increasing importance of global trade and naval superiority of the country, the Indian Ocean is becoming a 'focal point' of Indian foreign policy. The 'prioritization' of with BIMSTEC and ASEAN countries for regional cooperation is a step in the direction. Historically, India engaged with South East Asian countries in a very positive manner. The influence of 'Indic civilization' is visible in ASEAN countries even today. The 'sidelining' of Pakistan and increased cooperation with ASEAN countries is the need of the hour for India and Modi government is working on it.