Surjit Bhalla, acclaimed economist and public intellectual, has raised questions on NSSO's Periodic Labour Force Survey (PLFS) for the period July 2017-June 2018. He wrote an article in the English daily, The Indian Express titled 'A statistical embarrassment'. PLFS is a two-year pilot program which seeks to answer the problems in data collection on jobs, it includes a quarterly urban and yearly rural survey on jobs data. The comparison of PLFS findings with Employment-Unemployment Surveys (EUS) has shown a large jump in unemployment in the country. He pointed out irregularities and contradiction in the 2011 census and 2017-18 PLFS survey. There are four major discrepancies in terms of population, urbanization, percentages of workers population, and salaries & wages. The interesting fact is that both surveys were conducted by NSSO.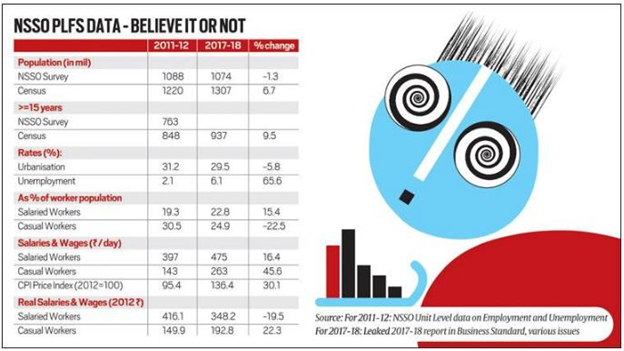 On the irregularities regarding urbanization, Surjit Bhalla wrote, "The PLFS reports an urbanisation rate (a ratio) in 2017-18 of 29.3 per cent compared to an estimated 31.2 per cent in the NSSO's own survey for 2011-12. A decline of 2 percentage points, when the reality (yielded by every other observer) is an increase in urbanization." He also raised the question on the competence of the National Statistical Commission (NSC), the oversight body. "How did this cross-check escape the NSSO or its oversight body, the National Statistical Commission (NSC)?" wrote Bhalla. "The PLFS results can be described in two words — shockingly untrue. The statistical masters who passed the PLFS data report with a "good house-keeping seal" should hang their heads in statistical shame," he added.
As per the PLFS survey, the population of the country is 2017-18 is lower compared to 2011 which could not be true in any case. "The estimate for overall population in 2017-18 is off the charts — it is too low. The NSSO 2011-12 survey reported a population of 1,088 million; in 2017-18, it reports a population that is 14 million less," wrote Bhalla on population discrepancy.
On the percentage of worker population, Surjit Bhalla wrote, "Poorer casual workers (those working on daily wages, including agricultural wages) show a big decline in their share in the work-force — a 20 per cent decline from 30.5 per cent of the work force in 2011-12 to 24.9 per cent in 2017-18. The higher income salaried workers show a large increase in employment share — from 19.3 per cent in 2011/12 to 22.8 per cent in 2017-18 — again, a near 20 per cent increase. Both these increases are unprecedented and suggest that contrary to the unemployment rate jump, the economy is doing very well."
Previously, NITI Aayog CEO Amitabh Kant raised the same question on the methods of data collection by NSSO and its findings in the PLFS survey. The lower population and low urbanization compared to 2011 census have been questioned by all credible academics, economists, researchers and intellectuals. But the member of left-liberal cabal did not utter a word against it because it suits their narrative of mass unemployment in the country.
Bhalla criticized public institutions for operating with outdated technology. "Sadly, and extremely unfortunately, many, no, make it most, no make it all Indian institutions are still operating with the same mind-set and technology and outlook that the pioneers did 70 years ago. The world and technology has moved on. But not us," he wrote in The Indian Express article. The discrepancies in the article show that it is worth any conclusion and drawing unemployment figures from this report would be 'disastrous' for public discourse.