In an article by Times of India, it was revealed that Mahesh Vyas, Managing Director and CEO of Centre for Monitoring Indian Economy Pvt Ltd (CMIE) helped the Congress party to formulate 2019 general election manifesto. The organization has been in news since last two years for coming with astronomical figures on unemployment and bad health of Indian economy. Mahesh Vyas and CMIE have favored the Congress party and defended their policies for decades. Vyas has been a regular contributor to Business Standard, the English financial daily since 2009. He comes to rescue the Congress party whenever it is in trouble.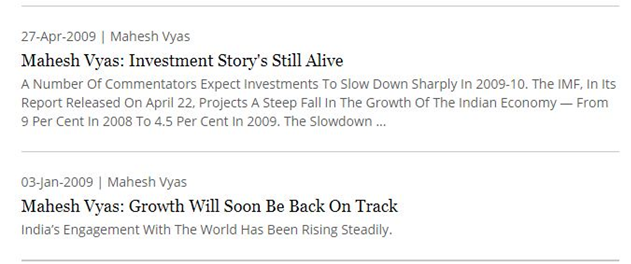 Back in early 2009, when the economic growth slowed down under UPA government, he wrote story titled 'Growth Will Soon Be Back On Track'. A few months later when Congress party was facing 2009 general election and investment in the economy has slowed down, he wrote an article titled as 'Investment Story's Still Alive'. A few months later in August 2009, he wrote an article titled as 'Don't Worry About Capital Expenditure' when capital expenditure in economy was pushed very low given election year freebies by Congress party.
Vyas's understanding of Indian Economy is very flawed, Kumbh Mela congregation is symbol of mass unemployment and poverty in the country, he wrote in an article. In western countries the empirical evidence of 'upper class being relatively less religious' has been found, the 'colonized mind' of Vyas argued that the same should be true for India. Although, there is no empirical evidence for his proposed theory or fantasy. A study conducted by Lokniti research programme at the Centre for the Study of Developing Societies (CSDS) found that there is no class division in religious participation in India.
He used CMIE as tool to spread propaganda of unemployment and bad state of Indian economy. On 3rd January, Rahul Gandhi shared a Livemint article which claimed 'New investment in India plunge to 14-year-low'. The article by Livemint was based on project tracking database of Centre for Monitoring Indian Economy (CMIE). The article claimed, "Value of new project announcements continue to fall, fresh investments declined across all major sectors except construction, overall stalled projects increased marginally in the December quarter, and private sector investment stalling near all-time high."
The article is written by Mahesh Vyas of @_CMIE, He is an unofficial spokesperson of @INCIndia. Sharing headline of some of his articles from 2009. When growth was slowing down, he argued that growth will be soon back on track and wrote many more articles to support UPA govt. pic.twitter.com/4Dd6PBaAal

— Amit Agrahari (@economistamit94) January 22, 2019
It is very clear from the above facts that Mahesh Vyas is not an impartial policy critic. His arguments on Kumbh Mela show that he is not an economist to be taken seriously. He is politically inclined with Congress party and the data published by his organization favors the narrative of Congress party. Almost two and a half months back, we said that he is unofficial spokesperson of Congress party and should not be taken seriously on any policy matters.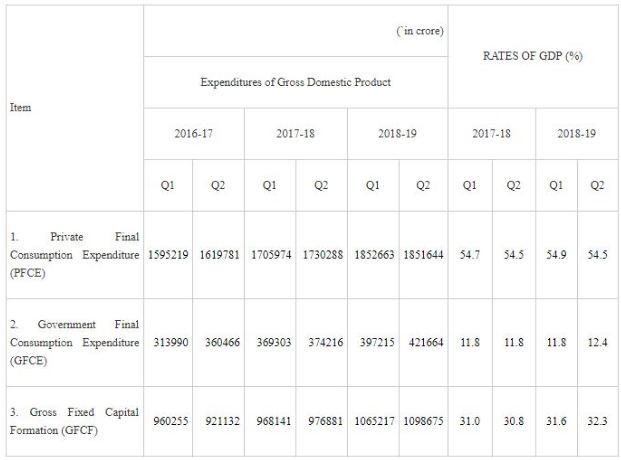 The claims made in the article and the data from CMIE were contrary to the estimates for Gross Domestic Product data released by Central Statistics Office (CSO), Ministry of Statistics and Programme Implementation. The Gross Fixed Capital Formation (GFCF), which is the proxy for investment, rose to 31.6 percent in the first quarter of previous fiscal year from 31 percent in the same period in the previous year. The GFCF, as the percentage of overall GDP, improved further in the second quarter. GFCF was 32.3 percent in the second quarter. The data suggests that the investment scenario in the country had improved. In fact, the investment growth has been in double digits (12.4 percent) in the September quarter of previous fiscal. But the data from CMIE showed that 'New Investment has plunged 14 year low'.