The economic growth of our country largely relies upon the growth of micro, small and medium enterprises. India's MSME manufactures 6 thousand types of goods. Tamil Nadu leads in the manufacturing of textile, automobile, leather, plastic, electronic products. Tamil Nadu's MSME landscape includes 4,61,000-micro, 63,000-small and 1,293 medium scale industries.
With this in mind, MUDRA Yojana (PMMY) is a scheme launched by the Honorable Prime Minister on April 8, 2015 for providing loans upto 10 lakh to the non-corporate, non-farm small/micro enterprises. These loans are given by Commercial Banks, RRBs, Small Finance Banks, Cooperative Banks, MFIs and NBFCs. The borrower can approach any of the lending institutions or can apply online through this portal.
Under the aegis of PMMY, MUDRA has created three products namely 'Shishu', 'Kishore' and 'Tarun' to signify the stage of development and funding needs of the beneficiary micro unit or entrepreneur and also provide a reference point for the next phase of growth. The Government has all allocated 3 Lakh Crores for Mudra Loan in 2018-2019 financial year which is 20% more than 2017-2018 financial year.
In the Current financial year, 4 Crore 9 lakh 49 thousand mudra loans have been sanctioned across the country and 2.21 lakh crore loan amount has been sanctioned. Tamil Nadu leads with 47 lakh 20 thousand loans worth 21,281 Crore. Approximately, Tamil Nadu consumes 10% of the total Mudra loan amount. 70% of mudra scheme beneficiaries are women, an especially larger group of SC/ST women were benefitted by this scheme.
2 Crore 16 Lakh Tamil Nadu people has been benefited by this scheme so far. 70,000 Crores has been utilised by Tamil Nadu since the launch of this scheme, which is 10% of total mudra loan amount (7 Lakh Crore). 47,81,567 beneficiaries in 2015-2016 , 53,09,857 beneficiaries in 2016-2017 , 58,60,165 beneficiaries in 2017-2018 and 57,34,180 beneficiaries in 2018-2019.
Also, Tamil Nadu holds the first place in the country in the implementation of the 'Weaver Mudra Scheme' during 2016-17 and 2017-18, Minister for Handlooms and Textiles, O S Manian told the Tamil Nadu State Assembly recently. During 2017-18, it was proposed to cover 15,000 handloom weavers in Tamil Nadu under the scheme, he said, moving the demand for grants to his department.
"With the concerted efforts and continuous follow-up by the department, the state has achieved disbursing 18,488 Mudra loans to the tune of Rs 90.12 crore during 2017-18 which is higher than the disbursement of 17,031 loans to the tune of Rs 82.38 crore in 2016-17," he said.
As per recent survey conducted by Thanthi Group with 1218 beneficiaries across the state, 70.8 % of respondents has said that Mudra scheme helped them in overcoming usury problems.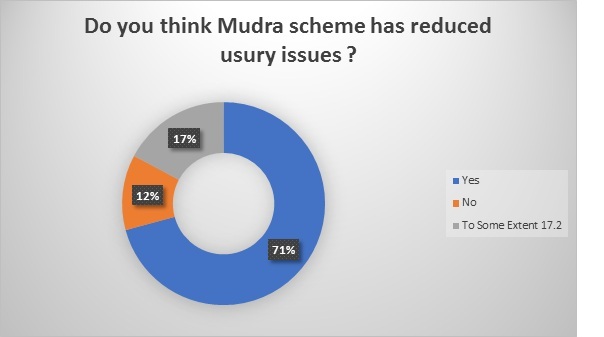 90.1 % respondents has said that their business is progressing well because of Mudra Scheme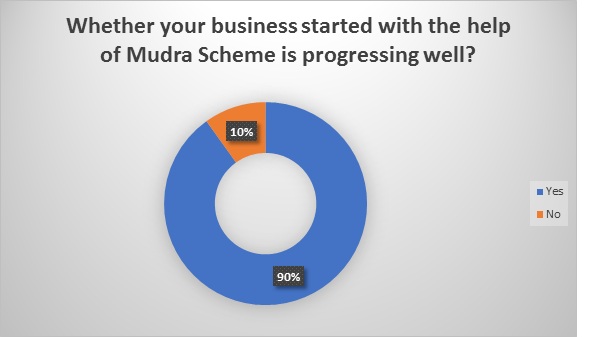 60.7 % respondents have said that they prefer Mudra loans for expanding their business and 39.3% to start their new business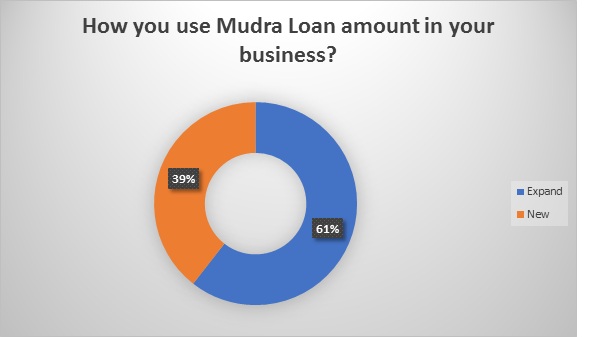 "I had availed a loan of Rs 1.6 Lakh to start a small textile shop. The scheme is very helpful and with the new business, I am earning Rs 10000 every month and am repaying the monthly loan instalment without any difficulty" says Rekha from Chennai.
"I am running a jucie shop. To start the shop, I availed a loan of Rs 50000 under Mudra Scheme. I received the amount within a few days of me sending the application. I repaid the loan by paying Rs 1,700 per month. My business is running well" says Manjula from Kodambakkam.
Mudra scheme plays a big role in building a healthy and progressive environment in the informal sector.