Since the general election of 2014, the impact of social media on political campaigning has been tremendous. It has come out to be the quickest and the most direct way of communication between a political candidate and his audience, the potential voters. It also gives way to enhanced facilitation of politician‐public interaction.
This is precisely what Prime Minister Narendra Modi realised back in 2009 when he was campaigning for the 2014 Lok Sabha Elections and since then has successfully used the medium to connect with his followers and also helped in increasing the party's base. At that point in time, Twitter was reserved for celebrities and youth in India. Politicians were not known to be interacting on such 'informal' platforms, which was felt to be "beneath their status" and reserved their campaigning through print and visual forms of media. Congress was markedly aloof on direct social media engagement; with The Wall Street Journal describing Rahul Gandhi as, "as long-time media refusenik".
However, after losing the 2014 elections, the Gandhi family woke up from their slumber. They secured an 8.1% of the total seats, the worst Congress failure in history; not even making it to 10% to have the official Leader of Opposition. Rahul Gandhi joined Twitter in 2015, in an attempt to imitate PM Modi's engagement tactic. This strategy is based on a mistaken belief that PM Modi and his party came to power in 2014 by clever marketing and social media success. Congress strategists, therefore, believe that they would have won in 2014 if they had done a better job of marketing themselves. 
Rahul Gandhi initially started the Twitter handle with the decidedly awkward third-person handle "@OfficeofRG," eventually transitioning to the more direct-speaking "@RahulGandhi."
However, the @RahulGandhi Twitter account saw little engagement during the years between 2015 and 2017. Rahul Gandhi was largely insignificant in terms of his message retweet rates for much of his first two years on Twitter. A fundamental shift happened in the latter half of 2017 that has made Gandhi a serious contender for mindspace online. Gandhi started getting significantly more attention for his tweets despite his exponential disadvantage in core following.
2017 is the time around which Cambridge Analytica, the UK-based firm at the heart of a massive worldwide data breach was hired by the Congress. The company has been accused of stealing Facebook data to influence elections. Cambridge Analytica drives on psychoanalysis of internet users through the traces left from their internet activities, that is, what they search, what they like, where they live and quite possibly, who they are. Its role was exposed by a whistleblower within the company, who flagged the activities of his company, citing a possible breach of privacy of users and unethical election campaigning. Cambridge Analytica whistleblower Christopher Wylie in a London court stated "They (Cambridge Analytica) worked extensively in India. They have an office in India. I believe their client was Congress, but I know that they have done all kinds of projects."
From the Republican Election Campaign in 2016 to the Brexit referendum and to India's Congress party, the company has left footprints all across the world. How it works is that a piece of news or speculation is targeted towards a certain group of people who might emotionally respond against or resonate with the media, be it online reports or videos. The Congress Party's involvement was exposed by the whistleblower and after further investigation, the chairman's office was found boasting a framed picture of the INC symbol indicating that the Congress is indeed their client.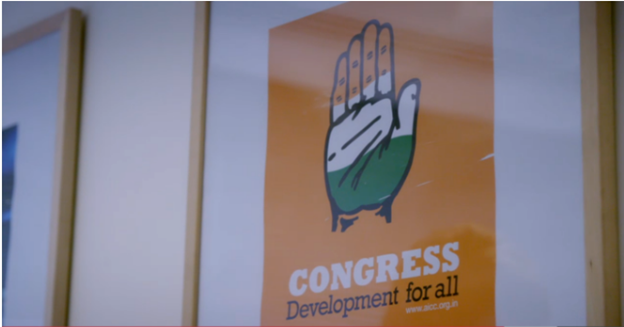 Cambridge Analytica, the agency roped in by Congress to run their 2019 campaign and termed as their 'Brahmastra' in certain section of media, is accused of using bribes, sex workers to entrap politicians and stealing data from Facebook : Shri @rsprasad

— BJP (@BJP4India) March 21, 2018
Rahul Gandhi is also known to have met with CA CEO Alexander Nix to discuss a psychoanalysis driven election strategy. Congress has denied these connections but substantial evidence against them proves otherwise. Congress leader Shehzad Poonawalla said, "The presentation was made by Alexander Nix himself before Rahul Gandhi and one could see the remarkable difference in the social media strategy and campaign of Rahul Gandhi and Congress Party which was very dry until then, everyone could see the sudden spurt in Congress social media presence once Cambridge Analytica got a go ahead from Congress Party."
This association clarifies the whole "sudden Twitter engagement" phenomena focusing on Rahul's exponential rise as far as engagement is concerned, quite distinctly. Rahul Gandhi could not manage to get active engagement even 2 years after making his Twitter debut. Cambridge Analytica helped the grand old party get engagements through illegal tactics, breaching the privacy of the users. Moreover, this explains why Rahul Gandhi has more engagements given the fact that his followers remain at a mere 8.9 million whereas PM Modi boasts a following of an impressive 46.4 million, making him the third most followed politician in the world. Although PM Modi tweets about a wide array of issues ranging from diplomacy, new initiatives and political trends; Rahul's messaging on Twitter is largely centred around three things – attacks on PM Modi, farmers, and the jobs crisis.  Rahul Gandhi is dealing with exactly the kind of material his meagre number of followers want because illegal data access gives him a precise idea.
However, there is a change in the trends now, with the Model Code of Conduct (MCC) coming into effect. The implementation of the code brings political advertising, campaigning and general conduct of political parties and leaders under the EC's scrutiny. This will apply to social media as well.
With the announcement, the model code of conduct has come into effect bringing political advertising, campaigning and general conduct of political parties and leaders under the EC's scrutiny.
.#ElectionCommissionhttps://t.co/2QtE7Avp5l

— EconomicTimes (@EconomicTimes) March 10, 2019
The enforcement of Model Code of Conduct has marked the end of service date for Cambridge Analytica too. Therefore, the trending hashtags of Congress have taken a backfoot and BJP is back to dominating every single social media trend. BJP's supporters have been organic and willing; have been on the steady uniform ride since the past 10 years. However, Congress engagement varies according to Cambridge Analytica influence. Their engagement is a hoax and the Twitter page has been fabricated in accordance with the data being provided using unethical methods.