This Feb 14 was a Black Day for Indians as news started filtering in of the terror attack at Pulwama. Disbelief was followed by an intense anger and outrage, especially in Kashmiri Pandit households where every 'khabar' from the Valley brings back memories of life lived on the edge. This helpless anguish that disturbed every Indian heart sought an outlet and obviously there's no better medium than Social Media to vent those feelings. So Facebook and Twitter were ablaze with posts/tweets expressing shock at the carnage and anger at the terrorist who perpetrated it.
For a while, there was unusual silence from the 'Liberal' Gang, almost as if they were stunned by this huge wave of fury that demanded action. The very next day, the litany began with a co-ordinated Social Media strategy to whitewash the Suicide Bomber. Interviews were arranged with his father and details were shared from his childhood, as if some 'Celebrity' had died and his Bio was to be presented. While some Journos spoke of Adil Ahmed Dar's love for cricket, desperate activists chimed in with 'reasons' for his act. Is there any other country where terrorists have so many supporters and sympathisers?
"Pulwama bomber Adil Ahmad Dar became terrorist after he was beaten by troops". It's imp to understand why so many young men in Kashmir are becoming militants&willing to die. Even US forces couldn't hold Afghanistan & Iraq after large-scale suicide attackshttps://t.co/2mr5d3WK2Z

— Prashant Bhushan (@pbhushan1) February 16, 2019
Meanwhile, there were 'celebratory' tweets/pictures posted by brainwashed Kashmiri Muslims which aroused further public anger. Instead of being apologetic or ashamed, of the fact that a local boy barbarously drove his IED-loaded vehicle into the CRPF convoy to inflict maximum number of casualties, these students and employees working all over India, crowed about 'Jaish's Josh'. Smug in their belief that, like in the past, there would not be any retaliation or repercussions, they became heinous 'Keyboard Terror-Sympathizers'.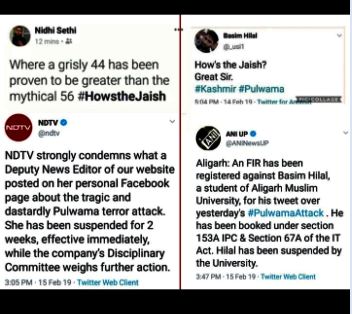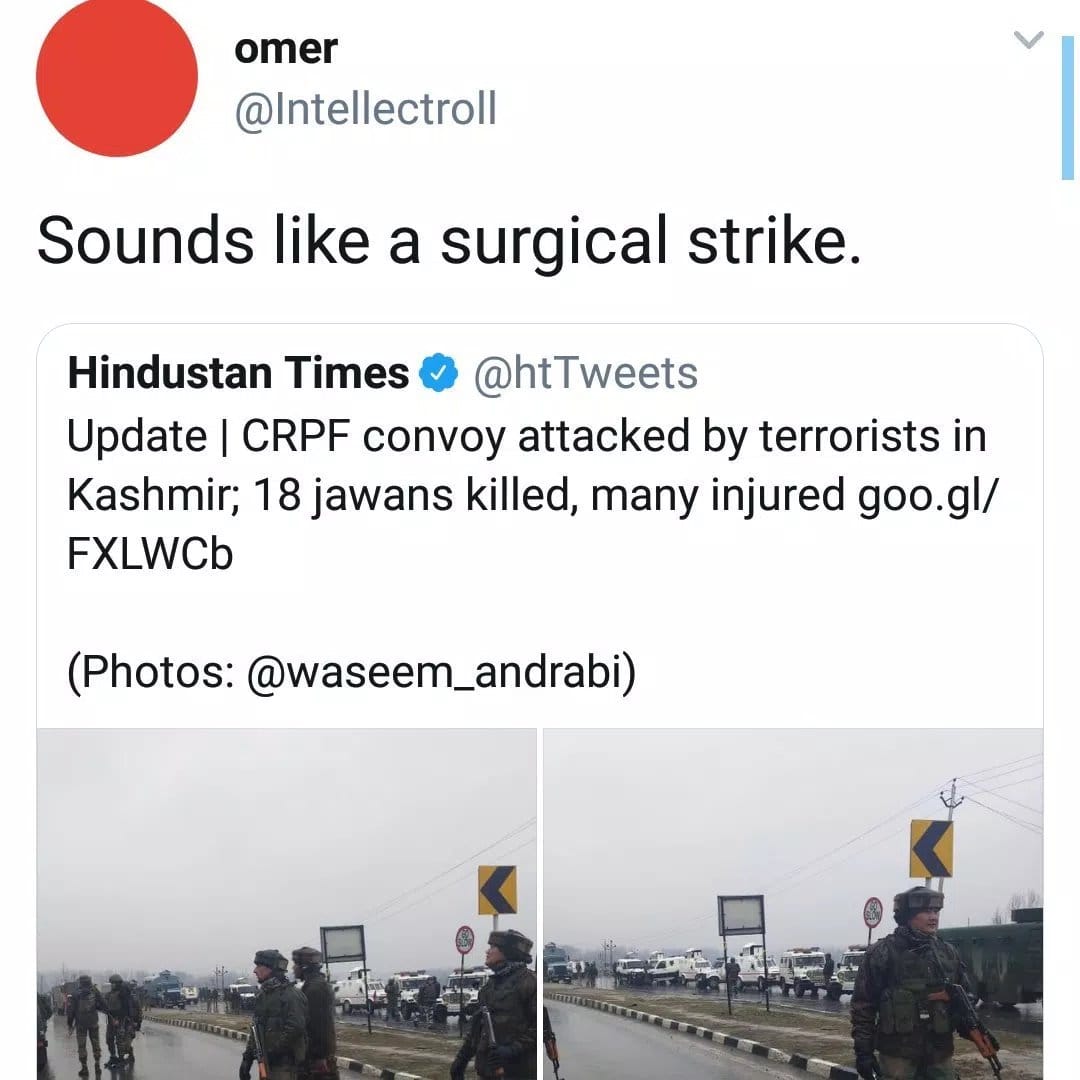 They had obviously not gauged the mood of the nation! Soon enough, these heartless baiters were identified and reported to college authorities and employers.
Ironically, many of these terror-sympathizers were recipients of PM Modi's special Scholarship Scheme which reserves seats for Kashmiri Muslim youth and provided free education to them. Emboldened by the special treatment given to them, these students and employees left no stone unturned to abuse and malign the nation that sustains them. By now, the 'Liberal Gang' was getting desperate to overturn what they call the 'nationalistic narrative' so the 'Operation Spot & Book India-abusers' was quickly grasped as a lifeline by them.  True to form, the journalists from the 'Ex-NDTV Brigade' created the story of Kashmiri Muslims being 'attacked'. Phone numbers were advertised and offers given for free board and lodging at several journalists' mansions. Terms and conditions of the offer being that Kashmiris, and that too, only Muslim Kashmiris were welcome!
Other members of this Cabal quickly picked up the 'Kashmiri Muslims Under Attack' story and tweeted sermons chastising 'Shameless Indians' for not understanding and 'loving' the 'misguided youths' and 'Headmasters sons'. Of course, no chagrined Lib thought of reprimanding those who had posted so much hate. Very soon, aggrieved Indians were turned into 'aggressors' while the actual villain was cunningly relegated to the far recesses of the public mind. Whatever one may say, this particular 'talent' of the 'Lib Gang' to overturn trends and foist their own narrative, is remarkable. Not one of them bothered to focus on any of the 44 soldiers who were killed or mull over the fact that Kashmiri youths are now so horribly radicalized that they are being led to death and destruction.
The retaliatory action by our forces in Pulwama resulted in a fierce encounter on the 17th and 18th of February in which the Mastermind of the original attack was sent to the 'Hoors'. Unfortunately, in this fierce and protracted gun-battle some more soldiers were martyred, among them young Major Dhoundiyal from Dehradun. This dashing Major had gotten married just last year to Nitika Kaul, a Kashmiri Pandit girl. The video of the last rites of the Major shows a heartbroken widow sobbing out 'Jai Hind' as she bids farewell to her beloved husband.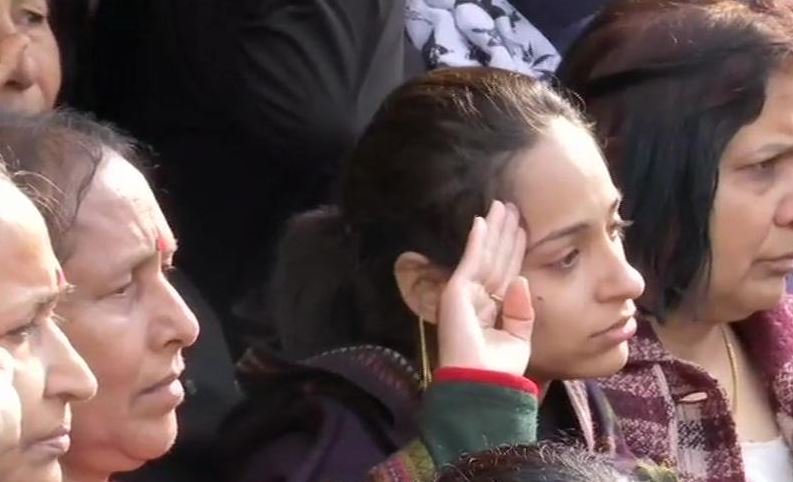 Sadly, Rajdeep, Barkha, Sagarika etc. did not share this video or comment on it, clearly, their houses and hearts are not open for Kashmiri Pandits. The vocal and Social Media savvy ex-CM duo of Abdullah and Mufti issued a joint statement condemning the 'attacks' on Kashmiri Muslims but had no words of condolence for this young Kashmiri Pandit woman. Nor did they have the decency to condemn those who widowed Nitika Kaul.
The nation is still in mourning but for some, it is a time to spot Gandhian 'gyan'. Revenge will serve no purpose, cutting off ties with the nation which planned the attack will not help, they say! Meanwhile, in Pakistan there are no 'apologists' and no Libs. The 'Poster Boy' of our 'Lib Gang', also known as 'Im the Dim', has already threatened us with dire consequences, predictably his 'loyalists' here will gush over that and reminisce about their lovely photo-session with him!